Definition
C-Level (C-Suite)
C-level, also called the C-suite, is an adjective used to describe high-ranking executive titles within an organization. The letter C, in this context, stands for chief. Officers who hold C-level positions are typically considered the most powerful and influential members of an organization; consequently, these executives set the company's strategy, make higher-stakes decisions and ensure the day-to-day operations align with fulfilling the company's strategic goals.
As compared to the skills associated with other organizational positions, which are often more functional and technical in nature, C-level executives must demonstrate leadership skills and business expertise, as well as team-building abilities and decision making skills, rather than functional and technical know-how. C-suite executives set and communicate strategies, and they then hire staff to ensure the daily management is aligned with the established plans and policies. C-level executives work at a high level within their departments and, therefore, do not typically engage in day-to-day management tasks. However, C-level executives at small and medium-sized businesses or startup companies might take on some management duties.
Content Continues Below

Download this free guide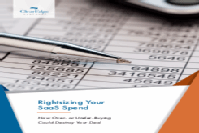 Limited-Time Download: Sizing Your SaaS Deal Correctly
Most customers fail to accurately forecast their licensing demand which leads to over-and under-buying whereby users squander their negotiating leverage or eat up the discount they earned by buying underutilized shelf-ware. Use this resource to learn how to dodge those potential traps and how to apply deal sizing best practices to optimize your IT spend.
C-level executive roles and responsibilities
The number of positions and the kinds of titles within the C-suite vary from company to company. The variation reflects the different sizes of companies, with larger companies often having more executive positions to distribute the correspondingly large workload. Variations reflect each organization's missions and maturity. While a healthcare company, for example, needs a chief medical officer, a company focused on developing cutting-edge products is justified in having a chief innovation officer.
It's important to note, too, that positions within the C-suite may change over time. Some positions have evolved with business needs and have become widely accepted; the chief information officer, for example, has evolved in the past several decades as businesses seized on technology -- first, to automate processes for efficiencies and cost-savings and, now, to transform the services they offer and how they are delivered.
Examples of C-Level Executive job titles
Chief executive officer (CEO): The CEO is responsible for the success or failure of the organization, overseeing the entire operation at a high level. The CEO implements plans and policies to ensure the successful management of the business and sets future strategies. The CEO hires the other executives in the C-suite and can fire those who do not perform to set standards. As such, the CEO is the boss of all the other executives.
Chief operating officer (COO): The COO is generally second in command to the CEO and might also sit on the board of directors along with the CEO. The COO oversees the organization's day-to-day operations on behalf of the CEO, creating the policies and strategies that govern operations. The COO is often responsible for the human resources function within an organization as well.
Chief financial officer (CFO): As the title suggests, the CFO oversees the organization's financial affairs, which includes developing annual budgets, managing cash flow and overseeing finance reporting and compliance.
Chief marketing officer (CMO): The CMO oversees the organization's marketing strategy. This includes advertising, brand management and market research. Responsibilities can also include newer duties driven by advances in technologies, such as overseeing a company's business intelligence initiatives and mobility strategy. Some CMOs also have broadened their responsibilities to act as the voice of the company's customers.
Chief information officer (CIO) and chief technology officer (CTO): In the past, these titles were almost interchangeable, given to the individual tasked with running the organization's information systems. Now, these roles are increasingly used to describe different functions and roles. The CTO most commonly has oversight for the information systems that run the enterprise's operations, as well as the technologies that drive the business. The CIO is usually the executive who manages research and development, oversees the development of technologies into products and services, and ensures that all IT initiatives are aligned with business goals.
Chief human resources officer (CHRO): The CHRO is in charge of an organization's human capital management. The CHRO's most important task is to set up and enable a company's talent strategy, which encompasses acquisition, development and succession planning.
Chief compliance officer (CCO): The CCO is in charge of managing and overseeing all compliance issues within an organization. A CCO's most important duties are ensuring that the company complies with regulatory requirements and employees comply with internal policies and procedures.
Chief security officer (CSO) or chief information security officer (CISO): The CSO or CISO is tasked with ensuring data and systems security. In general, a CSO is responsible for physical as well as digital security, while a CISO is only in charge of digital security.
Chief data officer (CDO) or chief digital officer (CDO): A chief data officer is tasked with overseeing an organization's data governance. A chief digital officer may also be responsible for helping the business to aggregate and digitize the data required to demonstrate compliance.
Other examples of C-level job positions
Some C-suite positions are fairly uncommon, appearing only briefly, in certain industries or in only a handful of companies. Such positions often fade away unceremoniously when responsibilities are folded into other positions. They include:
Chief analytics officer (CAO): The CAO is responsible for data analysis within an organization.
Chief experience officer (CXO): The CXO ensures positive interactions with an organization's external customers.
Chief green officer (CGO): The CGO is tasked with all aspects of making an organization environmentally friendly. This includes energy-efficient construction, e-cycling and e-waste mitigation, recycling, LEED compliance, meeting OSHA standards, and clean production.
Chief IT architect (CITA): The CITA is responsible for solving integration problems and
synching technology frameworks across the organization's business units. Depending upon the organization, the chief architect may oversee and coordinate the efforts of other technology-specific architects, including the chief security architect, the chief data architect, the chief mobile architect and the chief cloud architect.
Chief knowledge officer (CKO): The CKO is responsible for gathering, organizing, sharing and analyzing an organization's knowledge in terms of resources, documents and people skills.
Chief learning officer (CLO): The CLO ensures that a company's corporate learning program and strategy supports its overall business goals.
Chief medical information officer (CMIO): The CMIO serves as the bridge between medical and IT departments at a healthcare organization.
Chief privacy officer (CPO): The CPO is charged with developing and implementing policies designed to protect employee and customer data from unauthorized access.
Chief process and innovation officer (CPIO): The CPIO is responsible for identifying parts of a company's business processes that could be improved and recommending specific ways to make them work better.
Chief procurement officer (CPO): The CPO is responsible for the strategic acquisition of goods and services.
Chief reputation officer (CRO): The CRO is charged with overseeing activities in all areas of an organization that could potentially have an impact on the public perception of that enterprise.
Chief risk officer (CRO): The CRO is tasked with assessing and mitigating significant competitive, regulatory, and technological threats to an enterprise's capital and earnings.
Chief social scientist (CSS): The CSS is charged with developing policies that ensure a good work environment for employees while maintaining economic profitability for the company as a whole.
Chief strategy officer (CSO): The CSO is charged with helping formulate, facilitate and communicate an organization's plans for the future.
Chief trust officer (CTO): The CTO is responsible for building confidence around the use of customer information.
Corporate executive compensation
C-level executives typically receive the highest compensation within an organization. Pay varies greatly, depending on the size of the company, revenue, market performance and other factors.
Compensation can range from $100,000 up to millions of dollars annually; it can also involve stock options and high-end perks -- from signing bonuses to loan forgiveness to use of a corporate plane.
This was last updated in
August 2019
Continue Reading About C-Level (C-Suite)
Dig Deeper on Business automation, robotics and business process management