Manage
Learn to apply best practices and optimize your operations.
Vendor management key to maximizing ROI
Vendor management is key to maximizing the ROI benefits throughout your project's lifecycle. Learn more in this month's ROI column.
Vendor management helps customers maximize the quantifiable business value and ROI gained from their products and services, and allows customers to do a better job leveraging the related experience and resources of their vendor. The ROI analyses that are currently done during the planning/sales process are a great first step.
Unfortunately, ROI plans typically wind up on the shelf once the decision is made to go ahead with the project. IT, the business and vendors should be working together to determine the expected business value of an initiative during the planning process and then measure and continually improve actual results after deployment.
Fortunately, the rapid emergence of the Software as a Service (SaaS) business model is compelling vendors to actively work with customers to achieve tangible results, as their success now depends on it.
This increased involvement by vendors is actually a win-win for both parties. Customers gain more from their investments. Vendors are able to differentiate their offerings (at least until their competitors catch up), improve retention and increase follow-on sales. The key is building trust over time by both parties demonstrating commitment to the effort.
IT users should not passively wait for vendors to offer their help. They should ask, if not demand, that their key vendors help define, measure and improve the quantifiable value of major initiatives.
Start by requesting the following from vendors that are providing solutions that should significantly improve revenue, business cost and/or IT cost-effectiveness:
Suggested areas in which business value will be gained by using the solution, and (more importantly) metrics that can be used to measure actual results. The vendor's experience working with other similar customers can be very useful.
Assistance with developing the business case. It is important to note, however, that the customer must provide and be fully accountable for the estimates of the expected benefits and costs. Vendor-supplied estimates, case studies, ROI examples and tools are useful for getting the process started but should not be directly used in the ultimate business justification.
Integrated dashboard and analysis tools for measuring the actual results. These will also provide insight into leading indicators and "drill downs" that enable those accountable to identify and address problems before they have a significant impact on results.
Continued advice and guidance when reviewing the results to identify potential areas of improvement.
What is your vendors' value maturity?
A "value maturity model" is useful for assessing the value management capability of key vendors and internal organizations, and then developing action plans for moving forward. An example of a value maturity model is summarized below, specifying the five distinct levels: neglect, promote, commit, demonstrate and continuously improve.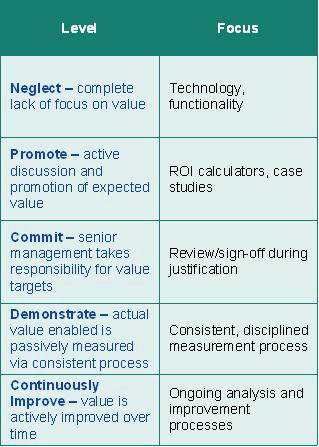 Most vendors are currently at the promote stage, quantifying business value during the sales process, but stopping there. However, as discussed above, vendors are being forced to move toward continuous improvement.
Taking action
Companies looking to leverage their vendors' resources and expertise to maximize business value enabled by investments in their products should:
Recognize that the business case is only the beginning of the value management process; ongoing measurement and continuous improvement are vital to success.
Determine the "value maturity" of your key vendors, use it as part of your selection criteria, and leverage it during ongoing vendor relationships. Be wary of those suppliers that focus only on ROI during the sales process, ignoring it once the purchase order is signed.
Establish clear internal senior management accountability for all metric targets; do not "outsource" accountability to the vendor.
Have vendors put some "skin in the game," but proceed cautiously. Both sides will likely be learning, so start with some simple, relatively small bonus payments related to one or two metrics that are closely tied to the impact of the solution. As both sides become comfortable, evolve from there.
About the Author: Dan Merriman is president of Chapin Consulting Group Inc. in Needham, Mass. He helps corporate users and vendors of technology use business metrics to define, measure and continually improve the business value of their major initiatives. He can be reached at [email protected] or via the company Web site at www.chapinconsulting.com.