agsandrew - Fotolia
Manage
Learn to apply best practices and optimize your operations.
Top edge computing trends to watch in 2020
Edge computing is still an evolving technology domain and enterprises should expect continued evolution in the year ahead. Here are the top trends CIOs and IT leaders should be looking out for.
Edge computing ranks as a top emerging technology trend for 2020, with leading technologists and tech researchers saying this distributed computing model will advance innovations across all areas of business and society.
Although big transformations driven or supported by edge are likely years away, experts have pegged the next 12 months as a pivotal point, with adoption of the key technologies that enable edge computing use cases increasing in various industries. In the Predictions 2020: Edge Computing report, Forrester Research said it "expects 2020 to be a breakout year for edge computing."
Here are some highlights you can expect around edge computing in 2020:
More products specifically designed for edge computing will reach the market
Many of the products available for edge computing deployments -- the networking, storage and compute appliances -- that were derived from typical data center and cloud infrastructure often require additional IT support to implement, integrate and maintain. However, vendors are starting to bring to market more form factors set up specifically for edge computing, including processors that can better withstand environmental elements such as high temperatures and vibrations, said Abhijit Sunil, a Forrester analyst serving infrastructure and operations professionals.
Additional edge computing services will be available, too
"We're hearing more from service integrators and managed service providers talking about edge. They're bringing planning and maintenance and other services around edge computing [to the market]," Sunil said.
Multivendor partnerships will become more common
Enterprise IT leaders will be using multiple vendors for enterprise edge computing deployments versus a single provider -- a trend driven and necessitated by the fact that edge computing is not a single product or platform, but rather is enabled by various technologies. Sunil said he expects to see "ecosystem partnerships" that bring together telecommunication companies, hardware and software vendors and consultancies to develop and support enterprise deployments. "This whole partnership ecosystem will be key to edge," he added.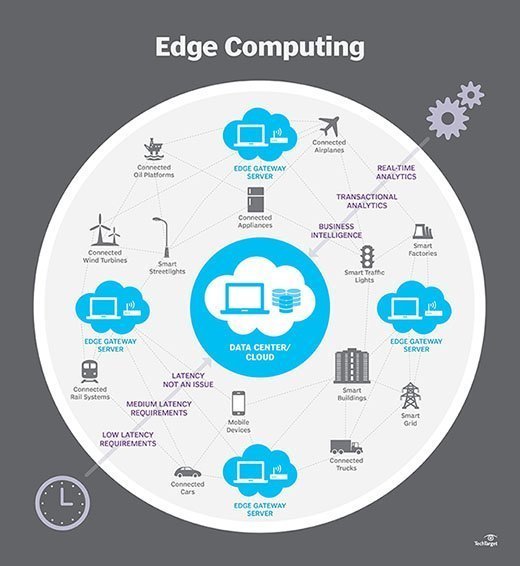 Telecommunications companies are becoming big players in edge computing
Technology Business Research Inc., which announced in October 2019 that it's expanding its Telecom Edge Compute portfolio with the launch of the "Telecom Edge Compute Market Forecast," an annual report scheduled to first publish in early 2020, said communication service providers (CSPs) are investing in edge computing to meet growing demand. "Edge computing has become a major area of interest and investment in the telecom industry, driven by CSPs' need to improve user experiences as well as enable and support new business models," Technology Business Research Inc. said in its announcement.
Edge computing use cases will remain most common in limited sectors
"There's going to be continued migration to the edge for [IoT] devices, but [this migration] hasn't reached the mainstream yet. It's still specialized use cases, and it will remain that way for the next two to three years," said Proteus Duxbury, transformation expert at PA Consulting. IoT technologies such as sensors and end-point-enabling networks form the foundation of edge computing, making the move from IoT to edge a natural progression. Thus, edge computing is expected to be most advanced in 2020 in industries where IoT already has a strong foothold, including energy, utilities and manufacturing, which, according to Forrester, is leading with the most planned investments for edge computing in 2020.
Other industries will increase their adoption rates of edge computing in 2020
In its August 2019 report, research firm MarketsandMarkets projected that the global edge computing market will grow from $2.8 billion in 2019 to $9 billion by 2024, spurred by "growing adoption of Internet of Things (IoT) across industries; rising demand for low-latency processing and real-time, automated decision-making solutions; and a need for surmounting exponentially increasing data volumes and network traffic." For example, experts expect municipal governments to make investments into edge computing as part of smart city initiatives, smart vehicles to leverage edge for automated functions and private-sector companies of all kinds to pilot projects. "I can't think of any industries that shouldn't be thinking about edge computing -- it's just some will be moving faster than others," Duxbury said. "The next two years we'll be in this try-it-out mode."
CIOs across all industries need to start planning and investing for edge
Duxbury said CIOs should be thinking about their current capabilities and whether they're ready to support edge computing uses cases; if not, they'll have to develop a roadmap for improvements and investments in areas such as software-defined networking.
CIOs will need to work edge computing into their plans for the future
"You have to have a good cloud strategy so you can understand the interplay between cloud and cloud on the edge, and they have to plan for 5G because 5G is going to play a huge role in this," Duxbury added. "You can't think of edge in a vacuum; you have to think about all these other things that are moving along."
Organizations will have to invest in new skills
According to experts, IT departments will need workers who know how to make the sensors talk to each other and who can effectively and efficiently move the data from end points, create enabling networks and secure the connections. They will also need workers who understand the hardware so they can pick the best and most suitable equipment for the different use cases including those with data management skills, as well as skills around devising algorithms and harnessing machine learning and AI to make edge computing deployments smarter. "Education and reskilling are among the biggest changes CIOs will have to make," Sunil added.
A big roadblock to adoption will remain
Sunil said many IT leaders "don't quite see what edge can do for them," noting that one of the biggest challenges to the speed of edge technology adoption appears to be limits within enterprise innovation around the technology. To counter that, Sunil said enterprise executives should create more synergy and partnerships between IT and IoT teams, as well as product divisions, so that together they can identify edge computing use cases that could bring operational efficiencies, enhanced products and new services. "This is something that the CIO can bring to account, to see really what edge can bring to the organization," Sunil said, adding that executives will have to find ways to help their teams fully grasp the potential of edge computing. "Organizations will have to educate their workforce to fully understand what edge is and what the use cases are."
Dig Deeper on IT applications, infrastructure and operations