Share this item with your network:
The great technology and industry disruptors

Sergey Nivens - Fotolia
Get started
Bring yourself up to speed with our introductory content.
Three steps to creating a great senior leadership team
You're only as good as your direct reports, says leadership coach and author Joseph Flahiff. Here's how to build a senior leadership team that makes breakthrough contributions to the business.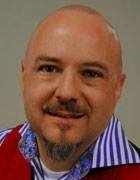 By
The CIO of the future is the one whose senior IT team creates breakthroughs in its industry. How do CIOs build a senior leadership team of this caliber? The confidence to create breakthrough ideas comes from a culture where your senior people feel secure and know that you have their back. They feel comfortable enough to try new things and to experiment with new ideas, even foolish ones. They know that they will not be punished; rather, they'll be praised for trying something new. They feel comfortable working together and are comfortable having hard conversations when tension is high and the pressure is on.
Executives do three key things that have consistently proved to build a culture of confidence:
1. Lead with questions, not answers
Sometimes, helping is hurting. When the senior leadership team you are serving is struggling and you know you have an answer that would help, it is easy to just jump in and try to save people from the pain of figuring things out on their own. Resist that urge. Instead of fixing, start asking questions -- and they should not be rhetorical questions, because that is just insulting. Ask honest, inquisitive questions:
What are the possible solutions?
What solution, even if it seems crazy, might help?
What do you think is keeping this from working?
What would make this worse?
What often happens when you ask these open-ended questions is that senior leadership team members don't come up with the answer you had in mind. Instead, they come up with a better answer -- one you might never have considered. Even if the team's answer to the problem is not perfect, don't correct it. If you add your little corrective and improve their answer by, say, 20%, you will disempower them, and they will become disengaged. Your 20% add will cost you 50% or more in motivation.
Getting senior IT leaders to think on their own and come up with a solution gets them out of their reliance upon you for direction and empowers them to lead themselves. When your senior leadership team is struggling, your default response should be to ask at least two questions before giving an answer.
2. Check in, don't check up
People can tell the difference between when you are checking in with them to see if they are OK or if they need some help or support from you, and when you are checking up on them.
The attitude of checking up is a paternal one. It conveys the belief that if you are not keeping tabs on people, they will slack off. This was the pervasive belief of the Scientific Management movement of the early 20th century; 21st-century leaders know they need more than compliance from the senior people they depend upon; they need their full engagement. Checking up on people does not encourage engagement; instead, it alienates and disengages today's workforce.
When you check in on senior leadership, your attitude conveys support, assistance, motivation and engagement. Your questions sound like this: "Is there anything I can do to make your work easier?" "What can I do, right now, to help you?" "Do you have everything you need to be successful?" Ask specifically about their successes and where they struggle. Ask about their progress and their inhibitors. Check in with your senior leadership team daily.
3. Connect with the why
One of the most important elements of creating confidence in a senior leadership team is communicating the organizational objective. The objective needs to be clear, concise, inspiring and easy to understand. In the 1992 U.S. presidential election, James Carville coined the meme "The economy, stupid." Tableau Software's mission statement is, "Tableau helps people see and understand their data." Your organizational objective needs to be just as simple and straightforward.
Some CIOs I've counseled say they are tired of talking about the organization's objective and worry their teams are bored by such simple and repetitive communiqués. Great leaders spend a disproportionate amount of their time communicating the organization's goals. As a leader, you may feel like you talk about your mission all the time, but you do not touch every team member every time you speak. If you are not talking about your mission so much that it bores you, you are not talking about it enough.
Start a chain reaction!
When you, as CIO, support your senior leadership team by asking questions and checking in with them while trusting them to do the work, they are able to make the same or even better decisions than you make. This is because you have communicated the organizational mission clearly and you support them with humility and honest appreciation. If you do this, you will have kicked off a chain reaction that starts with your senior leadership team and expands to the rest of the company, instilling a culture of confidence and innovation.
About the author:
Joseph is an internationally recognized leadership and organizational agility expert at Whitewater Projects, Inc. He has worked with Fortune 50 and Fortune 500 companies, government agencies, start-ups and publicly traded firms. He is known to executives as an experienced, pragmatic and innovative adviser. Joseph is author of the book Being Agile in a Waterfall World: A practical guide for complex organizations.
Dig Deeper on Leadership and strategic planning