Get started
Bring yourself up to speed with our introductory content.
The project pipeline and the role of IT
HoneyBaked Ham IT executive Bill Bolton outlines role of IT and six steps for prioritizing the project pipeline.
At this year's Kodak Alaris Global Directions 2013 conference, Bill Bolton, vice president of IT at The HoneyBaked...
Continue Reading This Article
Enjoy this article as well as all of our content, including E-Guides, news, tips and more.
Ham Co., delved into the role of IT and six steps for prioritizing the project pipeline. Along with Mark O'Brien, vice president of marketing at HoneyBaked, the two stressed the importance of having an enterprise partnership between the IT and marketing departments when making IT decisions, and provided actionable steps to rethink the project selection and implementation process.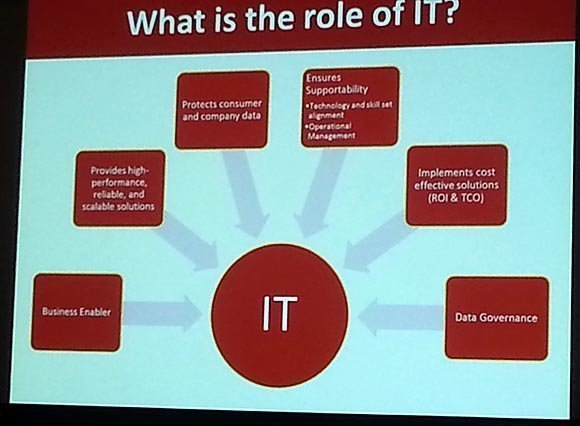 Figure 1.
What is the role of IT?
HoneyBaked uses six elements to define the role of IT within the organization (Figure 1):
Business enabler: Promoting agile development and work flexibly to meet the goals of the organization.
Solutions enabler: Providing high performing, reliable, scalable solutions.
Payment Card Industry compliance provider: Securing consumer and employee data across all channels.
Supportability ensurer: Ensuring alignment between the organization's goals and IT staff. Providing assurance that the talent can support and manage apps, data and both new and existing IT initiatives.
Technology implementer: Deploying cost-effective solutions with a measurable ROI.
Data governance manager: Providing data governance and governance platforms, a key element for assessing if transactions are valuable, as niche departmental vertical reports are difficult to manage without a strong data governance framework.
What are the critical success factors?
How does HoneyBaked identify what factors are essential for IT to consider during the project assessment process? By asking and discussing a few pointed questions:
What are we trying to accomplish?
Who are the intended users?
How will they use it?
How will they access it?
Are there business requirements?
When do you need it?
What's the budget?
How can we secure it?
How can we deliver it?
How will it integrate?
How can we measure it?
More on project management
Project management postmortems
PPM for better spending and accountability
IT project management guide
What is the IT solutions selection process?
HoneyBaked follows six steps in order to determine what initiatives will move forward in the project pipeline. In his three years with the company, O'Brien has seen a marked change in how the IT project selection process has streamlined decision making and increased efficiency (Figure 2):
Identify business owner of project.
Identify stakeholders affected by project.
Develop business case: What are we trying to accomplish, who needs to be involved and what resources are needed to enable the project? How will this meet our long-term goal of increased business success?
Present to IT committee.
Gain alignment and approval.
Schedule project and determine resource allocation.
What comes after project selection?
After the project has been presented to the IT committee, gained approval and resources have been allocated, next comes project enablement (Figure 2):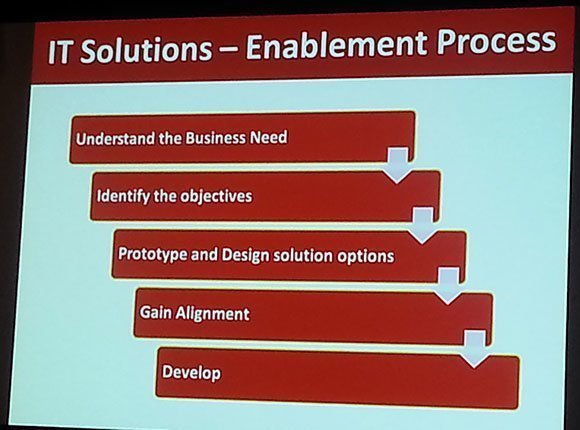 Figure 2.
If the project selection process is performed correctly, there shouldn't be what HoneyBaked refers to as gaps to address in the enablement phase -- holes that can be filled with a supplemental initiative or areas where a current business need has not been met by a current project.
That said, if a smaller, still-important project that requires fewer resources comes to light, HoneyBaked has a way to address these "gap fillers." O'Brien stressed that it's key to have a place where employees' needs can be heard via a "gap survey." This allows for smaller-but-critical initiatives to get their time in the sun for consideration and potential implementation.