Manage
Learn to apply best practices and optimize your operations.
The key to master data management: Take ownership of the data
Improving the quality of master data management has shifted from "nice to have" to "need to have."
I am a victim of poor master data management .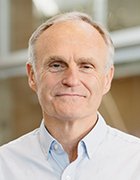 The Real Niel
Niel Nickolaisen
For example, the company that provides our business intelligence software was recently acquired by a much larger software company. This larger company -- let's call it XYZ -- has been trying, without success, to do business with us for years. Within days of the acquisition, the XYZ salespeople started bombarding me with calls. They wanted to set up appointments, conference calls and Internet meetings to explain to me all the wonderful things I could do with the software XYZ had just acquired. Somehow, someway, XYZ did not know that I was already a customer. It is bad enough that XYZ wants to waste its own time trying to sell software to people who already own the software. It is much worse when the company's poor data management affects me.
As another example, my job requires me to travel several times a month to one of our many locations. As a result, I am a preferred customer of several airlines and hotel chains. I used to be a preferred customer of a certain car rental company. However, I gave up on it because the company could not manage my data.
Apparently, the company keeps information about reservations made online separate from information about reservations made through its call center. To avoid as much human contact as possible, I make my reservations online. On more than one occasion, my flight arrived late and I called the call center to make sure a car was still waiting for me. Sadly, the call center did not have access to my reservation and so could not confirm my car. In all cases, I got my car (although one time I ended up with a 12-passenger van -- quite different from the Chrysler 300M I was anticipating), but I had higher expectations. So in a market rich with alternatives, I now rent from a company that treats me the same, no matter which channel I use.
In the good old days, we could be sloppy about managing our data. But in our increasingly technological and competitive marketplace, we have lost control of customer expectations. Some years ago, I would have accepted that the newness of the Internet meant that the car rental company had not yet gotten to data integration. But my expectations have changed because some companies have set much higher standards. As the standards have gotten higher, my tolerance has gotten lower. So if master data management expectations are being set by someone else, how can we not fall behind the curve?
I have found there are a couple of things we can do.
First, someone needs to own the master data. This owner needs to have a passion for quality data management. If we need excellence in our customer data, someone who cares deeply about the customers should own data quality. Same if our success depends on the management of vendor or employee information. In general, I like these owners to be from the business and not from IT. Someone in customer service, sales or marketing should be much more passionate about the quality of customer data than a database administrator.
Second, we need to consider master data management in our business decisions. When we acquire a company, our acquisition plan should define how we are going to design, integrate, cleanse and use common data. When we review the next steps in our call center or e-commerce applications, we should consider how we can standardize and integrate common data across platforms and channels.
Improving the quality of our master data management is one thing that has shifted from "nice to have" to "need to have."
Niel Nickolaisen is CIO at Western Governors University in Salt Lake City. He is a frequent speaker, presenter and writer on IT's dual role enabling strategy and delivering operational excellence. Write to him at nnick@wgu.edu.
Dig Deeper on Small-business infrastructure and operations