carloscastilla - Fotolia
Evaluate
Weigh the pros and cons of technologies, products and projects you are considering.
The CIO's guide to the data center of the future
When it comes to the enterprise data center of the future, past is probably not prologue, says SearchCIO columnist Harvey Koeppel. He offers five tips to prepare for the great data center unknown.
Here's what the collective wisdom of Wikipedia has to say about the data center:
"A data center is a facility used to house computer systems and associated components, such as telecommunications and storage systems. It generally includes redundant or backup power supplies, redundant data communications connections, environmental controls (e.g., air conditioning, fire suppression) and various security devices. Large data centers are industrial scale operations using as much electricity as a small town."
It is interesting to note that while computer systems and associated components referenced above have changed dramatically since the emergence of the "IBM Room" (an early moniker for where computers were installed, accessed and maintained even if they were not IBM computers and later changed to the "Machine Room"), the essential functions of the data center as we know it today have remained relatively unchanged since inception.
Various models of cloud computing have already begun to slow the growth of enterprise (privately owned and managed) data centers. According to a recent white paper from Cisco, total global cloud data center traffic will grow from 1.6 ZB (yes, that's Zettabytes) in 2013 to 6.5 ZB in 2018, representing a 32% compound annual growth rate (CAGR). This compares to a relatively smaller and shrinking 8% CAGR for traditional data centers. Cisco additionally forecasts that by 2018, 76% of all data center traffic will be handled by cloud data centers compared with 54% in 2013.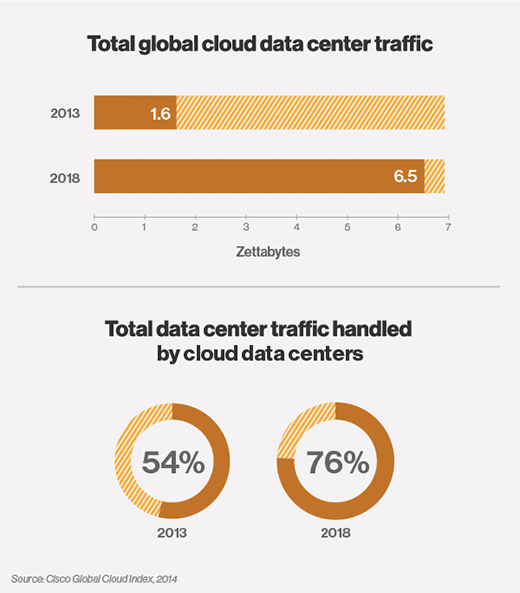 Relevant to our consideration of the data center of the future, when looking at the cloud it is important to distinguish between public and private cloud data centers. For the purposes of this post, internally owned private cloud data centers are considered within the boundaries of the enterprise. Cisco forecasts once again that workloads processed by public cloud data centers will enjoy a 33% CAGR, while workloads processed by private cloud data centers will see a more conservative CAGR of 21%.
And yet, despite these impressive statistics (and seemingly good news for Cisco), significant forces remain at work for at least the next three to five years that will likely continue to drive the need for continued growth and development of traditional enterprise and private cloud data centers, as we know them.
Reigning champion, weighing in at 100 billion kWh: The enterprise data center
Enterprises, almost by definition, are large and ungainly. They are often slow to move and, once headed in a direction, difficult to change course. Here are some reasons that enterprise data centers will be with us for the foreseeable future.
Significant investments have been made in capital and operating expenses. From a finance perspective, tens or even hundreds of millions of dollars (or foreign currency equivalent) have been spent and will not be written off quickly or easily.
Operating model changes are often harder to make for an enterprise than any other type of change. Moving from an enterprise data center model to a public cloud (or for that matter to a traditional hosted data center model) is the same as outsourcing. Make no mistake about that. We have seen that pendulum swing both ways numerous times over the past several decades.
Legacy systems conversions are often extremely difficult, extraordinarily complex, unreasonably time-consuming, very expensive, pose risks off the charts and often have multi-year payback schedules that simply don't fit into many enterprise's playbooks. Unfortunately, those hundreds of millions of lines of COBOL don't move easily into public cloud environments. Migrating to newer more modern applications that can be run in the cloud is sometimes an option, but that often requires dealing with the aforementioned challenges in addition to designing and managing changes to operating models (see above).
Information security and data privacy concerns remain high on many CIOs' list of concerns regarding moving to a non-enterprise data center environment. Many IT and business executives are simply not yet comfortable with running mission-critical applications and storing highly confidential data offsite or in any multi-tenant environment. Period.
Regulatory requirements often dictate that local data and often computing around local data be performed within country borders. While many public cloud data centers are becoming more sophisticated around what and where workloads and data are run and managed, often the enterprise has little to no control over these types of constraints and cannot therefore maintain compliance with local regulatory authorities.
Top contender: The un-enterprise data center
In a recent interview anticipating an upcoming Data Center World Conference sponsored by AFCOM (Association for Data Center Management Professionals), AFCOM's Denver chapter president, Hector Diaz -- who happens to run a 1 million square foot data center for a large multinational enterprise -- responded as follows when asked about where technology and enterprise data centers are headed:
"The data center of the future is the one you don't own.
"There will be a continuous focus on energy efficiencies, higher power densities and liquid cooling.
"Go beyond peer ratings, existing standards and pushing ASHRAE [American Society of Heating, Refrigeration, and Air-Conditioning Engineers] standards."
While the last two bullets certainly tickle my techno-nerd funny bone, it's clearly the first bullet point that gets my attention. Is this "déjà vu all over again" (thanks, Yogi) or are we, as an industry, finally realizing H. Ross Perot's great vision when he founded Electronic Data Systems (EDS) in 1962?
For those of you who may not remember 1962, EDS was a pioneer in the field of "facilities management," essentially managing a company's data processing needs in a way that was more efficient than the company could manage them on its own, thereby freeing up the enterprise to focus its attention on its core competencies and key differentiators.
Data center of the future circa 1962
Source: EDS timeline
On June 27, [1962] Ross Perot founded EDS by incorporating the company with the state of Texas for $1,000. He chose Electronic Data Systems from potential names he scribbled on a pledge envelope during a service at Highland Park Presbyterian Church in Dallas.
Soon after, EDS signed an agreement to buy unused time on Southwestern Life Insurance's IBM 7070 mainframe computer. Two months and 78 sales calls later, Collins Radio in Cedar Rapids, Iowa, became EDS' first customer. The company flew computer tapes and data to Dallas for processing.
"We began processing our first client's data by tapping into the idle time -- usually at night -- on other companies' mainframes. This innovation allowed us to provide the value and security that allowed our clients' business to thrive," explained H. Ross Perot.
In February, a five-year agreement with Frito Lay became the IT industry's first facilities-management agreement. In years to come, EDS would repeat this kind of relationship over and over, becoming the IT arm of hundreds of companies.
And here we are 53 years later, a bit smarter and, hopefully, a lot wiser. So, what is driving us to believe that the fall of the enterprise data center is imminent? Here are a few thoughts for your consideration.
Digital business is changing everything. Beyond the cloud, the confluence of real-time social media, mobility and big data/analytics is enabling the creation of new low-cost and agile business models that are easy to enter and are extraordinarily flexible around creating great customer experiences, introducing new products, retiring legacy products and creating significant scale in ways that many legacy enterprises only dream about. Consider Netflix, for example, which owns none of its own infrastructure (sigh).
The Internet of Everything is creating new devices and connectivity in ways that even 10 years ago none of us – well, maybe some of us -- could have imagined. IT has moved out of the enterprise headquarters and operations centers and is becoming deeply embedded into our physical and virtual worlds. As we expand our reach and understand more and more about our environment (and our environment understands more and more about us), we are more focused upon our physical and mental wellbeing, our contribution to our enterprise and to our communities of interest. We are more occupied with using the technology than with running it.
The nature of competition is changing radically along with new digital business models. Beating the competition is not just about who has the biggest, fastest computer with the most storage. Most technologies are commoditized and the cost to the enterprise is more an issue of scale than affordability of components. Very few enterprises have the scale that can possibly compete with the mega-scale players, e.g., IBM, Google, Amazon, Microsoft, Apple, etc. And as the world becomes increasingly real-time, time-to-market for new products and services will evolve from a differentiator to an imperative.
Global markets and supply chains are increasingly ubiquitous. Customers, business partners, suppliers and other stakeholders are less and less sensitive to the older, established constraints of time zones and geographic boundaries. For digital natives everywhere, interacting via mobile device applications and/or websites is the only form of commerce they know. The location of the business or person "at the other end" is, for the most part, irrelevant. For many enterprises, the cost of building and maintaining global infrastructure is challenging or impossible.
Data center of the future: Five tips
What's next is anybody's guess and "it's tough to make predictions, especially about the future" (thanks again, Yogi). As CIOs and IT executives, here are some practical things to think about as your board and/or your management committee continue to hammer you to do more with less.
Simplify. Take a good, hard look at your enterprise data center infrastructure and consider ways to simplify the environment to the maximum extent that is practical. Archive or eliminate resources that have not been accessed or used during the past X years. Many simplification programs are self-funding.
Standardize. Once you have achieved a reasonable level of simplification, take a good, hard look at standardizing what remains. Ensure that components are upgraded to latest standards and sunset those that are beyond their useful or supported lifespan. Fewer applications, operating systems, database management systems, network management systems, etc., translate directly into lower operating costs and, again, are often self-funding.
Integrate. If you have not already done so, consolidate enterprise data centers where it makes good business sense without putting service levels, regulatory compliance or security at risk. Integration also helps build scale that can reduce the unit costs of operating the remaining centers.
Innovate. Consider moving existing or creating new applications, databases and/or analytics capabilities in public cloud data centers. Handle internal resistance by carefully selecting non-mission-critical processes and create small pilots with definitive business cases and expected outcomes. If, for whatever reason, failure seems likely, kill the effort quickly, learn from the experience and move on to the next one.
Engage and collaborate. Ensure that you are fully engaged and have the support of your business partners and stakeholders throughout the process. If you cannot obtain buy-in and engagement, look for another project.

Let me know what you think. Post a comment or drop me a note at [email protected]. Discuss, debate or even argue -- let's continue the conversation.