Manage
Learn to apply best practices and optimize your operations.
Take the first step in measuring IT value
Historically, poor IT performance was seen as a cost of doing business. Throughout the last four years, that long-standing trend has reversed.
Historically, poor IT performance was seen as a cost of doing business. Throughout the last four years, that long-standing...
Continue Reading This Article
Enjoy this article as well as all of our content, including E-Guides, news, tips and more.
trend has reversed. The post-bubble early Internet era (1999-2001) marked the end of IT spending increases with a dramatic correction that reduced overall IT spending by more than 30% from its 2001 peak.
Without consistently measuring IT investment performance, most companies' immediate reaction was frugality, leading a fraction of companies to develop a primitive capability of IT value measurement (ITVM). Despite acute awareness of the issue (a recent Meta Group CIO survey cited measuring IT value and aligning IT and business goals as the top two concerns for 2005), companies still need to determine how to acquire an effective ITVM competency.
Alinean's research indicates that the journey is more than worthwhile. Companies that have developed this capability are already producing more than three times the level of shareholder value for each IT dollar spent relative to average profitable competitors. This follows the premise Jim Collins identified in his booksBuilt to Last and Good to Great: Sustainable performance improvement is rare, and valuable lessons from top-performing companies can be applied to others. In this case, those in the early stages of measuring IT value.
Companies should first recognize that "status quo" management of IT budgets is no longer adequate. In some cases, organizations have to amplify dissatisfaction with current practices and hold members from IT, finance and business units jointly accountable for the successful transformation of their organization.
In addition, companies need to tailor their first step to their culture, capability and maturity. To begin, it's best to understand where companies are grouped: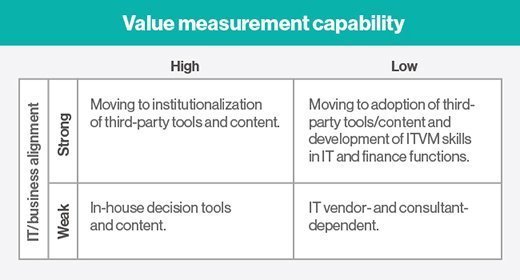 While each company's specific capability and needs are different, 95% fall into one of the four categories shown above. Some further insight into first steps can be gained from the following analysis on actual client examples:
High value management competency and strong IT/business alignment
Driven by the goal to increase competitiveness in the financial services sector, a major bank is pursuing an aggressive deployment of a value management office. This deployment involves concurrent development of best practices, ranging from ITVM certification, leveraging best-in-class ITVM tools, and content and third-party advisory services for rapid ramp-up.
High value management competency and weak IT/business alignment
A major hospitality company has a mandate to improve synergies and reduce redundant IT investments. It is building upon its advanced ITVM competency by leveraging best-in-class ITVM tools and content as the basis for enterprise transformation and institutionalization of best practices.
Low value management competency and strong IT/business alignment
To ensure optimal allocation of multibillion dollar IT transformation initiatives, a major retailer is building upon its aligned, performance-driven operating culture. It is expanding its skilled ITVM staff though certification programs and use of best-in-class ITVM tools and content as the basis for subsequent institutionalization.
Low value management competency and weak IT/business alignment
A major bank is leveraging third-party IT partners and consultants to lead IT integration and transformation following a number of acquisitions.
Overcoming the obstacles -- inertia and mindshare
Any change management exercise that involves people is, by its very nature, a challenging undertaking. While the inherent ubiquity of IT's presence in most organizations is misconstrued as the source of the issue, the disconnect between IT and finance is a joint problem that requires CFOs and CIOs to jointly address it.
Ironically, it is the very ubiquity of IT that makes this challenge a significant shareholder value opportunity for most organizations. The ability to create a "single version of the truth" around IT investments' impact on an organization allows companies to unleash powerful, IT-based transformational projects that rapidly enable new levels of business performance.
For those who don't consider competitors' 3X IT out-performance as a justification for taking a first step of their own, there is always the option of doing nothing. The likely result: Over time, the 3X gap will become meaningless relative to the inevitable long-term out-performance by competitors that have taken the necessary steps to develop ITVM competency.
About the author
Bill Johnston is president and ITVM practice leader of Orlando, Fla.-based Alinean, a provider of ITVM solutions to CIOs, consultants and vendors. He can be reached at bjohnston@alinean.com. To see how you compare with industry leaders and measure your own ROIT, visit www.alinean.com.
Dig Deeper on Return on Investment (ROI)