Six shifts that define enterprise digitization in 2020
Before business leaders get dragged into conversations about how their company can be the "Uber of their industry," they need to agree on the IT and business trends driving enterprise digitization.
Two-thirds of business leaders believe that their companies must pick up the pace of enterprise digitization to remain competitive. These leaders recognize that customer and employee expectations are increasingly shaped by digital capabilities, that new competitors are emerging with fast-scaling digital business models, and that many of their companies' most worrying threats are digital.
I regularly speak to CIOs who "just last week" had an executive committee meeting where digital was the main item on the agenda, or have been tasked by the CEO to set up a digital taskforce, or are already working hard to make one or both of those things happen. And that's the challenge: Every company is at a different stage in its understanding of enterprise digitization, and even within companies a leadership team might have head-in-the-sand Luddites on one side of the table and digital visionaries in need of a reality check on the other.
Before company leadership teams get dragged into conversations about specific technologies or start speculating about how they can be the "Uber of their industry," they first need a common perspective on the business, consumer and technology trends that are driving enterprise digitization, and consensus on which are most important for their context and which can be safely ignored. This creates the starting point for a business-led strategy that will yield much better results than chasing after the latest buzzwords.
Often, CIOs find themselves leading the way in creating this shared understanding. So to help, CEB has conducted a comprehensive analysis of the business model, consumer and workforce changes that will have the greatest impact on the digital enterprise by 2020. The trends point to six shifts that apply broadly across industries, geographies, customer types and operating models.
Six shifts underlie enterprise digitization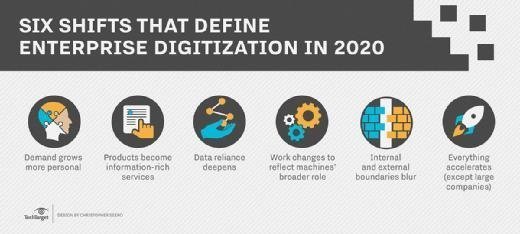 1. Demand grows more personal. Customers today seek services that align with their preferences and values as individuals rather than segments. To meet the needs of personalization at scale, companies will rely on digital channels and digital innovations in product development, manufacturing, logistics and customer service. However, these personalization initiatives will need to be balanced against customers' desire for simple, non-intrusive purchasing experiences. In fact, 85% of executives we surveyed said that simplifying the customer experience will be critical to success in their market by 2020.
2. Products become information-rich services. By 2020, companies in many industries will expand their efforts to deliver or broker information-rich services. Because of this, more companies will introduce subscription or bundling models and will build interfaces where customers can access combinations of products and services from their organization and other companies. The notion of brokering services and focusing on the interface is one of the most profound changes in strategy that will characterize the digital enterprise.
Every company is at a different stage in its understanding of enterprise digitization, and even within companies a leadership team might have head-in-the-sand Luddites on one side of the table and digital visionaries in need of a reality check on the other.
3. Data reliance deepens. As the amount of data available for consumption increases, customers, business leaders, and frontline employees will rely more heavily on data to make decisions. Access to data will help inform purchasing decisions but will pose a challenge to the speed at which consumers and executives take action, as the overabundance and uncertain validity of data make it difficult to reach answers quickly and correctly. Companies that fail to keep up with the information expectations of their customers will see loyalty decline.
4. Work changes to reflect machines' broader role. As advanced automation becomes increasingly adaptable, companies will look to it for opportunities for efficiency and growth. Automation technologies have already changed the nature of work in less skilled activities but will increasingly replace activities that require higher-level skills. Where automation takes on activities previously performed by employees, staff will need to adapt how they deliver value and partner with technology agents by demonstrating greater judgment, creativity and flexibility.
5. Internal and external boundaries blur. The boundaries across companies, functions and roles will become more fluid in the digital enterprise. By 2020, cross-industry strategies will bring players in previously separate industries together and many industry classifications will need to be redefined. For example, some companies will operate as platform business models in which users can create value on the platform, bringing together consumers and suppliers (which is closely linked to the first shift).
Internally, more employees will need cross-functional skills to support new digital ways of doing business. All functions -- HR, legal, finance, operations, marketing -- will seek out analytical capabilities and technical skills and will need to reduce rigid functional boundaries to allow for more sharing of talent with these critical skills. Organizations will need to adapt to more flexible, independent ways of working to allow employees to build the careers they want to have.
6. Everything accelerates (except large companies). Incumbent organizations are having a hard time keeping pace with rapid change in customer demand and digitally native competitors. Increasing risk scrutiny, complex governance mechanisms and business processes, legacy systems, and extensive geographic variations all create delays for large organizations, yet customers and new types of competitors are moving faster than ever. In response, large companies will need to become more adaptive, developing the flexibility to thrive in uncertainty and avoid creating structures and processes that are optimized for any single end state.
Understanding which of these shifts are most important for a specific company is an essential first step in deciding how and where digitization will create the most business value. This is so important to business strategy that CIOs who facilitate this shared understanding are not just getting the proverbial "seat at the table," they are building the table and helping the CEO decide who gets to sit where.
In this monthly column, my colleagues and I look forward to exploring with you how real companies are changing taking advantage of enterprise digitization, and how they are making changes in the IT team, and more important, across the company as a whole.