adzicnatasa - Fotolia
Manage
Learn to apply best practices and optimize your operations.
Setting up a service automation framework
In this third tip in a series on service automation, the global CIO searches for and finds a service automation framework.
Editor's note: This is the third in a series of four columns on IT service delivery automation. The first chapter recounted how the global CIO, the hero in our series, has an epiphany about service delivery after a brief encounter with a summer IT intern. The second chapter described an urgent meeting of the global CIO's executive team, in which the intern laid out the five reasons for automating IT services. In this chapter, "A CIO dives into the service automation framework," the global CIO ponders the meaning of serendipity management.
Following the big service automation meeting you called last week, you decide it is time to do some homework. The prospect of delivering automated IT services sounds very appealing, but where to start? As you discussed with your executive team, the IT organization has more than 4,000 live services. Which ones would be most suitable for automation?
The central premise of service automation is to start delivering services through a centralized self-service portal or (mobile) app. You envision a centralized place in your organization where all your users (you know, even the ones who don't know anything about technology) could file their service requests and they would be executed automatically. It would be almost as easy as pushing a button and a having a car magically appear at your doorstep. … Oh wait, some people already thought about that and it turns out to be a multi-billion-dollar business.
How nice would it be if software was automatically provisioned upon a user request and the corresponding department would be billed accordingly? What if your test departments could automatically scale up or scale down their test environments?
As you dream a bit more about service automation, you realize that the possibilities are endless. How nice would it be if software was automatically provisioned upon a user request and the corresponding department would be billed accordingly? What if your test departments could automatically scale up or scale down their test environments? Or, even better, how many hours would be freed up on a regular service desk if just 10% of all incidents and requests could be dealt with automatically? But with so many potential services that your organization could automate -- and it is impossible to automate all -- the question remained: Where to start?
The service automation framework
You decide to browse online a little. Certainly, there must have been companies that had similar questions. There must be case studies and reference models available that you could reuse in your organization. When you Google "service automation," the first page shows a picture of the Service Automation Framework. Maybe this could be something interesting.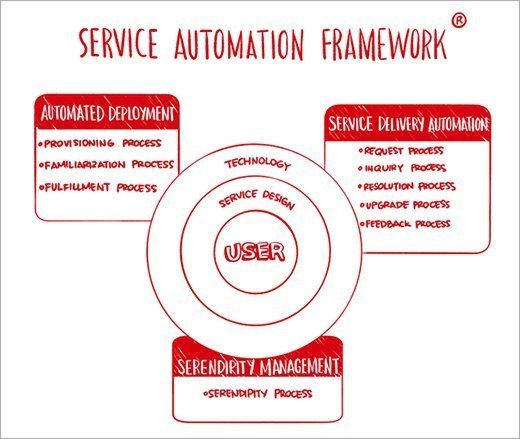 As you read on, you find that many other companies have struggled with the question of where to start with service automation. Setting up a service automation framework appears to be a good starting point, but in the back of your mind, the alarm bells start to sound. Not another framework, again? You think back on when you started your career and had to work with all other kinds of frameworks: ITIL, COBIT, TOGAF and you can name many, many more. The one thing you know for sure is that 20 years later, most of these frameworks have not yet delivered the value that they promised at the beginning of your career. So, why would this one be any different?
Then you examine the central picture of the framework a little further and one element appears unfamiliar: What does "serendipity management" mean? And more importantly, why would something like that appear in a framework? Aren't frameworks all about processes?
Another quick Google search shows that (besides the 2001 movie with John Cusack and Kate Beckinsale) serendipity literally means "something good that you did not expect beforehand." When was the last time that ever happened in IT? Applying the literal definition of serendipity to IT, serendipity management could mean this:
"Serendipity management: The planned, continuous and automated approach of constantly exceeding the expectations of users."
Suddenly, everything starts to fall in its place. Every service, small or large, is the fulfillment of a number of expectations. If you are sitting in a restaurant, you are expecting the waiter to bring you the menu (and, hopefully, the food afterwards). If you are using a music streaming service, you expect quality sound and 24/7 availability of your favorite tracks. And if you are using an IT service, you expect that the technology works and provides you the value that was promised from the start.
But what if those expectations were not only met, but exceeded?
What if the waiter in the restaurant brings you not only the menu, but also greets you by name (from the reservation system) and suggests your favorite drink (based on your previous visits)? What if the music service suggests new songs for you based on the tastes of your friends (through Facebook) or on your current location (via the GPS in your phone)? And what if your IT service provider would provide you with extra bandwidth during your working hours (based on previous usage) or would ensure that every software upgrade, request or issue would be solved automatically? Would you be inclined to buy other services from this service provider as well?
You decide to give this some thought during the weekend. After some days off, you can surely determine a service to start your service automation project. On the way home from work, you make dinner reservations and stop to buy your spouse some flowers.
Oh, yes, you also read that serendipity management starts with leading by example.
This is the third in a series of articles by Middelburg on IT service automation. Look for the fourth and final chapter in the saga of the global CIO and IT service automation next month.