peshkova - Fotolia
Readers debate using the Apple Watch for business
The Apple Watch offers nuggets of data that could drive employee productivity. We asked our readers to weigh in on the potential usefulness of the Apple Watch for business.
Apple unveiled earlier this year that it was finally rolling out the much-anticipated Apple Watch. We at SearchCIO were just as awestruck as other consumers by the smartwatch's capabilities and coolness factor (e.g., its Taptic Engine and digital crown).
But when Apple showed off Salesforce Wave for the Apple Watch, an Apple app designed specifically for the enterprise, we took special note. In my Searchlight column, I asked a few analysts what they thought of the device's potential usefulness in various industries.
Both analysts I talked to were modestly optimistic. "Salesforce's entry is a sign that Apple Watch, though expensive, has some enterprise relevance," said Forrester's J.P. Gownder. Meanwhile, Van Baker at Gartner said the device's impact will "very much depend on third-party applications … from various providers."
Readers feel good about the Apple Watch for business
We took the question of the Apple Watch's business relevance to our readers and asked if they agreed. Somewhat to our surprise, optimism ran high, as evident in this review from an enthusiastic business user:
"The days of scrambling for opening a session to the workflow inbox using both hands, disrupting your other tasks on hand, are long gone. The Apple Watch would simply ask you if you want to approve … your office equipment buying manager's purchase of ten Apple Watches for the field service technicians for $3,250; all you do is … say 'yes' or 'no,' and immediately continue to talk to your big client sitting beside you in the meeting."
"As an endpoint, there is no device more trusted [than] the Apple Watch. Workflows are entirely based on trust; any other endpoint device is, functionally as well as politically, not heavyweight enough to be trusted enough at the endpoint of an enterprise workflow item."
"Apple Watch will turn the tide making business workflow front and center for enterprises of all sizes."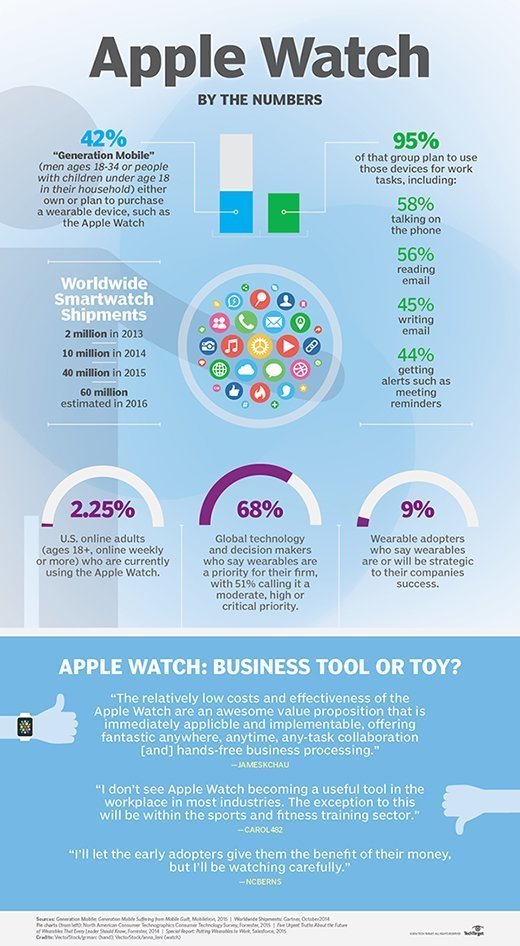 Download the infographic by right-clicking here and choosing "Save image as."
"Essential? Not so much."
A few other readers were more cautious with their predictions, but they were also inclined to give Apple the benefit of the doubt:
"I've learned not to count any new technology out completely, so I'll say yes, it'll become useful. But essential? Not so much."
"It's too early to make that call. In the short term, I'm skeptical about its usefulness and extremely cautious about its impact. But Apple has certainly earned the right to be taken seriously. That said, I think this is a product that must be, sorry, watched."
"Right now, I think the [Apple Watch] is hardly more than a pretty bauble with little purpose. I suspect it'll create more narcissism and paranoia about fitness than any real health benefits. Then again, that's today's assessment and even while I quibble about it, apps are being created to turn this overpriced curiosity into a major tool."
"Apple has certainly proven to make form factors others thought irrelevant part of the fabric of everyday life in a way any other company would be envious [of], so I won't count out the idea of a smartwatch being a business tool that could reshape how we work and interact."
Apple Watch (not) for business
Then, there were those in the naysayers' camp, who said the Apple Watch might well be beneficial in a few industries or for personal uses, but it was unlikely to be adopted as a business tool in most sectors:
"I could see it being hugely influential for personal fitness, finance or calendaring, but beyond that, I'd think the smartphone would be a better form factor."
"I don't see Apple Watch becoming a useful tool in the workplace, in most industries. The exception to this will be within the sports and fitness training sector."
"I have a hard time seeing how it would actually be more helpful or more effective as compared to a tablet or smartphone. The one area I could totally see it being more effective is in a biomedical sense."
How about you -- do you say yay or nay to the question of using the Apple Watch for business? Or do you think it's too premature to say? Let us know in the comments section below.
Next Steps
See what our sister site SearchConsumerization has to say about the uses of the Apple Watch for business. Then, check out our coverage on the war of the wearables.