Fotolia
Preparing your wireless network for the 802.11ac standard and beyond
Get advice for assessing whether you should upgrade your wireless network to 802.11ac and for talking to network vendors about whether your core equipment can support it.
With mobile devices flooding the corporate network at an increasing rate, you may be looking to upgrade your wireless network to support the growth. However, successful implementations require carefully addressing not only the wireless architecture, but also its impact on wired networks.
If wireless performance starts crippling under the weight of new devices, you, as the head of IT, will hear the frustration of the rest of the company. With mobility proving incredibly important to most users, wireless upgrades deserve careful guidance and strategic oversight from leadership. Keeping an eye to the future, here are a few steps you can take to prep your network for an upgrade to the 802.11ac standard and keep it running well not only at the beginning of the refresh, but toward the new protocol's end of life as well.
Establish a formal mobile planning group
While mobile devices are already well-established within most businesses, chances are, little thought was put into the process beyond, "I need to support and manage these devices." If you're looking to upgrade your wireless LAN (WLAN) infrastructure, now is a great time to have a formal evaluation. Here are some tips for how to approach that evaluation:
If a hospital wants to buy new wireless heart monitors, IT needs to know. If sales wants to start using mobile video conferencing, IT needs to know.
Include representatives from outside IT. Include at least one other C-level representive, as well as representatives from the various business units.
Keep the focus on future mobility use cases the different groups would like to see, rather than collecting a list of gripes from across the company. Complaints won't be as helpful for network planning as a list of desired use cases.
Drill down into upcoming plans and emerging use cases. Business unit leaders don't always think about the network impact of their plans and purchases. If a hospital wants to buy new wireless heart monitors, IT needs to know. If sales wants to start using mobile video conferencing, IT needs to know.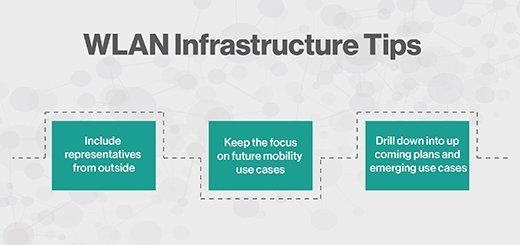 Evaluate your current environment
The tools used by your network management team will come in handy when planning to incorporate 802.11ac-standard devices into your future network if they can give you an accurate snapshot of how traffic flows through your network. Bandwidth and network monitoring will give clear insight into potential future problem spots. Using these tools, have your staff identify high-volume links and top talkers. Likewise, note where there is excess bandwidth and why is it underutilized. And, using data from the mobile planning group regarding future use cases, model the impact of any expected additional load from new mobile activity. This will help identify the areas that need attention to be ready for 11ac.
Take the strategic route; talk to your current network vendors
Changes are happening that do not get much attention. Currently, 802.11ac Wave 1 is the standard for any new 802.11ac deployment, which can reach a theoretical maximum of about 1.3 Gbps. Typical Cat5e or Cat6 links can easily handle that load. Starting most likely in early 2016, 802.11ac Wave 2 will hit the market, with a theoretical maximum of about 7 Gbps, far beyond what the currently 1 Gigabit Ethernet (GbE) link can handle. 10 GbE uplinks and cabling may not be a feasible option for many, due to cost and current inability to support Power over Ethernet. Some network vendors are working to get around this by developing specs for 2.5 and 5 GbE over legacy cabling. The problem is there are no standards yet. If you have no plans to change core networking equipment to support higher-speed 802.11ac, you or your designated liason should talk to your networking vendor or vendors to review your options (for example, for trunking) and formulate a plan going forward.
The continued rise of mobile and wireless devices is having a major impact on enterprise networks. Now is the time to get ahead of the new torrent of devices and traffic, planning a network that will fit your company's needs, not only now but in the coming years as well.
Next Steps
Learn why the 802.11ac standard is eliminating the need for a wired network, assess whether your network is ready for 802.11ac Wave 2 and then get advice for choosing among 802.11ac access points.
Dig Deeper on Enterprise network and wireless management