chris - Fotolia
5 tips for CIOs planning a 5G deployment strategy
Experts discuss the five moves CIOs should be making right now to ensure they are prepared to take hold of 5G as it becomes more available to enterprises.
The majority of CIOs expect to seize on 5G -- the fifth-generation cellular network technology -- as it becomes available and they plan to move fast.
A survey of 185 organizations by Gartner Inc. showed that 66% already have plans for 5G deployment by 2020. Meanwhile, a recent study by Spiceworks found that 55% of IT business decision-makers plan to adopt 5G devices within a year of availability.
Telecommunication providers are already rolling out 5G but they're in the early stages, and analysts and consultants expect providers will need years to build out their 5G networks.
That gives CIOs plenty of time to develop strategic plans for using this technology, said Bill Menezes, senior principal analyst of sourcing, procurement and vendor management at Gartner.
However, that's not a license to push off planning.
CIOs need to start the planning process now for an effective 5G deployment strategy, according to several experts. They advise CIOs to envision today how they can utilize 5G -- with its increased speed, higher density and lower latency -- to improve operations and transform their organizations in the future.
Menezes; Mark McCaffrey, PwC's technology, media and telecom sector leader; and Dave Muller, partner of the network advisory practice at ISG, a technology research and advisory firm; offered five moves CIOs should make right away so they're ready to seize on 5G as it becomes more available.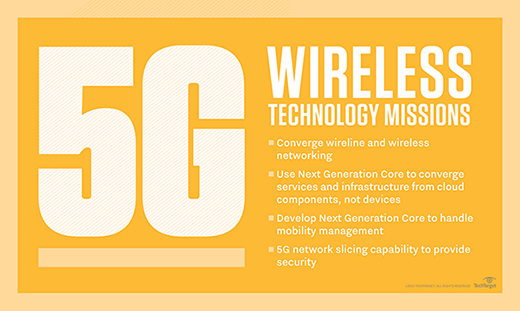 1. Identify potential opportunities
Experts already predict that 5G will support expanded uses of industrial internet of things (IIoT) and will enable better virtual and augmented reality (AR) experiences. "Anything interactive will benefit," Menezes added.
So, as CIOs work with their C-suite colleagues on strategic roadmaps, they should identify areas where 5G could deliver better or faster performance.
However, CIOs should recognize that they won't need 5G for every initiative -- nor will 5G deliver good returns for all potential 5G deployments.
"I don't think 5G is going to replace internal networks and I don't think those internal networks will go away, but 5G will complement or supplement those networks. And because current networks are handling application requirements fairly well, CIOs have to figure out the use cases that make the most sense for 5G," Muller said.
2. Consult with service providers
Service providers have already started to roll out their 5G networks; however, 5G deployments are limited in scale even in the cities where it exists. Given this current situation, Menezes said he advises CIOs to ask service providers for details about the performance capabilities they expect from the 5G technologies they're rolling out -- specifically, where it will be available, when and at what scale.
"It's time for CIOs to ask for performance thresholds and guarantees backed by meaningful SLAs," Menezes said, adding that CIOs need such details so they can align their enterprise strategies with the 5G capabilities that will actually be available to them.
3. Draft contracts that anticipate 5G
Although there's still a lot of uncertainty about when and where 5G will be available, it is most certainly on its way. CIOs should be reviewing, revising and renewing contracts with their service providers with that in mind as part of their 5G deployment strategy.
"Add some flexibility in the terms and conditions on your new contract," Muller said, adding that the goal is to "future-proof" their contracts. He said CIOs should add specific provisions that address potential future needs and opportunities. They should also consider shorter contracts to avoid being locked into unfavorable terms as times change or being stuck with a provider who isn't as competitive as others when it comes to their 5G advancements.
4. Focus on foundational elements
As service providers build out their 5G networks, CIOs need to consider what they will need within their own infrastructure to utilize the emerging technology, McCaffrey said.
"I'd start to evaluate whether my business is in a position where I can take advantage of this new technology," he said.
For example, many of the anticipated 5G use cases will involve utilizing more data at faster speeds. Meanwhile, a 5G deployment will likely increase organizational security needs and will certainly require both new and upgraded technologies within enterprise IT stacks.
McCaffrey said CIOs should evaluate what new technologies, security elements and data programs they'll need to support 5G initiatives and begin to implement those pieces in the run-up to widescale 5G availability.
5. Explore the innovative and disruptive potential
Many of the anticipated 5G uses publicized so far focus on improvements, not innovations. CIOs shouldn't settle for that, experts said.
"Most of the things that the carriers are talking about are relatively mundane [such as 5G supporting] ultrahigh-resolution video," Menezes said. "It's time to think much bigger."
McCaffrey agreed, saying CIOs should be exploring whether there are disruptive opportunities powered by 5G as they plan their 5G deployment strategy.
"If you're not planning for that, then are you really going to be prepared?" he said. "Or are you going to be behind? Are you giving away a competitive edge to someone else who is better prepared?"
Dig Deeper on Digital business transformation and innovation