Manage
Learn to apply best practices and optimize your operations.
Move like Jagger to nail down a digital strategy
The collaborative skills of Quincy Jones, longevity of the Rolling Stones and tenacity of Tina Turner are the makings of a potent digital strategy.
Few would argue that today's CIOs need to help drive the digital business of their companies. We live in a digital age. But to build a digital strategy of rock star proportions, CIOs had better be down with collaboration and metrics.
That was the take-it-to-the-digital-bank advice of a panel of technology experts at the American Society of Association Executive's (ASAE) Technology Conference in Washington, D.C., in December: Adam Foldenauer, engagement manager at ICF Interactive; Andrea Burnett, senior director of information technology services and Felicia Carr, director of Web strategy and operations, both with the American Council on Education. In a panel, "How to Build a 'Rock Star' Digital Technology Strategy," the trio discussed three ingredients essential to creating an enterprise digital strategy:
Collaborating across teams and functions
Measuring against a maturity model
Creating a "living" roadmap
Oh, yes, and they invoked plenty of rock legends to make their points, starting with the multi-talented Quincy Jones. Carr explained that Jones, a great collaborator, made his name as a record, TV and film producer, a conductor, instrumentalist, record company executive, humanitarian and more. He broke down musical and racial barriers left and right.
Likewise, the successful CIO "digital technologist" helps create a cross-functional team of IT and business experts, acting as a conductor of the many technologies that play into a digital strategy: privacy and security controls, cloud computing, big data, mobile, social engagement and technology to enhance the customer experience.
"Executive leadership, marketing, operations, vendors, members and staff all must be part of the digital technologist's 'collaboration framework.'" Carr said. "The biggest issue is making teams work cross-functionally, especially when IT is taken out of its silo."
The building blocks of the digital maturity model
Citing the Rolling Stones' impressively lengthy career, Carr and Burnett said CIOs must also recognize that a successful digital strategy will evolve over time. Using a digital maturity model both as a checklist and measuring stick will help organizations identify gaps in their digital strategy. The digital maturity model includes eight components: content management; governance and readiness; research, analytics and optimization; commerce; channels; personalization; search; and social and community engagement. (See Figure 1). Each component comes with its own checklist for best practice assurance.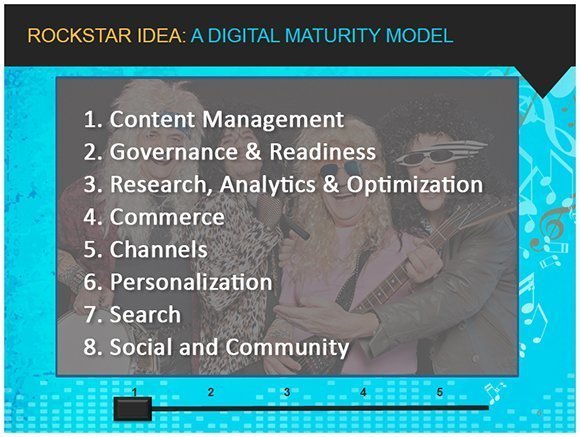 1. Content management
How robust are content management system (CMS) capabilities, processes and content strategy? Is content creation and content reuse efficient?
Does the content management strategy include separate style guides for separate purposes?
Is the content fresh and personal?
2. Governance and readiness
How defined are the roles for managing infrastructure and content? Are teams able to quickly capitalize on market opportunities and respond to risks?
Is there a data owner and data governance group established for making company-wide decisions?
3. Research, analytics and optimization
Is there a roadmap to a 360-degree customer-data-based view?
Are there strategies in place to gather primary research and optimize digital properties?
Are comprehensive customer relationship management (CRM) and data management capabilities in place?
4. Commerce
Are digital transaction capabilities a core technology competency or is that outsourced?
Are privacy and security strategies robust?
Is the data siloed?
5. Channels (multi, omni and cross)
Is mobile integrated into the customer experience journey?
Is user experience coordinated across channels and consistent when appropriate?
Are offline and online integrated?
6. Personalization
Are products, services and content customized based on what the digital tool knows about the customer's browsing history or history of interacting with your company?
7. Search and discovery (internal and external)
Are there mature strategies for paid search and search engine optimization? Is there dedicated analysis and optimization for internal enterprise search?
8. Social and community
Are there conversations taking place with your customers and stakeholders online?
Are you fostering digital communities?
Personalizing the experience
Maturity model components (Nos. 5 to 8) are customer-facing, said ICF's Foldenauer, and vitally important to a digital strategy.
Where are CIOs on the digital strategy maturity model?
When session attendees were polled on which component of the maturity model they planned to focus on in 2014, content management was at the top of their lists, followed closely by personalization and analytics.
When asked to name their biggest barrier to creating a digital strategy and technology roadmap, "competing priorities" came in first, followed by "resistance to change," and "lack of vision and budget."
"Users have simply come to expect a personalized experience, including a profile, single sign-on and recommendations for content," he said. "And, therefore, the UI [user interface] and UE [user experience] must be engaging and seamless," he explained.
The "search and discovery" component must also be robust, he added, so that internal and external customers can find what they're looking for. Information needs to be engaging, relevant, able to be found, and found easily.
Finally, organizations cannot underestimate the importance of a social strategy and community engagement. The panel advised that organizations spend time identifying where their users are through CRM data to help build a social strategy.
Building the digital roadmap
Just how do CIOs build this comprehensive roadmap to digital strategy rock stardom? The panelists highlighted four key steps:
Step 1: Talk to stakeholders
Understand business priorities
Identify challenges, constraints and risks
Assess internal resource capabilities
Determine areas of core competency
Brainstorm possibilities
Step 2: Map technology functions to systems
Determine what internal hosted (SaaS) systems might be needed
Assess global functions, such as business intelligence systems integration, Web hosting
Step 3: Draft a strategic technology roadmap that takes the following into account:
Application architecture
Infrastructure architecture
Maintenance and operations
Step 4: Talk to stakeholders
Get feedback on the roadmap
Discuss dependencies and integration points of projects
Look realistically at what's possible
Socialize and gain buy-in from stakeholders and users
Revisit regularly (Remember: This is a "living" document)
Sound like a lot of work? The panel ended by paying homage to the one and only Tina Turner. Carr advised CIOs to take a page from Turner's book of tenacity and drive: "Don't look where you are going. Look where you want to be."