Brigida Soriano - Fotolia
How to monetize data
CIOs are increasingly being tasked with capitalizing on company information. Learn how to monetize data in this report from Outsell's DataMoney Conference.
With enterprise data stores continuing to grow and with the pace picking up as businesses implement IoT strategies, CIOs have greater opportunities -- and are under increasing pressure -- to monetize the data their companies may be sitting on.
Presenters at the recent DataMoney Conference in New York had lots to say about how to monetize data.
Anthea Stratigos, co-founder and CEO for data monetization at consultancy Outsell Inc., which produced the conference, estimated the information industry market at $1.6 trillion in 2016, with the largest chunks of value residing in consumer media, at $627 billion, and marketing and media, at $463 billion. The credit, financial, tax and GRC segment claimed $157 billion, while education, training and human capital management garnered $149 billion. The scientific, technical and medical segment harvested $134 billion, and content, technology and distribution services had $81 billion.
But how does a company go about capitalizing on the data it holds? Stratigos mapped out the path.
How to monetize data with the Agile business process
Companies that want to commercialize their data -- or those that want to create a data-driven solution using data from another source -- should use an Agile lifecycle process, Stratigos said.
It's very important to consider the need for speed because that drives what people will pay.

Anthea Stratigos co-founder and CEO, Outsell
Step 1. Conceptualizing and defining the product offering is the first step, and it involves identifying and segmenting the target market, sizing the market, identifying end user needs, assessing the competition, testing the concept, and defining the top-level architecture.
Identifying the target market is a particularly important foundational step, according to Stratigos. "Target markets are really the intersection of two things: the role that you're serving and the industry or industries that you're serving," she said. So, the critical questions are which vertical or verticals will your data make the most sense for? And which business users are you aiming your data offering at? For instance, are you aiming at salespeople across all industries or CFOs in the telecom space? The former is a more scalable opportunity, while the latter represents a small niche.
"If you're in the real estate space and you have an offering for assessors, you have a tiny market. ... It's not a bad play, but if you're really thinking about it in terms of market opportunity, [it's a] reality check on opportunity," Stratigos said. "We talk to venture capitalists quite often and we use that to assess opportunities from an investment perspective. In many cases the opportunity is not as good as it seems because of the fundamentals of the market that's being targeted."
Skipping the step of determining your target is a big mistake, according to Stratigos. "A lot of times, [companies] go straight to development and think 'Oh, in an Agile world, we can just assemble a team, get the data, do it in real time, go to market, pivot.' In organizations [that process takes] resources. A better, faster time to success, we believe, is to slow down ... for a week, a day, a few minutes, [and] really think through who you are targeting your offerings to."
Step 2. After the offering is defined and the target market determined, the business process moves on to assessing feasibility and prototyping. At this stage, companies should identify and select content and technology architecture; negotiate whether they will build or buy the data and technology to be used in the offering; evaluate products that will be used to get the offering to market; define user interactions; create the look and feel; develop test and launch plans; and review the prototype with users. Questions to ask at this stage, said Stratigos, are, "Do you buy data? Do you trade data? Is it going to be an analytics-driven solution?"
Step 3. The next step in the process is deployment and tactical marketing, wherein the product is actually produced, pricing is finalized, collateral is developed, sell-through channels are established, and sales performance versus competitors is assessed.
Step 4. The final step in this Agile business process is to measure performance: analyze web stats, assess profitability, measure ROI and customer loyalty, benchmark performance, and decide whether to revise or discontinue the offering.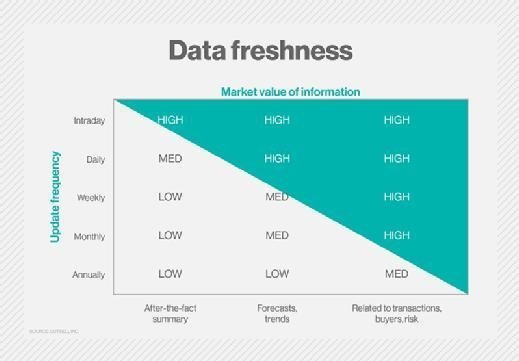 Platforms
One critical issue to consider as businesses investigate how to monetize data is whether or not they can create a platform business around the data, or whether they need to build off of another company's platform.
"A platform, by Outsell's definition, fundamentally is about the integration of content, software, services, workflow [and] potentially community and potentially commerce," Stratigos said. "We think [a] platform is not a platform until it's an ecosystem that includes third-party commerce or third-party ability to do work on [the] backbone. Watson is a platform. Apple is a platform. Salesforce clearly is a platform."
In many scenarios, highly scalable platform opportunities have already been taken by dominant companies. But, Stratigos said, smaller companies have a shot at establishing smaller platforms, perhaps within a specific vertical industry or for a specific role.
Value chain
Companies also have to determine their place on the value chain, according to the Outsell model of how to monetize data. Outsell depicts this value chain as a pyramid structure, with lower levels of the pyramid offering the most applicability to a broad range of potential customers.
At the very bottom of the pyramid is commoditized data, which serves as the building block for other data services, said Michael Balsam, vice president and senior consultant at Outsell. "Data-only businesses, such as static directories and listings, are typically lower value as they are easier to replicate than tools and analytics that sit on top of data," he said.
The next layer on the pyramid is value-added content, or "smart data," in which the data is categorized or indexed, for instance. These value-adds help make the data more navigable and dramatically increase its value, Balsam said.
The next layer consists of access and discovery tools such as search, mapping and visualization. These tools "serve as access points that facilitate discovery, demonstrate relationships and help create meaning," he said.
At the top of the pyramid are two types of workflow systems: predictive and personalized and prescriptive. While data applications provide analysis on data sets, workflow technology "provides a mechanism to embed data into daily tasks in way that elevates and personalizes decision-making," Balsam said. "This combination creates increasingly proprietary assets for providers of these tools." Predictive analytics -- predicting what will happen by gaining visibility into what has happened in the past -- is an important layer of value-add in the information value chain and it's increasingly being used. On the horizon is the ability to apply personalized and prescriptive analytics to workflow, but it's still on the bleeding edge in most industries, he said. "In sophisticated industries such as energy, algorithms leverage real-time supply, demand and environmental data to predict prices and suggest trades." But the technology has to mature before it will reach mainstream use.
"In some cases it's really important to be at the bottom layer: 'We're going to do it at scale, we're going to do it better than anyone, we're going to make that data available,'" Stratigos said. But, she said, the most value is at the top of the pyramid, unless you can "serve it at scale and stay at the bottom" layer of the pyramid.
Velocity of data
Another major consideration for businesses looking to monetize their data is how frequently that data is updated. "It's very important to consider the need for speed because that drives what people will pay," Stratigos said. Quoting Outsell affiliate analyst Chuck Richard, she said, "Data is worth money when money and risk are at play." If you're providing relatively stale data, "it's not as valuable as if you're at the trading desk in financial services. There's a reason why financial services content is one of the largest segments and has a premium pay for it: Big money is at stake. ... The more you impact the exchange of money or the risk of money being spent, the more your data is going to be worth," she said.
Competitive set
For companies that are considering a highly scalable offering, there's a lot of competition out there. Big data-driven providers include Gartner, Equifax, Moody's and McGraw Hill Financial. Niche data providers include Mesur.io, Mavrx and Wellntel. And, finally, there are enterprise companies -- such as IBM (with its The Weather Co. acquisition), MasterCard, BMW, Trimble, Mars Inc., Monsanto and even the New Orleans Police Department and law firms -- that are getting into the data business.
Terms of use
The terms of use surrounding your company's data can impede your efforts to monetize it. If licensing mechanisms are not in place to allow maximum use of the data, you could face problems. Stratigos described one company with data about utilities use across the United States. The company's data was good, but "they couldn't name names, so the velocity and the value of the data were not as valuable," she said.
Product management
Companies that seek to monetize their data need to dedicate product management resources to the effort. "This function ... is really the Switzerland of the organization, thinking about how they're going to monetize the data ... how it's going to be successful, how it's going to get translated into engineering," Stratigos said. "Many companies go straight to engineering and start building [without a product manager]."
Dig Deeper on Digital business management