Manage
Learn to apply best practices and optimize your operations.
'Going green' means doing the right things
Our expert explains why CIOs who make wise decisions about project delivery and managed services are just naturally environmentally friendly.
As I go through my day, I don't think too much about green IT. My day is consumed with building relationships of trust inside and outside IT; improving our IT capabilities, service levels and delivery performance; mitigating risks; and developing staff.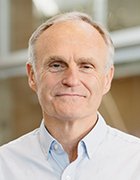 The Real Niel
Niel Nickolaisen
This should not imply that green IT is not important to me. Rather, I have found that by doing the right things operationally, doing the right things on project delivery and making the right managed service decisions, I am naturally "green."
For example, we continue to find ways to optimize server and storage virtualization. We are not virtualizing specifically to reduce our power consumption. Instead, we are virtualizing to reduce cycle times and capital costs, and to simplify infrastructure management. As a natural consequence of our aggressive virtualization, we also are reducing power consumption as we consolidate servers and storage.
We have taken an approach to backup and recovery that naturally leads to greener IT. We divide our systems into categories A, B and C. Systems that must be up and running all the time are our A systems, and we focus our real-time backup, recovery and redundancy efforts on them. This approach means that we don't have redundancy on our less-critical B and C systems. In practice, we don't have as much equipment allocated to backup, recovery and redundancy. Thus, we consume less power than if we treated all our systems as if they were A systems.
In addition, we use managed services that naturally make us greener. Our primary data center is operated by a provider that uses a power-optimized data center design. Its power comes from cheap, reliable, hydroelectric sources. This provider makes much better decisions about power consumption than I ever could. Even better, I don't spend much time each day thinking about green IT, but it spends a lot of time implementing and managing green IT.
We also have shifted some of our services to cloud providers. We are in the middle of a major Software as a Service (SaaS) implementation that over the next couple of years will replace dozens of our infrastructure-hungry legacy applications. Again, we did not decide on SaaS because it would improve our green IT performance. Our SaaS implementation is a critical component of our IT transformation as we plan for continuing rapid growth. However, this project also shifts the computing load from us to someone for whom green IT is a big deal.
Our SaaS provider has to optimize data center performance and power consumption. What is a minor consideration for me is one of the major drivers of its data center design and operations. We also have been using some cloud Platform-as-a-Service, or PaaS, providers. Like all our managed service decisions, this one naturally leads us down a greener IT path.
So, if someone at a board meeting or in some other venue asks me about our green IT initiatives, I think I have a pretty good story to tell. We are becoming greener as the natural consequence of getting better at making decisions about and implementing technology services. If we are doing the right things, we deliver on a wide range of goals -- lower costs, higher service levels, reduced cycle times -- and green IT.
Niel Nickolaisen is CIO and vice president of strategic planning at Headwaters Inc. in South Jordan, Utah. Write to him at nnick@wgu.edu or editor@searchcio.com.