Manage
Learn to apply best practices and optimize your operations.
Free proof-of-concept templates for the CIO
Do you know what goes into a proof of concept? Or why POCs are done? Learn more about the elements of a POC and get access to free proof-of-concept templates for the CIO in this tip.
To execute on an idea or project, organizations often develop a set of proofs, or tests, that lay out the criteria...
Continue Reading This Article
Enjoy this article as well as all of our content, including E-Guides, news, tips and more.
required to succeed. A proof of concept, sometimes called a proof of principle, aims to demonstrate the viability of an idea or project. Can this concept be turned into a reality? This tip describes some of the elements of a proof of concept and offers free proof-of-concept templates for the CIO.
Why create one?
For project stakeholders, a proof of concept (POC) offers the opportunity to explore a concept's potential to be developed and identify gaps between the vision and deliverables.
POCs are utilized across many industries, from filmmaking to drug development to transportation, and the terms and conditions differ from sector to sector. A proof-of-concept template for a technology startup, for example, would need to demonstrate financial viability. POCs, however, typically don't demonstrate market demand or determine the best means of production.
In application or software development, a proof of concept tests a prototype of the application being developed before it is delivered to the customer. The elements in the software proof of concept should help organizations clarify any technical requirements or logistical issues that would impede its development.
Elements for a proof of concept
Go to our WhatIs definition for proof of concept to read more about the elements of developing a POC, including the four critical steps to writing a POC and the difference between a proof-of-concept template and a prototype, two terms erroneously used interchangeably (see chart).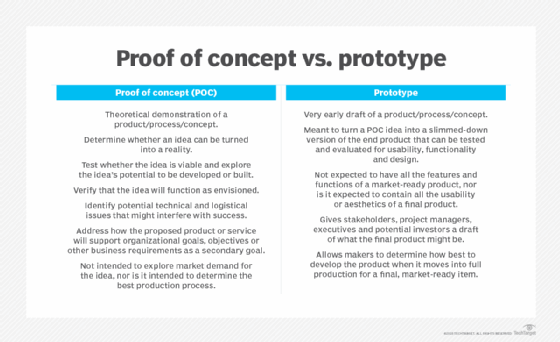 Below, we've compiled a sampling of free proof-of-concept templates for the CIO and POC examples from around the web to help you plan and execute your IT projects. Click on the link in the Offering section of each example to access the POC document.
Free proof-of-concept templates for the CIO
Source: Commonwealth of Pennsylvania, Department of Public Welfare
Offering: This comprehensive proof-of-concept document was developed 10 years ago by two IT executives and remains a valuable guide for developing a proof of concept for custom-built business solutions and new technologies. The document includes detailed explanations for the planning, testing and results of a POC, as well as a handy proof-of-concept template at the end.
Source: Hewlett Packard Enterprise
Offering: The author of the report "Anatomy of a successful Proof of Concept" makes the point that successful POCs include well-documented use cases that are tied directly to business metrics, regardless of the IT system under consideration.
"The requirements for a successful POC don't change depending on the type of POC: Private Cloud, Hybrid, or a Network Function Virtualization (NFV). These efforts should never be just an extended solution demo."
Source: Toolbox.com
Offering: This sample technology proof-of-concept template provides an in-depth explanation of how to outline a methodology for a POC of any scale and how to assess the necessary technical environment and anticipated requirements for a new system.
Source: Designli LLC
Offering: Software firm Designli offers proof-of-concept guidelines for successful software development in five steps: prove the need, map pain points to solutions and get feedback, prototype your solution, test, and create a minimum viable product. However, it must be noted that this advice bucks conventional wisdom for POCs to include prototyping and developing a minimum viable product.
Source: Accelerator Research and Innovation for European Science and Society (ARIES)
Offering: ARIES' proof-of-concept proposal chart is a good example of a concise template that can be adapted to other industries. The template lists six criteria, annotated with questions and other information that help explain what is required of each.
Source: Mervyn George
Offering: Tech advisor and author Mervyn George takes to LinkedIn to offer up six software proof-of-concept components for success.
Dig Deeper on Small-business IT strategy