Manage
Learn to apply best practices and optimize your operations.
Forrester CXi shows CIOs key to improving customer experience
Companies that excel at customer experience work hand in glove with CIOs and IT, according to the Forrester 2013 Customer Experience Index.
Customer experience has not been at the top of the CIO's list of priorities. Forrester predicts this is about to change for the vast majority of CIOs, regardless of industry. Up until recently, customer experience was something most often connected to the help desk, but CIOs and their teams are increasingly challenged with improving the customer experience for their organization's real customers.
Today, more than ever, technology underpins almost every customer experience. Customers more easily switch brands, products and services with the click of a mouse or tap of a screen. At the same time, they will happily share with everyone how unhappy they are on social media. Delivering an outstanding customer experience is rapidly moving from a means of differentiation toward a prerequisite for survival in the market.
This is an enormous challenge for CIOs already overwhelmed with an endless list of projects and diminishing resources. Yet some companies remain consistently ahead of their competitors in the customer experience stakes. Forrester defines customer experience as how customers perceive their interactions with your company. In 2007, we developed the Customer Experience Index (CXi), which helps clients understand how they can influence customer experience.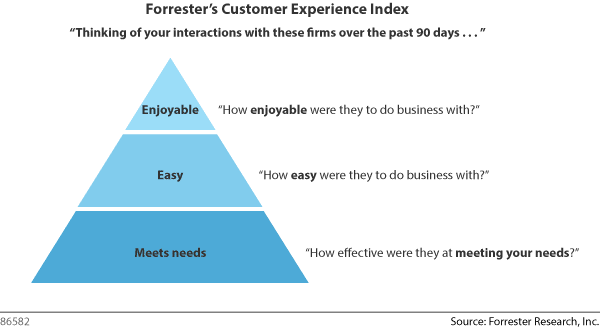 Improving customer experience produces tangible business value by increasing sales through repeat purchases and referrals, and often by increasing profitability through lowering costs of service. Even small shifts in customer loyalty can translate into billions of dollars of incremental revenue each year for firms in some industries. For example, financial services group United Services Automobile Association created a seamless, low-stress experience for researching, financing and insuring vehicle purchases. The result? A 77% year-over-year increase in visitors to the car-buying site, a 15% increase in completed auto loans and a 23% increase in vehicles sold.
It's clear from our customer experience research that each of the leading companies in the CXi has carefully designed an approach to winning customer experiences, often by creating dedicated customer experience teams. Some have even hired a chief customer officer to help drive change around customer experience. But for all the very visible work customer experience professionals are doing, very little has been understood up to now about the role of IT in supporting great customer experience.
Earlier this year, Forrester interviewed many of the firms at or near the top of the 2013 CXi. We specifically researched the role of IT in these organizations to learn what, if anything, they do differently. We found that in almost every case, IT was an important partner, working alongside the customer experience team toward a shared goal of improving customer experience. In other words, companies with winning customer experience strategies have consciously or unconsciously changed their IT teams in ways that support a strategy of improving customer experience.
From all the companies we examined, it is clear that the IT staff must begin with an understanding of the language of the customer experience professional -- much more so than in a traditional IT organization. IT staffs in these winning companies talk about customers as "engaging through touch points along a customer journey" -- they use the language of the customer experience professional! Here are three key concepts to keep in mind as you partner with your organizations to improve the customer experience:
Touch points create opportunities to delight or disappoint. A touch point is any point of contact between a customer and your brand. Some touch points involve products and services, such as when a customer uses a product or calls a customer service line for support. Browsing a webpage for product information is another touch point. But touch points include things you may not think of, such as billing invoices, mentions from friends, media articles and advertising. Some touch points become "moments of truth" which have particular importance for the customer or the company. Inevitably, technology is used to engage customers and/or employees serving customers in these moments of truth. By paying particular attention to the key moments of truth, IT can help transform the customer experience.
Journey maps bring clarity to a customer's collection of touch points. Customer journey maps -- also known as touch point maps or moment-of-truth maps -- are documents that visually illustrate a customer's processes, needs and perceptions over the course of her relationship with a company. Companies tend to be too internally focused. As a result, they often lose sight of what's important for their customers. Journey maps are a great tool for reframing discussions from internal operations to customer experiences. Companies use customer journey maps in two ways: to plan customer experience projects and to communicate with employees across the organization.
Technology infrastructure has an impact on touch-point experiences and customer journeys. Some touch points happen through digital channels such as websites and mobile apps, and some through employee touches. But in almost every case, a touch point is supported by a specific technology that enables each touch to move the customer along the journey. And behind that touch-point technology sits a vast array of other technology connected to the value chain. The IT professional brings to the customer experience team a unique perspective on how technology can be changed to support a given touch point, such as using cloud services like those from Akamai to reduce the time it takes for a webpage to load.
CIOs and IT leaders are critical to winning the customer experience game. And IT leaders need to understand their team's role in customer experience. But to win, IT can't simply pay lip service to customer experience. IT leaders must consider it a very real business discipline and see it as one of the most important roles of the technology team -- which also means allocating expensive and scarce resources. To do that, CIOs need the buy-in of the CEO and the entire executive team.
Nigel Fenwick is a vice president and principal analyst at Forrester Research.
Dig Deeper on Enterprise business applications