Manage
Learn to apply best practices and optimize your operations.
Enterprise 3D Printing Guide: Great opportunity, tough challenges
SearchCIO's Enterprise 3D Printing Guide infographic alerts CIOs to 3D printing's chief technical challenges and explains why this emerging technology also offers CIOs an extraordinary career opportunity.
Three decades after its debut, 3D printing technology is poised to disrupt business as usual. Manufacturers in almost every major sector -- automotive, aerospace, consumer products, electronics and the sciences -- are using 3D printing to save money on product designs and on fabrication. NASA designed and built 70 parts of its new Space Exploration Vehicle (the ground-based rover) with 3D printing technology. The medical and life sciences are experimenting with 3D printing technology to build inexpensive prosthetics, patient-specific sensors for monitoring body functions, bone, artificial skin and organ cells.
For CIOs whose companies are just getting into this field, 3D printing -- for all the hype and promise -- will present extraordinary technical challenges, foremost the transmission and safe handling of very large files in unfamiliar formats.
The technology, however, also presents CIOs with a tremendous opportunity. It gives CIOs career experience in executing on an emerging technology -- a requisite expertise for IT leaders as their companies embrace digital business processes. And, given the complexity of the data and security challenges, 3D printing initiatives offer CIOs a central role in a business mission.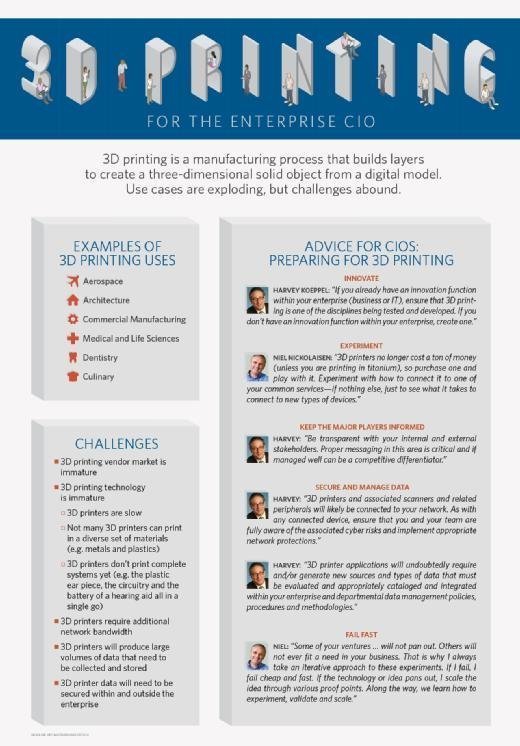 SearchCIO's Enterprise 3D Printing Guide alerts CIOs to many of 3D's chief challenges. Our CIO experts, Harvey R. Koeppel and Niel Nickolaisen, are here to offer you some practical career advice on how to capitalize on this emerging technology.
Dig Deeper on Leadership and strategic planning