Klemsy - Fotolia
Manage
Learn to apply best practices and optimize your operations.
Eight steps for keeping pace with data ownership
Social, mobile, analytics and cloud computing require a fresh look at issues related to data ownership, according to Harvey Koeppel. His eight-point CIO checklist can help.
In his recent SearchCIO column on data ownership, Harvey Koeppel makes the case that technology has once again outpaced our ability to sort out the ethical, cultural, legal and regulatory issues it raises.
The near-instant dissemination and deep mining of data made possible by social, mobile, analytics and cloud computing tools -- the so-called SMAC technologies -- have created data ownership scenarios many enterprises did not anticipate as recently as five years ago.
But as Koeppel lays out in his column, "Digital business puts data and data ownership atop CIO agenda," it is past time that enterprises and their CIOs take a fresh look at who owns the data being generated and unleashed by these technologies. For example, is the data transmitted by a device strapped to a person's wrist owned by the individual generating that data? Or is this personal data owned by the entity collecting it? Or -- because this data passes through the airwaves -- is it, in fact, the property of everybody? The conundrum of data ownership in a digital age will only deepen as businesses "go digital."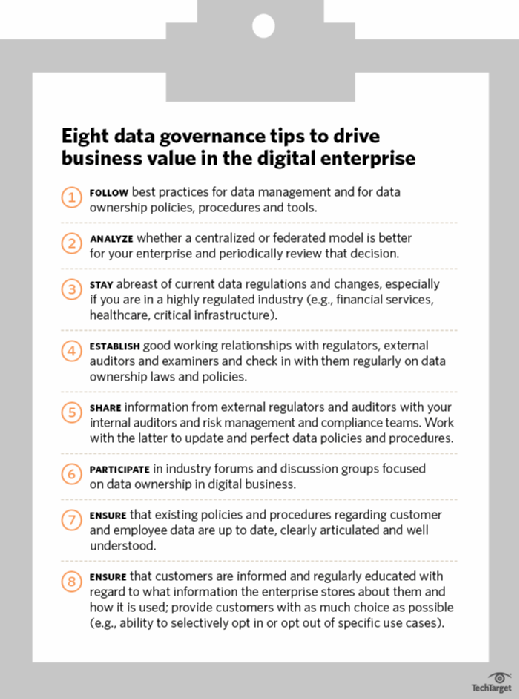 What do CIOs and their IT organization owe the businesses when it comes to keeping pace with data ownership in a digital world? Read Koeppel's column and download his eight-step CIO checklist on staying ahead of the curve on data ownership.
Let Harvey know what you think. Post a comment or drop a note at [email protected]. Discuss, debate or even argue -- continue the conversation.