Manage
Learn to apply best practices and optimize your operations.
Converged infrastructure can be the cure for complex IT environments
CIOs are always on the hunt for ways to simplify complex IT environments and improve their overall computing agility. A converged infrastructure could do both, our expert says.
Over the years, I have developed three mantras to guide my decision making, designs and IT leadership: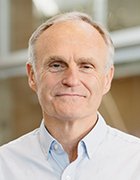 The Real Niel
Niel Nickolaisen
• "We prefer accomplishment over activity." Translation: Make sure we aren't doing busywork and are getting the right things done.
• "Never get involved in a land war in Asia." Translation: Pick your IT battles carefully.
• "Complex IT is the enemy of agility." Translation: Overcomplicated IT creates organizational bottlenecks. This is my recent favorite.
Complex IT is the enemy
I love this third mantra because in today's environment, IT products and services need to be extremely flexible and adaptable. I have learned the hard way that if the IT department's systems and processes are complex, my agility suffers, and suffers badly. And if my agility suffers, IT becomes a bottleneck to my organization.
With my "complex IT is the enemy of agility" mantra in mind, the concept of a converged infrastructure is extremely compelling. A well-designed infrastructure based on a set of common, already integrated and optimized components can simplify IT dramatically.
Ideally, you should build a converged infrastructure from scratch. Unfortunately, most people must start with an existing unconverged infrastructure. So, where to start?
Select a lasting standard for your converged infrastructure
My starting point is to select a lasting infrastructure standard. In complex IT environments, lasting does not mean forever, but it does mean you should converge market-leading technologies and providers that will be around for at least a few years.
As an aside, I once inherited an IT department that had standardized on a set of servers and storage from what was at best a third-tier provider. Admittedly, the department got a great deal on the hardware, but the prospect of that vendor's technology lasting more than a few years were not good. One of my first tasks was to move to servers and storage that were more mainstream.
Generally, you have two choices when you pick a standard: You can standardize on a specific vendor's offering, or you can create your own converged infrastructure. You do the latter by combining best-of-breed, well-integrated solutions from several vendors. The option you pick depends on your personal tolerance for risk; and in today's dynamic environment, there are risks with both.
For example, will the single vendor decide to get out of the network business to focus on servers and storage? On the other hand, if your infrastructure combines best-of-breed products, will one member of the converged alliance -- the one providing the storage, say -- decide to compete with, say, the server member of the alliance and start creating storage products that no longer interoperate?
Unfortunately, the future is uncertain, and so are the decisions we make. But if we select and stick with providers that are market leaders that figure to be around for a long time, that's the best you can do.
Inventory your current infrastructure
Once you select a standard, you need to compare your current infrastructure to that standard and identify any gaps. This inventory and analysis form the foundation of a plan that will anchor your move to a converged infrastructure. With all the gaps exposed, you can develop specific plans for filling those gaps.
With the gap analysis complete, the next step is for you to evolve toward a converged infrastructure. Some parts of the plan can be executed immediately. Suppose you need to expand your available storage and your existing storage system does not fit in with your newly chosen standard. Your expansion plan then might be to replace the legacy storage with something that meshes better with the new standard.
Other parts of the evolution will take more time. Recently, a CIO and I were discussing what to do with the servers and storage that supported his older, less frequently used applications. This infrastructure didn't comply with his converged hardware standards. He was wondering whether he should upgrade the servers and storage to reduce his system complexity. I suggested that because the hardware supported rarely used applications, it made more sense to stop enhancing those applications and put the servers in maintenance mode. In effect, he would isolate his "outlier" systems and exclude them from his converged infrastructure. This made more sense than investing in their transition.
As you work through how to fill the gaps in your converged infrastructure, you must make similar choices. When I'm not sure which is the best option for filling a gap, I recall my mantra: "Complexity is the enemy of agility."
This reminds me to focus my gap-filling efforts on those systems that need to be the most flexible -- and those might not be the outliers.
So, let's raise a glass to the idea and promise of a converged infrastructure. It is nice to have such choices now, as we promote and deliver IT and business flexibility.
Niel Nickolaisen is CIO at Western Governors University in Salt Lake City. He is a frequent speaker, presenter and writer on IT's dual role enabling strategy and delivering operational excellence. Write to him at nnick@wgu.edu.
Dig Deeper on Business automation, robotics and business process management