A CIO shares his lessons learned in project and portfolio management
Our CIO columnist The Real Niel confides that everything he learned about IT governance and PPM he learned by failing. The good news: He finally figured out what works.
I will admit that I am not the smartest person on the face of the earth. Almost everything I have learned about IT governance models and project and portfolio management (PPM) I learned by doing it wrong.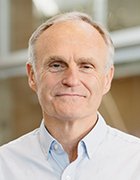 The Real Niel
Niel Nickolaisen
For example, in my first CIO role, I recognized the need to have some type of IT decision-making process that extended beyond IT. I convinced the CEO to convene an IT steering committee composed of a subset of the executive team. The CEO acceded to my request and I spent six months slogging through the agony of trying to get eight people who had never collaborated on a single decision to come together and agree on IT priorities. My evidence that I am not the smartest person in the world? That fact that it took me six months to recognize that this IT governance model was not working and never would.
As a result of this and other abysmal failures, I feel like I can now provide you some lessons learned on effective IT governance and PPM.
Let's start with governance. My failures taught me that I should design my IT governance model around two dimensions -- the organization's governance model and the role of IT in the organization.
As a starting point, I should match how we make IT decisions to how the organization makes decisions. If the company makes decisions in a centralized way, I should seriously consider using a centralized IT governance model. If the company makes decisions in a decentralized way, I should consider a decentralized or federated IT governance model.
I then adjust this depending on the role of IT in the organization. If IT is a strategic enabler (even if just for specific initiatives), I adjust my IT governance model toward centralization. If IT is a tactical enabler, I adjust my governance towards decentralization or federation.
Let's return to my first big governance failure. The company operated like a holding company and each department made independent decisions. By trying to impose a centralized IT decision-making process, I was going counter to the culture. In addition, IT was a tactical enabler except for some major, strategic initiatives. After I realized my mistake, I revamped my IT governance process to match the decentralized nature of the organization. For each of our strategic initiatives, I formed a project steering committee composed of the disparate functions that had a role in the initiative.
I remembered these two dimensions of IT governance when I landed at another company. The organizational decision process was highly centralized and so I implemented, very successfully, a centralized IT governance process.
Now let's take on project and portfolio management. Over the years, I have tried -- and failed at -- the most complex and elegant PPM processes on the face of the earth. I am now ashamed to admit it, but I once evaluated and balanced my project portfolio using a combination of six dimensions with weights that varied by the season, the winning percentage for the Boston Red Sox and the NYMEX crude oil bids. OK, so I did not use this exact weighting system, but it was a system so complex that it took much longer to explain than to just make a decision.
More by Niel Nickolaisen
How software and architecture standards drive IT business alignment
How to build a remote-site disaster recovery plan -- a CIO's advice
After failing at such PPM models, I took a different approach that has served me well. Using a model I have described before, I construct and manage my portfolio on the dimensions of purpose (is this a differentiating or a parity project?), business value and risk (with risk being affected by uncertainty and complexity).
The most important lesson I have learned in managing project portfolios is that rarely can one rank projects based on a calculation. It is simply too hard to turn considerations like "improved flexibility" or "time to market" into a number that I can drop into a calculation. After all, what is the numerical value of a project that is a strategic enabler? Since I am not the smartest person in the world, I have not been able to figure this one out.
Perhaps the most important lesson I have learned from my numerous failings is that we IT types tend to overcomplicate just about everything, and this is not a good thing. A pragmatic approach to governance and PPM turns us into real business partners, not IT bookkeepers and ideologues.
Niel Nickolaisen is CIO at Western Governors University in Salt Lake City. He is a frequent speaker, presenter and writer on IT's dual role enabling strategy and delivering operational excellence. Write to him at [email protected].