10 top edge computing companies to watch
With the amount of data organizations are generating today, IT leaders should consider edge computing technologies to keep all that data closer to the edge.
The proliferation of IoT, mobile and other endpoint devices is generating unprecedented amounts of data, which organizations must analyze to gain insights they can use to drive actions and business decisions.
That need is fueling huge growth in edge computing technologies. The market for edge computing technologies stood at $3.5 billion in 2019, according to Grand View Research. Moreover, the research and consulting firm estimated the compound annual growth rate for edge computing technologies to exceed 37% from 2020 to 2027.
There are a mix of products that make up this market: hardware, including gateways and servers designed for edge computing, as well as software, edge-managed platforms and services.
Edge computing vendors include longstanding tech companies, newer entries and startups. Some vendors offer a range of products and services to organizations across industry verticals. Some sell specialized offerings, such as ruggedized hardware that can withstand harsh environmental conditions, including those found on offshore oil rigs. And others target their technologies to specific industries, such as transportation or utilities.
Meanwhile, their customers -- end-user organizations -- are investing heavily in the full range of products to meet their own unique and varying needs for capturing, processing, analyzing and storing all the data coming off endpoint devices.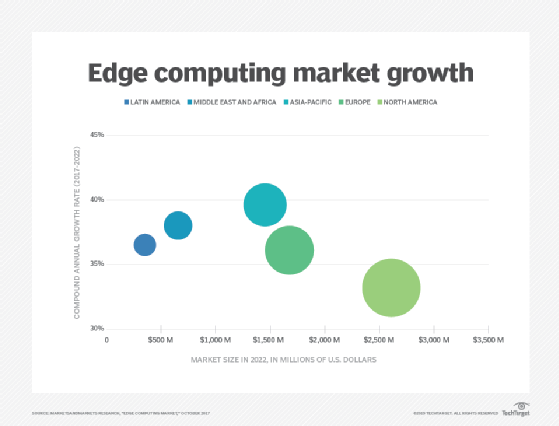 Although much of that data ends up in the cloud, organizations are finding that some use cases require data analytics closer to endpoint devices rather than in centralized corporate data systems; in other words, handling all the data from endpoint devices must happen at the edge, too.
Here's a look at 10 edge computing vendors offering a range of devices, platforms and services to varying classes of customers to help build edge computing ecosystems.
1. Adlink Technology
Adlink Technology is a global company that sells both hardware and software products ranging from industrial motherboards to complete systems. Its IoT and edge computing offerings include two 5G multi-access edge computing (MEC) servers, as well as various IoT hardware and software products. Adlink serves numerous industries, with customers in aviation, defense, healthcare, manufacturing, retail, telecommunications and transportation, among others.
2. Amazon and Verizon
In late 2019, AWS announced that Verizon Communications would use AWS Wavelength to provide developers the ability to deploy applications that require ultralow latency to mobile devices using 5G. The companies piloted AWS Wavelength on Verizon's edge compute platform, known as 5G Edge, in Chicago to select customers with more planned deployments in other U.S. locations throughout 2020. However, the AWS Wavelength-Verizon 5G Edge service is just one of the edge offerings by AWS. Other edge infrastructure and software options include AWS' Snow Family of devices -- with varying levels of data storage capacity and onboard computing options -- and [email protected], a feature of Amazon CloudFront that lets code run closer to users without the need to provision or manage infrastructure.
3. Cisco
Similarly, Cisco has various products and services to support enterprise edge computing use cases, including more conventional equipment, such as routers and IoT networking hardware, as well as purpose-built edge servers. Its offerings in the latter class include its Edge Series devices, which provide a cloud-accessible, all-in-one open computing platform, and its MEC platform. One example of its edge products is its IC3000 Industrial Compute Gateway, which has built-in security and manageability at scale to enable decision-making at the edge by processing and normalizing data from various sensors. The company also offers software to support enterprise edge deployments. An example is its Edge Intelligence IoT software to move data from connected device assets at the edge network to multi-cloud application destinations.
4. Dell EMC
Another technology giant with a vast list of products for sale across multiple sectors, Dell EMC has become an edge computing vendor with products specifically made to serve the unique needs in the edge computing market, including edge servers and micromodular data centers. The Dell EMC Modular Data Center Micro 415 earned Edge Data Center Project of the Year in 2019 from DatacenterDynamics, which recognized the technology for its part in enabling a multinational automotive company's rollout of connected vehicle technology.
5. HPE
Hewlett Packard Enterprise has estimated that enterprises can expect 70% of their data to come from the edge by 2023. To help them handle that data, HPE has developed a family of edge computing hardware and software products. HPE offers Edgeline systems that provide enterprise-class compute, storage and management at the edge, with an option of delivering those capabilities in a rugged form factor to withstand harsh environments that exist in some edge use cases. There's also Edgeline OT Link, with combined hardware-software capabilities that HPE promotes to simplify and accelerate setup and deployment. Additionally, HPE has hardware modules that can handle data from different industrial devices in various edge settings; software options, such as its Edgeline OT Link Platform that enables data movement; and its HPE Edgeline Workload Orchestrator software that enables central management and orchestration.
6. IBM
IBM, which has played a role in the evolution of computer technology since the early 1900s, also has offerings to service the enterprise edge computing needs of the 21st century. In addition to edge computing consulting services, IBM sells its Edge Computing for Servers. This product provides edge computing features to manage and deploy workloads from a hub cluster to remote instances of IBM Cloud Private or other Kubernetes-based clusters, using IBM Multicloud Manager to control the deployment of containerized workloads to edge servers, gateways and devices. Additionally, IBM offers Edge Application Manager for autonomous workload lifecycle management that automates the deployment and management of edge devices for scale and variability. As such, Edge Application Manager enables an administrator to remotely manage thousands of edge endpoints for identification, agreement, execution and verification of management actions without intervention. The administrator can create, deploy, run, maintain and scale business logic and analytics applications on various edge endpoints. IBM also runs its Edge Application Manager platform on Red Hat OpenShift, enabling enterprises to use the public or private cloud vendor of their choosing.
7. Microsoft
Among Microsoft's varied offerings is Azure Stack Edge, a hardware-as-a-service offering that brings compute, storage and intelligence to endpoints -- from corporate data centers to remote locales -- to produce local analysis and insights. Previously called Azure Data Box Edge, Azure Stack Edge is a cloud-managed device with a built-in field-programmable gate array that enables accelerated artificial intelligence inferencing. The device itself is 1U rack-mounted server that can be configured to send data to Azure, Microsoft's public cloud offering. It also comes with a resource in the Azure portal that lets administrators manage the device from a web interface, so they can remotely create and manage resources as well as devices, alerts and shares. Meanwhile, administrators can use a local web UI to run diagnostics and shut down and restart the device itself and view copy logs. Microsoft also has Azure Stack Edge with a NVIDIA graphical processing unit, which is an AI-enabled edge computing device with network data transfer capabilities -- as of August 2020, Microsoft offered this option only for preview.
8. MobiledgeX
MobiledgeX, founded in 2017 by parent organization Deutsche Telekom AG, a German telecommunications company, sells Edge-Cloud R2.0. According to the company, the platform "aggregates edge processing power across multiple enterprise on-premise and telecom operator network locations and presents them through one common interface that enterprise developers and operations can use to design, deploy and manage their applications." Additionally, Edge-Cloud R2.0 enables private and public edge cloud integration, which enables developers to deploy location-specific services. Among its other capabilities is its Edge-Cloud Console for management, operation and understanding of edge operations.
9. Mutable
Mutable is a pioneer in public edge cloud technology -- company leaders said they're "creating a public edge cloud that delivers faster internet and better quality of service for customers by acting as an Airbnb for servers." Mutable works with operators to turn their edge into a competitive advantage against "hyperscalers" by "reducing latency, boosting security and increasing bandwidth for their assets while securing new revenue streams." To do that, Mutable works with computing resource operators such as cable and telecommunications companies operating their own servers to essentially rent those extra compute resources, turning underutilized server space into a resource for developers who need secure, low latency, high bandwidth services.
10. Ori Industries
Ori Industries, a London-based startup working with telecommunications companies, is building next-generation cloud computing infrastructure and offers an edge cloud platform known as Ori Global Edge or OGE. Ori announced in April 2020 that it was collaborating with engineering and R&D services firm Altran on a developer-centric initiative to promote federated multi-access edge computing. The collaboration is designed for developers to more seamlessly deploy applications globally, while enabling the operators to launch and monetize industry use cases that are interoperable across different networks and geographies. News of the collaboration follows Ori's work with major mobile network operators to advance a mobility-friendly approach to edge computing. Meanwhile, both Altran and Ori are members of the LF Edge Foundation, a nonprofit organization working to create an open, interoperable framework for edge computing.
Dig Deeper on Digital business transformation and innovation