Evaluate
Weigh the pros and cons of technologies, products and projects you are considering.
IT priorities for 2016: Spending rises but at a lower rate
IT shops have big plans for 2016, with projects like data center consolidation and big data analytics figuring prominently, along with a shift to more cloud services.
If IT in 2016 had an official theme, it would be something like "control, contain and protect." While that might sound like a police force motto, it accurately describes the top priorities of IT professionals as they look forward through the end of the year.
With responses from nearly 400 North American IT pros, the sixth edition of TechTarget's exclusive IT Priorities survey shows that data center managers are still coping with issues typically associated with traditional infrastructures like general IT management practices, security, program/project management and networking.
In fact, those four areas were at the top of IT managers' activity lists, as the tasks on which they devote most amount of their time.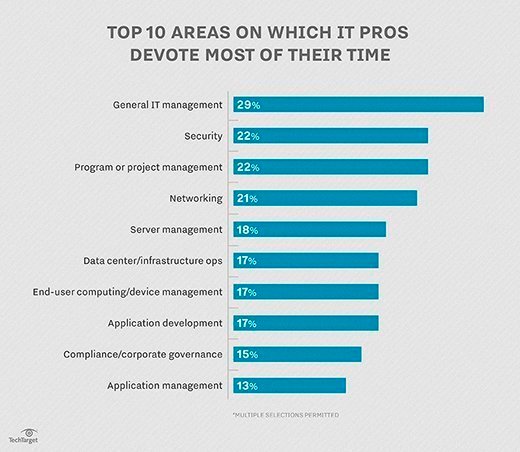 And for these data center denizens, life hasn't changed all that much since last year, when server management and application development were also high on their time-spent lists.
Consolidation, analytics and compliance top 2016 IT priorities
Having to handle seemingly mundane tasks like overseeing security or networking environments doesn't mean that our respondents don't have a full slate of challenging projects looming in 2016.
Although cloud services are often considered particularly appropriate for smaller companies, in our survey, more big (51%) and midsize (51%) companies plan to increase cloud spending than smaller firms (35%).
The top project for this year will be data center consolidation, as noted by 31% of respondents, just a couple points off last year's tally. Big data/business analytics (30%) and compliance (29%) weren't far behind on respondents' to-do lists. Compared with last year's responses, the biggest change is a five-percentage-point drop in mobility projects, with a still-significant 26% of current respondents listing it as a priority. That may indicate that the youthful field of mobility management products is beginning to make some inroads in IT shops.
Company size is one of the key factors in determining what projects IT will put its muscle behind this year. For larger outfits -- those companies with more than 10,000 employees -- Internet of Things (27%) and software-defined data center technologies (31%) loom large in 2016 plans. In contrast, for companies with fewer than 1,000 employees, only 13% see IoT as a 2016 project -- just a point less than the 14% of midsize companies (1,000 to 10,000 employees).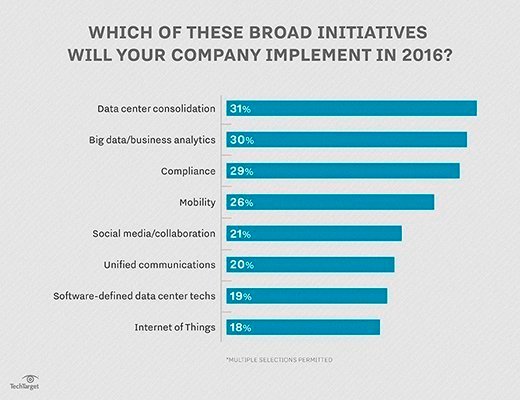 Budgets still rising (slowly)
Fifty-five percent of respondents to the IT Priorities survey said their 2016 IT budgets would increase compared with last year's -- that's almost exactly the same percent we saw in our last two surveys. Of those enjoying a budget bump, the largest group (27% of all respondents) expected a 5% to 10% increase, but 19% anticipated hikes of 10% or higher. That latter figure is very promising in a still-challenging IT economy.
The average IT budget increase for 2016 is 9.4%, just a bit above last year's 9%.
On the other end of the budget spectrum, 16% of respondents were preparing to spend less in 2016. An unfortunate 4% are looking at budget reductions of more than 10% -- which can sting as much as having your credit card rejected at the local Best Buy.
Last year, only 7% of all respondents said they expected to have to cut spending. The rise in that number for 2016 corresponds to a similar drop in the number who anticipate no change at all: 26% in 2015 and 21% this year.
On average, those decreasing their IT budgets will cut their spending by 4.2%, which is a slightly rosier picture than the 4.4% reduction reported last year.
Some of TechTarget's previous surveys indicated that IT spending at smaller companies was taking longer to recover from the recession than at midsize and larger outfits. But this year's survey shows that 61% of companies with fewer than 1,000 employees will increase IT budgets -- a hefty 16 points higher than at big companies. With such a large percentage upping their IT spends at smaller companies, it's hardly surprising that only 10% will pare back spending -- compared with 26% at large companies.
More bucks for software and cloud services
For companies that have increased their IT budgets for 2016, software (57%) and hardware (51%) are the leading areas where spending will rise. After software and hardware, cloud services will attract considerable attention, with 41% citing plans to expand cloud spending.
The biggest change from last year is our respondents' planned spending for software -- a jump of nine points from last year. This might be an indication that technologies such as software-defined networking and software-defined storage are beginning to get serious consideration as elements of data center consolidation and transformation. Another indicator may be the drop in maintenance spending, with only 16% (compared with last year's 22%) expected to spend more in that area.
Although cloud services are often considered particularly appropriate for smaller companies, in our survey, more big (51%) and midsize (51%) companies plan to increase cloud spending than smaller firms (35%).
Budget cuts begin with hardware
Thirty-nine percent of budget trimmers are nipping and tucking their hardware purchase plans -- that's up considerably compared with last year, when 32% noted hardware cuts were in their plans. Second on the budget-chopping list is software at 29% -- also much higher than last year (19%). Cuts in both hardware and software spending would suggest that at least some of these companies will look to cloud services to fill in the gaps -- an assumption bolstered by the mere 6% who said they were cutting their spending for cloud-based techs.
Looking at the budget cutters by company size, larger companies are far more likely to cut hardware buying (60%) than their smaller cousins (24%). This suggests that the small companies are still building out their infrastructures, while the big firms have plenty of physical infrastructures.
Dig Deeper on IT spending and budgeting