Fotolia
IT priorities 2017: A mix of forward-looking and traditional tech
Our ninth annual IT Priorities Survey indicates data centers will address upgrades and infrastructure improvements and take on new and emerging technologies.
IT shops are poised to handle the challenges of modern data centers head-on, but aren't ignoring some of the not-so-sexy tasks that keep those data centers running. The latest incarnation of TechTarget's IT Priorities Survey indicates a shifting -- sometimes subtle, sometimes rather dramatic -- of focus to newer techs and applications such as internet of things, IT automation, big data analysis and software-defined infrastructure.
Now in its ninth year, our survey queried 971 IT professionals about the key application, infrastructure and environmental initiatives that their companies will be undertaking in the coming year. The respondents represented a wide range of industry verticals based in North America.
What occupies IT pros
Our respondents also demonstrated an equally broad variety of interests and expertise. When we asked how they spent most of their time, general IT management (cited by 27% of respondents), security (23%) and networking (22%) were the most cited activities, but they were followed by a fairly bunched up cluster that ranged from application development (19%) to the trending DevOps (8%).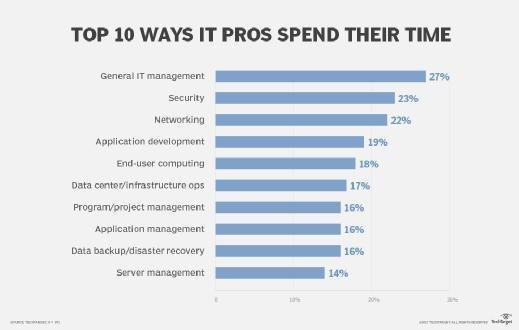 These numbers changed very little from those reported in last year's survey, possibly reflecting the traditionally slow pace of change in IT. When we look at those same numbers broken down by company size, we start to see some differentiation, but regardless of company size, security finished in the top three for respondents from all company size segments, reflecting the perilous nature of global communications.
Planning for 2017
Regardless of where IT professionals are currently devoting their time and efforts, most shops have a slate of new initiatives planned for 2017, mingling forward-looking technologies with the more practical chores. Thirty-five percent of survey respondents said automating IT processes was at the top of their IT priorities 2017 to-do lists, followed by the seemingly endless cycles of network upgrades (31%) and compliance efforts (31%). Still, those somewhat mundane efforts were followed by a couple of more buzzword-worthy challenges that may present more stimulating challenges: big data analytics (30%) and hybrid IT melding on-premises infrastructures with cloud services (27%).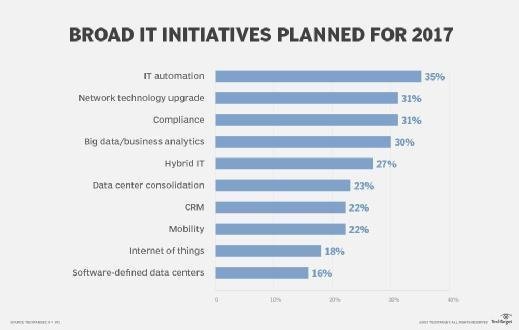 The top four or five priorities appear to be getting fairly equal attention, but if we look at the data by company size more dramatic differences are revealed. For respondents at big companies (those with more than 10,000 employees), the lists of 2017 initiatives start with big data analytics and IT automation, both cited by 44% of respondents. Midsize companies -- those with 1,000 to 10,000 employees -- are also focused on IT automation, but are leaning equally toward compliance (both selected by 39% of respondents). Topping the list for companies with 1,000 or fewer employees, on the other hand, is upgrading their networks.
Regardless of company size, security finished in the top three for respondents from all company size segments, reflecting the perilous nature of global communications.
Given its growing presence in many companies large and small, we asked an IoT-specific question and received surprising results. The question was about users' choices among available IoT platforms, and perhaps the most eye-opening result was the mere 11% who noted that they were not using any IoT platforms at this time. IoT spans such a broad swath of applications, technologies and processes that it appears to be approaching ubiquity in enterprise data centers.
IT priorities: 2017 budgets get a bump up
Regardless of what implementations or infrastructure a company has its sights set on, it's likely that IT managers will have some money to invest in those efforts. Overall, IT Priorities Survey respondents indicated that their IT budgets will rise an average of 5.7% -- nearly a full percentage point above last year's increase. Of course some shops will see their budgets whittled down a bit; on average, budgets will dip 4.2% for those who reported that their budgets would experience some downsizing in 2017. The brighter side of that picture is that we see a substantial average increase of 10% at companies fortunate enough to have IT budgets that are growing.
As with technology initiatives, size matters, but in a somewhat surprising twist, smaller companies will enjoy bigger IT budget increases (6%) than their midsize (5%) or big brethren (5.3%).
Fortifying the data center
Despite the rise of cloud computing services, the data center is still the centerpiece of corporate information systems, even as it is being remade into a more hybrid environment that embraces those encroaching cloud-based services.
In fact, when asked to indicate their data center infrastructure priorities for 2017, nearly a third (32%) of respondents selected hybrid cloud. That melding of in-house and external resources trailed only two other planned infrastructure projects that are more of a maintain-and-monitor ilk: Server virtualization led the list at 40%, followed closely by systems management (39%).
Automation was again on our respondents' minds as the fourth most popular pick for data center infrastructure projects was automating configuration and provisioning of resources (30%).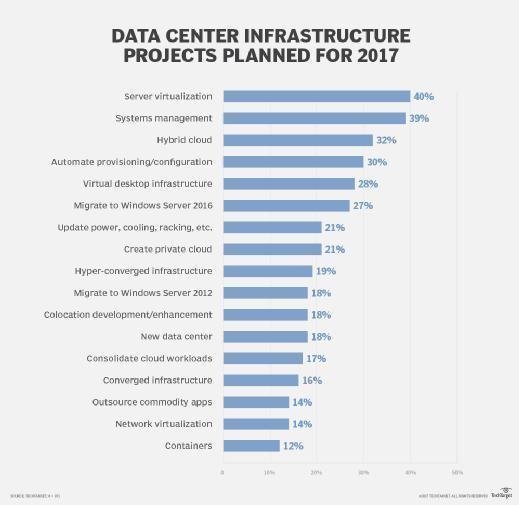 Much further down on the list but still pulling favorable numbers given their relative newness and novelty are network virtualization (14%) and containers (12%), both of which are likely to garner more interest and activity over the next few years.