ECM evolution stalled at the $50M hurdle
The Enterprise Content Management (ECM) market is in a transition period. This free reseach report discusses the market landscape and how to address current implementation hurdles.

Executive Summary
The Enterprise Content Management (ECM) market is in a transition period. New license revenue is stalling and a wave of consolidation has drastically reduced the number of independent vendors. The root of this problem lies in the elusiveness of clients with less that $50 million in annual revenue. Unlike their billion dollar brethren, these companies lack the IT infrastructure and process sophistication to successfully support an ECM implementation. This $50 million hurdle is driving rampant innovation in the ECM industry.

Download this free guide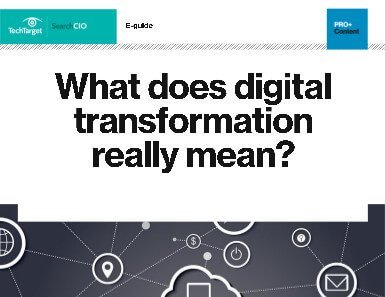 PDF: What does "digital transformation" really mean?
What exactly is digital transformation? You may hear the term often, but everyone seems to have a different definition. See how our experts define digitization, and how you can get started in this free guide.
By submitting your personal information, you agree that TechTarget and its partners may contact you regarding relevant content, products and special offers.
You also agree that your personal information may be transferred and processed in the United States, and that you have read and agree to the Terms of Use and the Privacy Policy.
This note discusses the market impact of the $50 million hurdle. Issues include:
Causes of the $50 million hurdle.
Microsoft's importance for ECM evolution.
Roles played by Software-as-a-Service (SaaS) and emerging ECM standards.
The next hurdle: $8 million.
ECM products can help companies of all sizes to overcome information glut. However, to reach the sub-$50 million market effectively, ECM vendors must innovate to accommodate for a general lack of IT sophistication.
Dig Deeper on IT spending and budgeting