Avoid lawsuit nightmares: New rules of engagement for e-discovery
The revised U.S. Federal Rules of Civil Procedure went into effect Dec. 1. This report from Info-Tech Research Group reviews the new e-discovery law and offers recommendations for following the rules.
This report is brought to you by Info-Tech Research Group. To learn more about Info-Tech, visit http://www.infotech.com.
The revised U.S. Federal Rules of Civil Procedure will come into effect Dec. 1, 2006. These rules set forth guidelines for the discovery of electronic evidence in civil cases; for example, if someone is suing or investigating the enterprise. This legal development presents an opportunity for enterprises to be more proactive about document archiving and records management strategies.

Download this free guide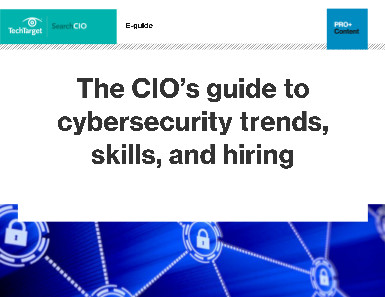 CIO's guide to cybersecurity trends, skills, and hiring
Our data is being spread across more systems, devices, and applications than ever before, and security needs are changing quickly. Download this guide to keep your data secure.
The Letter of the Law
The e-discovery amendments to the Federal Rules of Civil Procedure put new pressure on IT departments to cooperate with legal authorities. The amendments' goal is to control the length and expense of the data e-discovery process by defining the process or protocol beforehand, as well as to circumvent potential e-discovery disputes later in the trial. Applying to all cases filed and pending after December 1, the main changes are:
Rule 26 – An IT manager or representative from IT will be required to attend preliminary discovery meetings between lawyers from both sides. The purpose of this meeting will be to agree upon the discovery process and to build a plan for the discovery and disclosure of data.
Rule 34 – Previously, enterprises only had to deliver evidence in PDF form. However, converting a file to PDF erases the metadata attached to it, and metadata is now a focus of investigation as well. The native format of the original file is to become the default standard for submission.
Rule 37 – This amendment pertains to the immediate halt on an enterprise's document destruction policy when faced with an ongoing lawsuit. This process is called "legal hold" and is intended to preserve electronic evidence.
e-Recovery Makes Good Business Sense
The reason why lawsuits today are so onerous is because legal bills can double or triple if it takes a team of lawyers several weeks to dig up e-mail evidence. Document archiving and efficient e-discovery are important practices that all enterprises should adopt, as the ability to quickly retrieve pertinent files is crucial for bringing swift resolution to lawsuits, audits, or investigations. The inability to do so can result in expensive, manual discovery procedures, in addition to non-compliance with the law. For example:
Investment bank WestLB paid nearly $500,000 in fees from document recovery vendors in order to address a sex discrimination case brought against the organization by a former employee. WestLB also spent $200,000 to $300,000 per month on lawyers to review the 650,000 pages of evidence produced by the discovery process.
A New York judge awarded $45,000 to the plaintiff in an investment fraud case between Phoenix Four, Inc. and Strategic Resources Corp. This settlement was imposed due to the destruction and late production of e-discovery documents on the part of the defendant.
Investment giant Morgan Stanley was ordered to pay $1.4 billion in damages to financier Ronald Perelman after Morgan Stanley failed to produce e-mails and other electronic evidence requested by the court.
In any investigation, whether criminal, civil, or industry-related, IT will be required to find or help find the requested information. If IT cannot perform this task sufficiently, the CIO will face some very difficult (and potentially career-threatening) questions. Given the cost and burden associated with recovering electronic records, enterprises can no longer afford to plead ignorance or attempt to sidestep the courts by claiming that the requested data no longer exists in corporate information stores. In other words, it is the enterprise that will feel the wrath of the court if e-discovery requests are not quickly met.
Download the full report here
Dig Deeper on Risk and compliance strategies and best practices