Quiz: IT outsourcing management considerations for CIOs
CIOs must be well-versed in IT outsourcing management considerations to succeed in today's business climate. Review recent coverage and take our quiz.
For IT departments, balancing the need to keep day-to-day IT operations chugging along while also pursuing new projects and maintaining a reasonable budget can be a tightrope walk. It's no surprise, then, that many organizations with limited internal resources have decided to outsource IT functions to third parties such as cloud vendors and local, nearshore or offshore companies.

Download this free guide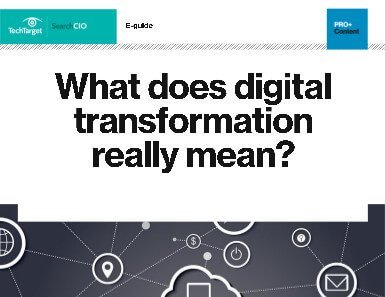 PDF: What does "digital transformation" really mean?
What exactly is digital transformation? You may hear the term often, but everyone seems to have a different definition. See how our experts define digitization, and how you can get started in this free guide.
As the IT outsourcing landscape evolves, there are more factors to consider, such as the greater selection and flexibility of outsourcing options, varying levels of work quality, increasing amounts of data and ethics concerns. CIOs must keep abreast of not only recent developments in outsourcing, but also the implementations it can work alongside, which vendor or vendors work best for particular functions, which areas are best managed internally and more.
Are you up to date on these IT outsourcing management considerations? Make sure you're well-versed in the ins and outs by reviewing our recent coverage and taking our quiz.