IT service provider management quiz for CIOs
Is your IT service provider management strategy sufficient to tackle the cloud, SaaS and other vendor-dependent technologies? Review our recent CIO coverage and take our quiz to find out.
As the cloud and as-a-service applications evolve and align more closely with customers' specific needs, organizations are increasingly relying on IT providers to enhance their business processes and efficiency. But at the same time, it's never been more important for CIOs and their teams to learn how to master IT service provider management.

Download this free guide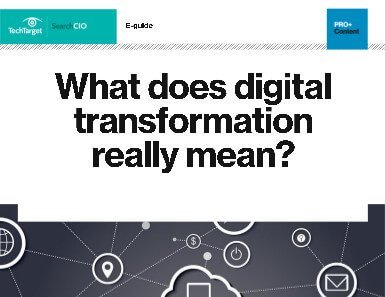 PDF: What does "digital transformation" really mean?
What exactly is digital transformation? You may hear the term often, but everyone seems to have a different definition. See how our experts define digitization, and how you can get started in this free guide.
Despite how responsive many of these IT providers have become, there's always room for improvement, as demonstrated by the range of recent SearchCIO coverage on the subject. For starters, cloud providers are getting better at data protection, but that doesn't mean other risks aren't mounting. And CIOs and their IT teams are knowledgeable about the ins and outs of software as a service (SaaS) providers, but that doesn't mean other lines of business -- which sometimes take matters into their own hands in the form of shadow apps -- do as well.
In this IT service provider management quiz, learn how CIOs can harness shadow cloud apps, collaborate with the business in matters of technology spending, work with cloud providers on drawing up the best service-level agreement (SLA) for their needs, and more.