Evaluate
Weigh the pros and cons of technologies, products and projects you are considering.
Podcast: Mastercard CIO Rob Reeg on project portfolio management
Priceless: IT and the business are simpatico at MasterCard Worldwide. Rob Reeg tells SearchCIO.com why he's having so much fun at the nation's No. 2 payment system.
MasterCard Worldwide chief technology officer (CTO) Rob Reeg talks to SearchCIO.com's Linda Tucci about IT as a competitive force, the company's rigorous project portfolio management discipline and the advantages of a follow-the-sun workforce.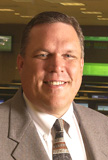 Rob Reeg
BIOGRAPHY: Reeg was named interim president, global technology and operations, at Purchase, N.Y.-based MasterCard Worldwide in January. He took the reins after predecessor Roy Dunbar left to become CEO at Network Solutions LLC.
In his new role, Reeg oversees the company's strategic processing platform, global network and quality of operations. As CTO, he is also responsible for all computer operations, network engineering, technology architecture, database management, program management and testing/software quality across MasterCard's global footprint.
Reeg led MasterCard's $160 million core processing systems re-engineering effort. MasterCard says the multiyear effort has given it the leading payments processing platform in the industry. The globally deployed software and computer network processes more than 25 billion payment card transactions annually and is responsible for the transfer of more than $1 trillion dollars between financial institutions each year.
Prior to joining MasterCard, Reeg held IT and business leadership positions at Sprint Corp., Cleveland Pneumatic Co., Totco Inc. and Conoco Inc.
---
Read the full transcript from this podcast below:
Linda Tucci: Rob, if you could begin by introducing yourself, tell us how you got to MasterCard and what your duties are now?
Rob Reeg: I'm Rob Reeg. I'm the interim President of Global Technology and Operations. I came to MasterCard about 13 years ago from Sprint Long Distance Corporation in Kansas City. Just recently, Roy Dunbar, who had been the President of Global Technology and Operations, became CEO of a company on the East Coast, and I've been filling in for him since January.
Linda Tucci: So, when you came, you headed up a massive project, MasterCard's $160 million core processing systems re-engineering project that's described as "The most sweeping technology change in the company's history." Can you explain to us, what is the system? What did it replace?
And why does it represent such a monumental change?
Rob Reeg: When you look at MasterCard, the business of MasterCard is really, the foundation of that is all technology. So, we're in a very interesting spot, a fun spot for a technologist like me, where you and the business are really one. And it's not an environment like a lot of companies or manufacturing centers, where IT is a cost efficiency, back office-type environment.
It's always been nice. And as we talk about our re-engineering efforts to look at MasterCard's "What we do" and technology being an integral part of that, that business and technology are really one. That's kind of the backdrop of how this works.
In our major re-engineering effort, we had an opportunity to look at a system that we had had in production for many years and was very good at doing what it did. But we needed to look at where payments were going in the future. And so, that was really the genesis of starting our re-engineering efforts.
Linda Tucci: And what do you mean by "where payments are going in the future"?
Rob Reeg: When you look at the history of bank cards, at one point, there were only credit cards. And the transmission of data was done by exchanging sales slips, written documents between banks. And as that evolved into electronic transmission, and then looking at how payments come in, we really needed a system that was agnostic to how a payment originates.
Whether that's by mobile device, by a point of interaction terminal, by the Internet, or by a store with a cardholder standing in a line. We started with a premise that it wasn't going to matter how a transaction originated. We just needed to be able to process all transactions.
Whether that's a prepaid card, a debit card, a credit card, our newest technology, PayPass, which is a tap and go card. All of those technologies needed to be supported and be able to be processed from a movement of money standpoint.
Linda Tucci: When you talk about paradigm shift, what was the biggest thing that had to change in your department to make this new system happen?
Rob Reeg: There's definitely a mindset shift to going to a rules-based application from a formulaic application. There's definitely new technologies that come into play that provide both cost, speed and efficiency opportunities.
I guess the biggest challenge, I think, in doing any kind of large initiative like this, is finding the right people who can be the architects, then have the architects and have the vision of where we want to take new business opportunities.
Linda Tucci: Were you involved in putting the team together?
Rob Reeg: Yeah. I was lucky enough to get involved from the start of what we called the "System Enhancement Strategy." We had a lot of opportunity in terms of looking at that and selecting who we thought were really the key brains behind it that really made it successful.
This is a series of custom applications that do use commercially available products. And we take, very much, a best of breed architecture approach. So, depending on what the situation is and what's needed, we do a pretty exhaustive analysis of what that right technology is.
From a pure code standpoint, a major part of the code that we have is all custom-built.
Linda Tucci: The company is based in Purchase, New York and you are in the Midwest in St. Louis. But because of this need to have close alignment with the business side and with your executive peers, do you have a formal system where you meet with the CEO or the CFO or some of the other C-Suite executives to talk about how to align IT with the business?
Rob Reeg: Absolutely. And you've really got to think as MasterCard as a global company, because we connect 210 countries around the world to provide flawless payment processing on behalf of all of our customers and cardholders.
To do that, you really have to look at yourself in terms of a global talent pool. And make sure that you leverage that great diversity you have just by being on a global scale when you bring problems to the table to understand.
We have a really great C-level team. We meet at least weekly on a variety of topics. And then, we have a very exhaustive process that we use in terms of portfolio management for our software and tools assets. We call it the IMO or "Investment Management Office."
We have a tool that tracks all of our applications, how we would score them in terms of need for investment. And then, we work directly with our business partners to decide what the investment in that particular application is going to be for any given time period.
Linda Tucci: And what tool do you use?
Rob Reeg: We actually built a portfolio management tool.
Linda Tucci: So, another custom?
Rob Reeg: Yeah, in this case. And there are definitely packaged software available now that wasn't available when we initially built this site. I wouldn't necessarily recommend everybody build their own ATM system.
Linda Tucci: Mr. Reeg, you feel very strongly about data security. And that's a good thing, I guess, working for a company like MasterCard. You wrote an editorial not that long ago, I think it was in October, about the need for data governance. Is there anything, any pointers in particular, that you would give CIOs about how to have a rock-solid data governance program in place? What do you have to pay attention to?
Rob Reeg: Yeah, I think the thing that is problematic for almost everybody that has legacy applications is that those applications were typically built in a stovepipe manner. Meaning from the ground up, they understood what they were supposed to do, what they wanted to do with data and what they were going to put out.
But they didn't necessarily take into account, other applications or future events that might make that same data they're using, building, creating, valuable in another scenario. So, I think that the thing today is how do you take legacy applications? Understand how the data is being used there and then integrate that same model with the new applications you're building.
And it's not an easy task. I guess my caution for anybody looking at this is it's going to be bigger and harder to do than you expect.
Linda Tucci: It sounds incredibly complicated. Is it not easy because of the people skills that you need? The development skills?
Rob Reeg: Well, I think there are tools coming to play now that are going to be helpful. There are several different solutions around data hubs that are available now that weren't five or ten years ago. How you do data modeling now and how you do segmentation of warehouses is a lot different than how you did that five or ten years ago?
To me, I still think that the hardest part of this, it's not a people issue. It's more of a process issue on how you take data that's being used, created and modified in legacy applications. And ensure that those rules are applicable in the environment you're in today.
Linda Tucci: How far along is MasterCard in taking the data from those legacy applications and really being able to mine it and mesh it with everything you can do with data today?
Rob Reeg: Well, we like to think we have one of the greatest data warehouses in the world. Our ability to help our customers, the banks, understand how their cardholders are using payment vehicles, I really believe, is unsurpassed.
Linda Tucci:This is obviously something then that IT has done, this data warehouse. That it accrues to the bottom line. If you can tell your customers that we can help you get more customers. Or we can help you figure out how your customers are buying things. I would imagine that that's invaluable.
Have you done any calculations on how IT actually contributes to either top or bottom-line growth?
Rob Reeg: Well, we do have a process where we evaluate the business case and anytime we're going take on efforts like that. It probably helps again, to think, MasterCard really has a three part business model, because we look at ourselves as a franchiser, a processor, and an adviser.
We have our financial institutions, thousands of them that sign up to be issuers or acquirers of MasterCard products. There's 25 million acceptance locations around the world in those 210 countries that all connect through our system that's franchised. In terms of processing, the real heart of technology and the backbone that is our global network that connects all those 25 million institutions.
And then, the third piece, which you were kind of referring to, is our adviser's function, which is really a consulting organization that provides our customers with an ability to look at the data and understand the data that exists. To help them make marketing campaigns more successful, activations more successful. Deal with fraud and security.
So, when you take that three-part business model, IT is really fundamental to that whole concept.
Linda Tucci: MasterCard has been outsourcing for some time and actually offshoring in, is it Chennai, India?
Rob Reeg: That's one of the locations.
Linda Tucci: One of the locations? And were you involved in putting together that partnership? And how does it work for IT?
Rob Reeg: We've actually been leveraging global talent for years and years. We have software developers in Australia, New York, Europe, India, the U.S. So, it's not just about using India. It's really about leveraging global talent.
As far as India specifically, we've been working in India since 1998, so, I guess ten years. And originally, we did it as a captive center with a partner company. And then, a few years ago, our partner and MasterCard sold our company to Wipro, which is a very large India partner, obviously. And they've been working with us ever since.
Linda Tucci: So, cost may have been a motive for using offshore labor in the beginning. Do you find that it's gone beyond cost?
Rob Reeg: Again, we really leverage a lot of "Follow the sun" approaches. And that's true whether it's our staff in Australia or our staff in Singapore, Europe, India. One of the great things about having a globally diverse workforce is that ability, when there's some special opportunity on the table, to go 24 by seven with a fresh set of eyes on it, as the sun moves, is just incredible. You get so much productivity out of that.
Linda Tucci:Thanks so much your time.
Rob Reeg: You're welcome.