Evaluate
Weigh the pros and cons of technologies, products and projects you are considering.
CIO podcasts: Information technology and leadership news and tips
At SearchCIO.com, we're always looking for new ways to deliver the latest IT news and trends. Download these podcasts and listen on the go!

At SearchCIO.com, we're always looking for new ways to deliver the latest information technology and leadership news and trends -- and sometimes, the traditional written word just won't do. Listen to these podcasts from your computer, or download them to your iPod and listen to them on the go!

Download this free guide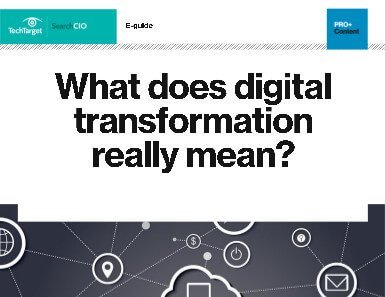 PDF: What does "digital transformation" really mean?
What exactly is digital transformation? You may hear the term often, but everyone seems to have a different definition. See how our experts define digitization, and how you can get started in this free guide.
By submitting your personal information, you agree that TechTarget and its partners may contact you regarding relevant content, products and special offers.
You also agree that your personal information may be transferred and processed in the United States, and that you have read and agree to the Terms of Use and the Privacy Policy.
On-demand business intelligence solutions: Five issues to consider
In this expert podcast, Wayne Eckerson offers five tips for considering an on-demand BI implementation, including costs, technical integration requirements and more.
BI tools vs. Microsoft Excel spreadsheets
In this podcast, our expert discusses the differences between BI tools and Excel spreadsheets and how they can be used together in the enterprise to gather and analyze data.
Best practices for data warehouse mergers
This podcast offers expert advice for CIOs on data warehouse management with a merger or acquisition.
Five ways to streamline your application development process
CIOs are under constant pressure to deliver custom development projects to meet business goals. In this podcast, our expert will offer advice to CIOs on how to use their resources to successfully work with the business to recommend, manage and deliver on application development projects.
SOA implementation expert advice
SOA implemention has caught the interest of CIOs. This expert podcast series focuses on the state of SOA, the vendor market and consolidation, and the total architecture.
How to get the most out of a software licensing agreement
What can happen if you mess up negotiations for your next big software vendor contract? The total loss of your contract, for one, cautions an expert. Falling out of compliance and paying for the wrong software are other consequences.
Career advice for CIOs: Four qualities of a leader and more
Looking for a job or just want to boost your standings? Companies want CIOs who can leverage their IT investments for greater automation, value and risk management, says a CIO recruiter.
The challenges of a state CIO during an economic recession
Anne Margulies, state CIO of the Commonwealth of Massachusetts, discusses the challenges of investing in new technology, while keeping an IT infrastructure running smoothly.
CIO advice: IT strategies in a bad economy
CIOs should consider re-evaluating their IT strategies in this economy. Get advice on addressing ROI, innovating and achieving project success in this podcast.
CIO resumé refresher best practices
Martha Heller, of the IT leadership practice at Z Resource Group, offers CIOs candid advice on hard topics and sensitive issues, as well as simple steps to crafting a winning resumé.
Common mistakes in a CIO interview: Tips for job seekers
Interviewing for a new job? CIO recruiter Shawn Banerji says you need to know about "competency-based" interviewing. Also, learn mistakes to avoid.
Five ways to justify a CMDB implementation
A CMDB is essential to any large enterprise's IT Service Management plan. Here are five tried and true justifications for deploying a CMDB.
Get the most out of your lean BPM solution
The demand for BPM solutions is up and budgets are down. Learn how specific lean BPM tools can help streamline your processes and reduce costs.
ITIL podcast series: ITIL certification, processes, change management
In this expert podcast series, IT Infrastructure Library (ITIL) consultant Larry Killingsworth highlights the latest trends on ITIL certification, change management and more.
Mastercard CIO Rob Reeg on project portfolio management
Priceless: IT and the business are simpatico at MasterCard Worldwide. Rob Reeg tells SearchCIO.com why he's having so much fun at the nation's No. 2 payment system.
Dig Deeper on Leadership and strategic planning