Evaluate
Weigh the pros and cons of technologies, products and projects you are considering.
Create a better strategy for innovation, move away from a 70/30 model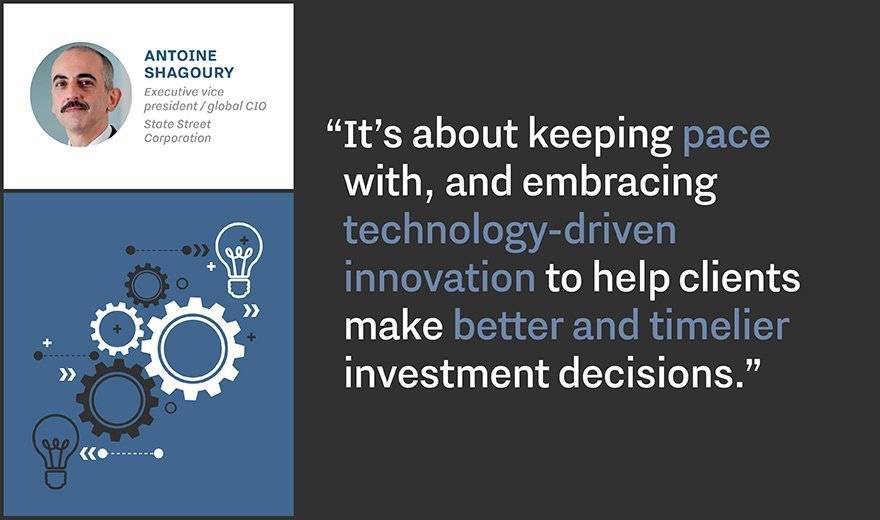 Visual Editor:
Megan Cassello
Antoine Shagoury is the executive vice president and global CIO at State Street Corp. and also a member of State Street's management committee. Shagoury pointed to the State Street Beacon initiative as an example of technology-driven innovation: The multi-year transformation project aims to take the friction out of doing business with State Street by digitizing client interfaces. He also oversees the acquisition of new technologies.
"Earlier this year we launched State Street Beacon, a new, digital-interaction model that is enabling us to work more closely and effectively with our clients. It's about keeping pace with, and embracing technology-driven innovation to help clients make better and timelier investment decisions.
Additionally, last fall we launched our Emerging Technologies Center (ETC), a team dedicated to looking at how new technologies can impact the financial industry and how we can bring these changes into State Street. This is an organization-wide effort and IT is no exception. In my role as CIO, I manage the overall program and serve on the advisory council of the ETC, helping to determine how to implement these new technologies."
View All Photo Stories