Evaluate
Weigh the pros and cons of technologies, products and projects you are considering.
Create a better strategy for innovation, move away from a 70/30 model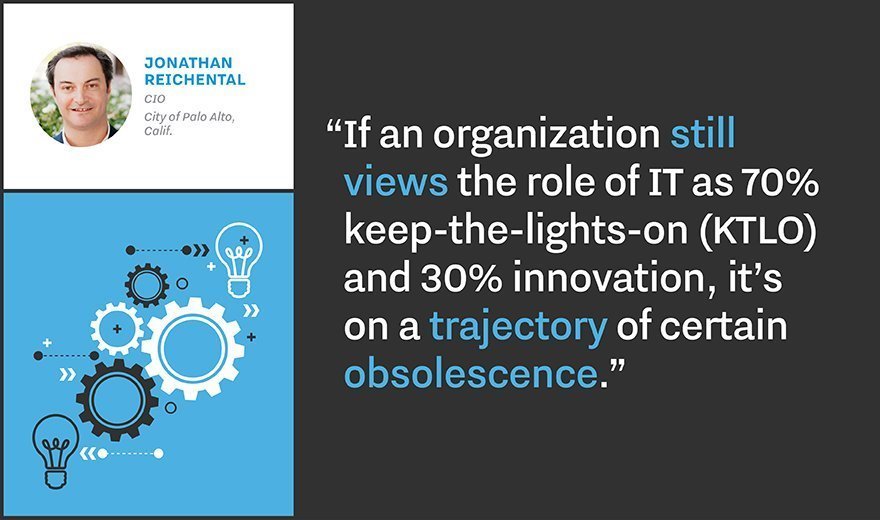 Visual Editor:
Megan Cassello
Jonathan Reichental, CIO for the City of Palo Alto, Calif., believes a CIO's role should focus less on the "keep-the-lights-on" IT functions and more on bright ideas. When asked about the old 70/30 model -- spending 70% of time and resources on "keep-the-lights-on" functions and 30% of the time on IT innovation -- he urged IT organizations to do a major rethink and detailed how on-demand services and good governance are helping his IT team forge a "bold vision" for the City of Palo Alto.
"If an organization still views the role of IT as 70% keep-the-lights-on (KTLO) and 30% innovation, it's on a trajectory of certain obsolescence. With technology now at the center of all activities, leaders must demand the inverse: 70% innovation and 30% KTLO. At the City of Palo Alto we're well on our way. How? We've identified technologies and services where IT adds no particular advantage. This typically results in moving many solutions to on-demand services. We're aggressively reducing our efforts in the business of running a data center. We use rigorous IT governance to ensure that we're working on high-value items. We've created a bold vision that requires us to innovate every day. Finally, our efforts are supported and motivated by leadership across the organization."
View All Photo Stories