Use the cloud to achieve operating model transformation: Six steps
Cloud computing is not an end in itself. To build a scalable cloud infrastructure that helps bring about operating model transformation, Mark Tonsetic advises CIOs to take these six steps.
The shift of IT infrastructure to the cloud isn't a question of if, but when and how much. Survey data collected last fall by CEB, now Gartner, indicates that the average organization expects to triple the share of capacity it allocates to public cloud services across the next two to three years. The share allocated to internal private clouds or more conventional, on-premises infrastructure will continue to decline, assuming current trend lines endure.
Why? Have the economics anticipated in Nicholas Carr's The Big Switch come to pass, and will computing essentially become a utility?
Not exactly, and not yet. Additional data we collected from IT leaders indicates that the economics of cloud vary by organization. Slightly more than half reported that costs of running in the cloud were more expensive than on-premises alternatives, while the other half reported savings from running in the cloud.
So, large enterprises aren't at the point where cloud is believed to be definitively and universally a better option in terms of pure cost. Clearly, something else is behind the growth IT leaders anticipate in their consumption of cloud services.
Cloud in the service of operating model transformation
Cloud offers the scale and flexibility needed to support operating model transformation at a speed that most internal IT organizations can't match.
The cause can be traced to CEO-level focus on digital investments, and what this means for returns on technology investment. Senior business leaders across all industries are focused on technology initiatives, whether to drive organic growth or avoid getting disrupted. For many, cloud offers the scale and flexibility needed to support operating model transformation at a speed that most internal IT organizations can't match.
So, cloud may be more expensive on a per-unit cost, but that difference can pale next to the investment required to, for example, support large-scale upgrades of legacy technology and supporting facilities. Because the capabilities afforded by the cloud are accessible now, it can appear economically smarter from the standpoint of the "digital story" that the CFO and CEO want to tell Wall Street. Articles about the cloud strategies of companies like General Electric, Johnson & Johnson, and Capital One make this abundantly clear. None of them talk about cloud as an end in itself, but as part of a larger digital effort -- and operating model transformation -- to innovate, deliver digital services to customers or speed up new product development.
This also means that the cloud should be just one component of corporate IT's operating model transformation. Cloud can't be expected to deliver top-line digital results without software design and development strategies that connect it to digital business projects.
This has spurred IT leaders' efforts to bring DevOps into enterprises and include the use of teams that coach developers to code for cloud-based architectures. It's not possible for cloud to deliver without new business engagement approaches that connect cloud adoption strategies to opportunities for scale and innovation. In one organization we studied, this led to the establishment of "cloud champions" -- commercial product managers who teach business unit leaders how to make use of cloud capabilities in their products for better commercial outcomes.
Six steps to a scalable cloud infrastructure
To ensure that cloud delivers true operating model transformation, IT teams must take six steps.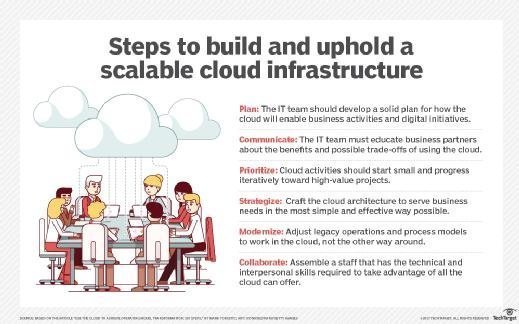 Determine the role that cloud should play in the enterprise's digital strategy. No cloud strategy should start from the perspective of corporate IT. Rather, corporate IT should start by asking where cloud can enable business activities, use cases and digital initiatives.
Collaborate with business partners to determine priorities and trade-offs between speed, cost and risk. Educating business partners about the cloud -- and the trade-offs it may entail -- is a key part of developing the wider digital acumen of the enterprise.
Start with low-complexity projects and build iteratively to higher-value efforts. Cloud capabilities and digital priorities are changing at a pace so rapid that no strategy can afford to be inflexible in its approach. Corporate IT, along with its business partners, should adopt a test-and-learn approach to develop best-practice models for cloud usage over time.
Design a cloud architecture that prioritizes simplicity and responsiveness. Cloud strategies should remember that the design of a cloud architecture is not an end in itself, but the means to more rapid, simplified provisioning of services to infrastructure customers. The question in design is not necessarily what the architecture should look like, but how the architecture will enable the services we want to deliver.
Adapt operations to take advantage of both cloud and automation. Cloud strategies should not look to force-fit cloud into older operations and process models. Rather, operations leaders should look at how process models need to change for cloud monitoring, orchestration and management -- and new roles that advance the automated capabilities that cloud can bring.
Build cloud teams that are technically versatile, collaborative and open to innovation. Use of the cloud will require different team models and skill profiles that marry end-to-end architectural knowledge with technical depth. Most importantly, staff members need the soft skills -- collaboration, communication and business savvy -- that enable teams to find innovative means to apply cloud technologies to business outcomes.
Each of these steps reflects that cloud isn't just a change in technology, but an enabler of operating model transformation. To be successful, IT leaders must recognize that cloud is ultimately a change in how IT infrastructure works to support an evolving set of digital enterprise priorities.
About the author
Mark Tonsetic is IT practice leader at CEB, now Gartner, a best practice insight and technology company. Mark works with IT leaders in infrastructure and applications.
Dig Deeper on Cloud computing for business