Evaluate
Weigh the pros and cons of technologies, products and projects you are considering.
To shine in digital economy, CIOs need passion, partnerships
IT leaders need to love what they do -- and they need to know the business they're in. That was the message from a career panel at the recent Gartner Symposium.
How did you get to CIO?
The answers are as varied as all of you are, rooted in different family backgrounds, different academic directions -- I know you're out there, creative writing majors -- and the multifarious ways you've crisscrossed life's highways and byways.

Download this free guide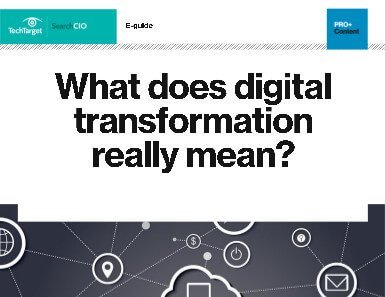 PDF: What does "digital transformation" really mean?
What exactly is digital transformation? You may hear the term often, but everyone seems to have a different definition. See how our experts define digitization, and how you can get started in this free guide.
By submitting your personal information, you agree that TechTarget and its partners may contact you regarding relevant content, products and special offers.
You also agree that your personal information may be transferred and processed in the United States, and that you have read and agree to the Terms of Use and the Privacy Policy.
Probably though, most of you would agree with Daphne Jones, CIO for global services IT at GE Healthcare at the recent Gartner Symposium ITxpo in Orlando, Fla. You got there by doing your job well. And you'd also second Rafael Mena. You have passion for what you do.
"It's interesting, it's challenging, it's fascinating the work that I do here as a CIO for local government, where the rubber meets the road," said Mena, CIO for Orange County, the central Florida district that includes Orlando.
Mena and Jones sat for a panel discussion about what it takes to succeed as a CIO today, with businesses striving to take advantage of the digital economy and transform the very fabric of their operations. Gartner's convention of more than 10,000 CIOs and other IT execs, with analysts declaring that IT has less control over technology purchases than ever before and luminaries like GE head Jeff Immelt saying CIOs have been "too passive" for too long, made a fitting backdrop. CIO, the panelists intimated, is still a job worth striving for.
CIO as protector
Hosted by the Hispanic IT Executive Council, an organization for Hispanic technology professionals, the panel brought together two executives who took very different paths to the C-level. Jones got her start at IBM before moving into healthcare at Johnson & Johnson and Hospira "to help people advance wellness." Venezuela-born Mena was educated in the U.S., moved back to South America and then back here again, hired to implement financial systems for Orange County. He never left.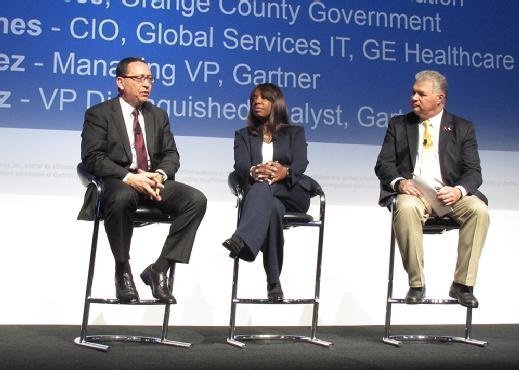 "Local government is like a drug," he said. "I'm in the business of tracking dogs and cats all the way to dead people and everything in between."
Orange County, home to the sprawling Walt Disney World resort empire and other theme parks and tourist destinations, is a great place to be a CIO, Mena said. The area drew 62 million visitors last year, and Mena oversees the IT and business systems that keep them happy and safe, including emergency-response systems "that have to work all the time," like 911. He also gets to exploit advancements in digital technology and push its limits. For example, the county uses analytics to parse meteorological data to determine the strength of an approaching hurricane and help residents prepare to weather the storm -- or get out of harm's way.
"We're in a situation right now where we can start connecting all these dots, where we can be a more preventive, predictive organization," Mena said.
CIO as disruptor-in-chief
For Jones, the billions of devices and sensors due to connect to the Internet in the coming years offers enormous opportunities in healthcare -- from determining how much radiation X-rays beam through patients to knowing whether doctors wash their hands sufficiently before surgery.
The impact on healthcare and other industries from advancements in digital technologies, she said, can be huge, but not unless CIOs are willing to step forward and take some risks.
"I think it's time for CIOs to start thinking about disrupting," Jones said. "Our opportunity is not just to wait for the function to ask us to do something. It's to say this needs to be done."
The first step toward that kind of leadership in a digital economy, she said, is knowing the business as well as the business knows itself -- understanding the marketplace trends and where opportunity for growth is. Knowing technology is important, but it's not everything.
"As a CIO, I don't know everything about SMAC -- social, mobile, analytics and cloud," Jones said. "I hire the right people that know that, but I have to have a broad perspective of understanding what [those technologies] might mean to my business."
CIO as extrovert
Mena's recurring theme wasn't far off -- cultivating relationships throughout the organization. He related a situation that happened again and again in his career: A business manager leader tells him about a problem that needs a technology fix but has no time to discuss the particulars. Mena spun an analogy to illustrate:
"So you're asking me to build you a house and you don't have [time] to tell me what kind of house you like? I'll build one I'm going to like but you're probably going to hate," he said. "If there's not a commitment from the business to sit down with us and solve this problem together, I do not start projects."
Mena developed his business acumen over the course of his career, adapting to the goals of several county mayors, and he's committed to relaying the skills he's honed to aspiring technology leaders in his community. His office works with the University of Central Florida to bring in students and teach them the tricks of his trade, for example. He gives them projects to head, has them lead presentations and even puts them in charge when he goes on vacation.
"It would be very sad for me when I leave the organization that somebody that worked with us doesn't take my role," he said. "That means that I didn't do a good job as a leader."
CIO as mentor
Jones also sees grooming others as central to her career, working with students from vocational high school Chicago Tech Academy and GE's IT leadership program on career opportunities.
"I do this kind of thing a lot," Jones said. She also kept the mood light, drawing out laughter in the audience. "I even mentor my husband -- he won't admit it."
Jones' and Mena's stories struck a chord with audience member Neha Patel, who worked in various tech jobs after college. In 2005, she took a break from corporate America to volunteer in a village in Gujarat in western India, where there was no English-language medium in the school and many students were too poor to pay the required fees to attend. She worked with the local government to create a free educational program linking 40 area villages with teachers worldwide, who taught subjects over communication app Skype.
Upon returning to the U.S., Patel earned her master's in education online and now blends her passion for technology and education as CTO for Virginia Beach City Public Schools.
"You really have to have the passion," Patel said. "Knowledge and skills will always follow if you have the passion."
Let us know what you think of this digital economy column; email Jason Sparapani, features writer, or find him on Twitter @jmsparapani.
Dig Deeper on Digital business management