Share this item with your network:
The new security paradigm

iSTOCK/GETTY IMAGES
News
Stay informed about the latest enterprise technology news and product updates.
Systems diagrams help leaders manage change
CIOs need to 'learn how to surf' the waves of change. Systems diagramming can help. The Data Mill reports.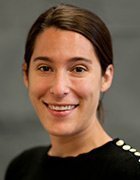 By
Agile is applied to just about everything IT these days -- to product development, to analytics, to organizational structure. So why not to leadership?
"Do you remember the old days when you hired in a change team? Change was the big thing you just had to get through to get to the next plateau," said Matt Barcomb, who works for the consultancy Odbox, currently based in Wakefield, Mass., soon to be relocated to Nevada.
But, if you're a CIO still thinking in terms of plateaus, you're in trouble, he said. As companies adjust to doing business against a backdrop of continuous change thanks to advances in cloud and data processing technologies, they're eradicating plateaus. "We have to learn how to surf instead of trying to control the waves," said Barcomb, a guest speaker at Agile New England's January gathering.
One difficulty businesses encounter when introducing systemic change is that they fail to focus on the system; instead, they focus on the parts that make up the system. Barcomb suggested systems diagramming as a way to get rid of the blinders. By mapping out the system, leaders (or, better yet, a leadership team) can visualize how it's organized and how it operates, ultimately helping to flag existing or potential problems once the change is implemented, Barcomb said. Start by identifying these three systems elements:
1. Boundaries. These are influenced by the context of whatever change you want to implement. Barcomb used concentric circles from smallest (a team, for example) to biggest (the whole organization, for example) to represent boundaries. As a rule of thumb, Barcomb said stick to three tiers.
2. Parts. In change management terms, parts are individuals or groups of individuals. Each part should be included within the appropriate boundary.
3. Connections. Illustrate how the parts are connected by drawing lines between who reports to whom (officially and unofficially). Barcomb also suggested mapping friendships or personal connections. "Think of this as the influencer network," Barcomb said, which can provide insight into how teams get along or the unofficial workflow channels (the stuff that gets done via favors, for example).
After the macro level is mapped out, Barcomb suggested moving on to the micro level, or how organizations self-organize. That's where containers, differences and exchanges come into play, a model Barcomb borrowed from Glenda Eoyang and her book Facilitating Organization Change: Lessons from Complexity Science.
1. Containers. They create unofficial boundaries within a system such as physical space, goals, age, even a common background.
2. Differences. Within each container exists a slew of differences such as education, title, gender, language, race and so on. "They can amplify or dampen what you're trying to do," Barcomb said. "You can probably think of a lot of differences, but you need to find the ones that are important."
3. Exchanges. The ways in which employees interact and "establish patterns of being and behavior," Eoyang wrote in 2011.
Once the system is mapped out, it's time to experiment -- that means hypothesis, test, analysis, pivot. The systems diagram will help leaders "see" how to implement changes across the system -- and even keep tabs on those unintended consequences that are bound to happen. Seeing the whole system is "the first way modern leaders facilitate continuous change," Barcomb said.
Hadoop continues to generate interest
Last week, Deutsche Bank released survey results on priorities and tech trends in 2015 based on conversations with 26 CIOs. Not surprisingly, analytics "was possibly the strongest single investment theme," according to the survey results. Hadoop, in particular, was a popular topic of conversation, "mentioned a full 12 times over the course of 26 conversations," providing evidence of the growing CIO comfort level with the big data stack. Based on this evidence, authors of the report said they "expect significant [financial] commitments in FY15" for Hadoop capabilities.
CIOs also said "advanced approaches to data integration" were critical to their adoption of software as a service and cloud infrastructure as well as advanced analytics.
IT spending to grow 2.4% in 2015
In a press release this week, Gartner Inc. announced worldwide IT spending was on track to hit $3.8 trillion in 2015, a 2.4% increase from 2014. The bad news for IT spend? That figure is down from an earlier prediction of 3.9%.
"The slower outlook for 2015 is largely attributed to the rising U.S. dollar as well as a modest reduction in growth expectations for devices, IT services and telecom services," according to the press release.
The Gartner spending forecast is as follows:
Devices are expected to hit $732 billion in 2015, a 5.1% increase from 2014;
Data center and systems are expected to hit $143 billion in 2015, a 1.8% increase from 2014;
Enterprise software is expected to hit $335 billion in 2015, a 5.5% increase from 2014;
IT services are expected to hit $981 billion, a 2.5% increase from 2014;
Telecom services are expected to hit $1,638 trillion, a 0.7% increase from 2014.
Welcome to The Data Mill, a weekly column devoted to all things data. Heard something newsy (or gossipy)? Email me or find me on Twitter at @TT_Nicole.
Next Steps
Previously on The Data Mill
The top five Data Mills from 2014
A look at Booz Allen's innovation blueprint
10 predictions from the International Institute for Analytics
Dig Deeper on Leadership and strategic planning