Evaluate
Weigh the pros and cons of technologies, products and projects you are considering.
Smart process applications: Straight talk from CIOs
Smart process applications were the focus of November's 'CIO Decisions' e-zine. What do CIOs say about this new breed of apps and other technologies?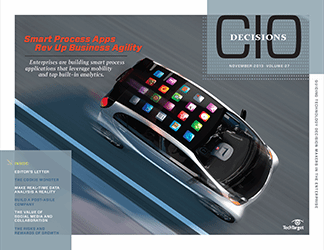 The latest breed of applications aimed at streamlining and optimizing human-based behaviors at IT touchpoints -- smart process applications, if you will -- was the focus of November's CIO Decisions e-zine. And why not? CIOs and IT leaders at such organizations as Loma Linda University Health and Wellesley College are already seeing the returns on these smart process apps, and they're here to share their wisdom with you regarding the rationale behind smart process applications.
"You can have a great reputation, but if your business processes are very antiquated, customers are going to realize that and start looking elsewhere."
-- Jeremy Hubbard, director of business innovation, Loma Linda University Health
How did Hubbard attack this dilemma using smart process apps?
"We have developed guidelines and strategies to make sure that this does not come to bite us later. By making this the platform of choice, we are actually managing the portfolio creep."
-- Wellesley College CIO Ganesan "Ravi" Ravishanker
What's Ravishanker's approach to battling portfolio creep?

Smart process applications are a way to ramp up productivity, soften the gap between people and processes and rev up business agility. And speaking of Agile, our November 2013 issue also examined how to build a post-Agile culture and methods for extracting the most from your social collaboration efforts.
"We created an organizational culture that accepted the fact that even the organizational structure was an experiment."
-- Adam Pisoni, co-founder and chief technology officer, Yammer Inc.
How did Pisoni create a post-Agile mindset at Yammer?

"You get feedback, you interview those students, those new employees as they come in, and you incorporate that feedback into how you're doing with your recruiting. It's imprecise, but it is a way of getting that information and seeing what's working."
-- Bill Miller, CIO, Broadcom Corp.
What's Miller's approach to learning from social collab?
"If you could actually match that [social media information] with your purchase behavior, the microsegmentation possibilities are enormous."
-- Michael Relich, CIO, Guess Inc.
How does Relich maximixe his ROI on social media?
And finally, big data, and the role of data science in the enterprise today, continue to be talking points among high-level IT executives -- and with good reason. It boils down to this: Data scientists can't work in a bubble. CIOs must keep their business aims, and the limits of data science,
in mind.
"Most think, 'There's this huge pile of data, and I'm going to dig into it to find these big nuggets of gold.' What I've learned over the years of doing analytics is that's not the way it works. You really have to understand the business problem you're trying to solve."
-- Michael Koukounas, senior vice president of global scoring and analytics leader at Equifax Inc.
How Does Koukounas get the most out of his data strategy?
"One rule for data science: If it looks too good to be true, it probably is too good to be true."
-- Claudia Perlich, chief scientist, Dstillery
Want more data science advice to live by from Perlich?
For more, check out the full November issue of CIO Decisions e-zine.
Dig Deeper on Enterprise application development, DevOps and software agility