Prospects are bright for CIOs and chief data officers who work together
CIOs and chief data officers will own data strategy, if they can learn to play nice. Plus, is the United Airlines customer engagement app cool or creepy? And a gimmick to build C-suite trust: The Data Mill reports.
CIOs worried that chief data officers (CDOs) could be gunning for their jobs are asking themselves the wrong question. "The right question to ask is how can CIOs and CDOs get to the point where we're jointly owning the data strategy for the company?" Richard Wendell, founding board member of the MIT-affiliated International Society of Chief Data Officers (ISCDO), said at the recent Chief Data Officer Summit in New York.
Wendell may be on to something. A global survey by the Economist Intelligence Unit Ltd. of 550 executives indicates ownership of an organization's data strategy is already shifting -- away from senior business executives to either CIOs or chief data officers.
In 2011, about 20% of survey respondents reported that CIOs were primarily responsible for the organization's data strategy; about the same percentage of respondents reported that senior business executives were responsible. In this year's survey, almost twice as many respondents -- about 40% -- pointed to their CIOs as the person responsible for the organization's data strategy. Only 10% of respondents pointed to senior business leaders, and, for the first time in the survey's history, 10% of respondents pointed to their chief data officers.
If the C-level executives can figure out ways to share data ownership responsibilities -- thereby exploiting "the synergies that exist between CIOs and CDOs," -- they'll go a long way toward serving the organization, Wendell said. "It doesn't always work that way in real life -- there are a lot of challenges sometimes -- but if you can get that humming, there's a huge opportunity here," he said.
Wendell suggested that chief data officers attending the conference start by becoming familiar with top CIO challenges. "I think it's important for us to understand their challenges in order for us to make good partners," he said. According to a top 10 list published by Oracle back in February, CIO challenges include assuming the role of chief digital disruptor -- as opposed to being one of the disrupted; putting actionable data into employees' hands to help create customer loyalty; and building strong relationships with other C-level executives.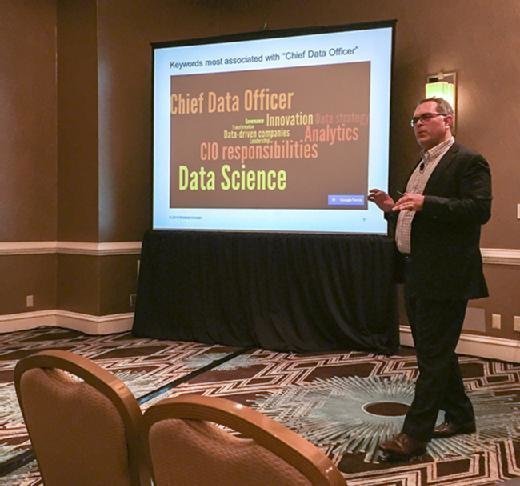 "We can help with all of this," said Wendell. The ISCDO wants to create a community of CDOs who can share experiences and talk through common issues. CIOs won't be invited to join, but, considering the tenor of Wendell's message, the society could be a force for good for senior IT leaders.
Bet your bottom dollar
CDOs are in the business of relationships. "When I come into a company, the first thing I always try to do is build out a forecast," Scott Sokoloff, CDO at food delivery startup OrderUp Inc., said during his presentation at the CDO Summit.
Doing so can be a quick way to speak in the language of the business since, in Sokoloff's experience, executives look to their forecasts as a daily and even weekly barometer for performance. From there, he'll dig around the data to try and uncover why, for example, sales this week might have outperformed sales last week, and engage executives with his findings.
But talking the talk will get CDOs only so far. They'll also need to build trust with the business -- sound familiar, CIOs? -- and to do that, Sokoloff uses "a gimmick." When a colleague expresses doubt in his analysis, Sokoloff will bet he's right, especially when he has the data to back him up. It's all in good fun, so the amounts are nominal -- sometimes a quarter, sometimes a dollar. If the same colleague doubts the findings of his next analytics project, Sokoloff will hand back his winnings and say something like, "Trust me, this is going to work ... and I'll start by giving you back your dollar, so you can't lose already."
For Sokoloff, the gimmick "works, and it fits my style," he said. "Again, you want to develop relationships; it's not about who is smarter."
Cool or creepy?
United Airlines recently rolled out a customer info app to flight attendants, which provides added insight into the customers traveling with them. Flight attendants have access to data on a customer's trip information, who they're traveling with and milestones, such as birthdays.
"Armed with that information, our flight attendants are able to have a much more engaging, personalized conversation with our customers," Krishnan Saranathan, managing director of customer data and optimization at United, said during the CDO Summit.
Saranathan said feedback from customers and flight attendants has been positive, but an article from Gawker stated the app may be crossing into creepy territory.
Welcome to The Data Mill, a weekly column devoted to all things data. Heard something newsy (or gossipy)? Email me or find me on Twitter @TT_Nicole.
Next Steps
More on the chief data officer
Up close and personal with the CDO
Don't hire a chief data officer until you're ready
The chief data officer vs. the chief digital officer
Dig Deeper on Enterprise business intelligence software and big data