Evaluate
Weigh the pros and cons of technologies, products and projects you are considering.
Microsoft digital transformation: CIOs to see industry, partner focus
Digital transformation is the magic word at Microsoft these days. What can CIOs anticipate from the company as it organizes itself to reinvent its customers?
At Microsoft, digital transformation has emerged as a key corporate theme and, as a result, CIOs can expect to see the company place a greater focus on industry verticals and pursue a go-to-market strategy that relies on business partners.
The focus on digital transformation starts at the top. At the recent Microsoft Inspire conference, the vendor's annual meetup for its reseller, systems integrator and cloud services partners, CEO Satya Nadella pointed to digital transformation as a $4.5 trillion market.
"With increasing digitization, where every part of our society and economy has been fundamentally transformed because of digital technology, the opportunity is greater than ever before," Nadella said. "Think about how every product, every service is going to have digital cogs associated with it. It's no longer just building an information system that keeps track of your products and services -- the product and the service, itself, is digital."
It's no longer just building an information system that keeps track of your products and services -- the product and the service, itself, is digital.

Satya NadellaCEO, Microsoft
There's no question that Microsoft would like digital transformation projects to include plenty of its own offerings, whether that means Microsoft Azure, Office 365, business applications such as Dynamics 365, or some combination of products. But the Microsoft digital transformation vision revolves around what Nadella described as four "digital transformation outcomes" that are, at least on the surface, about as vendor-neutral as one can expect from an $85 billion software company: engaging customers, empowering employees, optimizing operations and transforming products.
Indeed, digital transformation, according to Jeanne Ross, principal research scientist at MIT Sloan Center for Information Systems Research, is "not about technology." Speaking at the 2017 MIT Sloan CIO Symposium, Ross characterized digital transformation as a redefining of an organization's value proposition and, ultimately, a redesigning of the organization.
That type of transformation calls for consulting skills, business process re-engineering expertise and an ample dose of change management. It also calls for industry-specific knowledge. It's a fool's errand to reimagine a client's business without detailed knowledge of its environment -- the competitive threats, regulatory duties and customer-purchasing trends.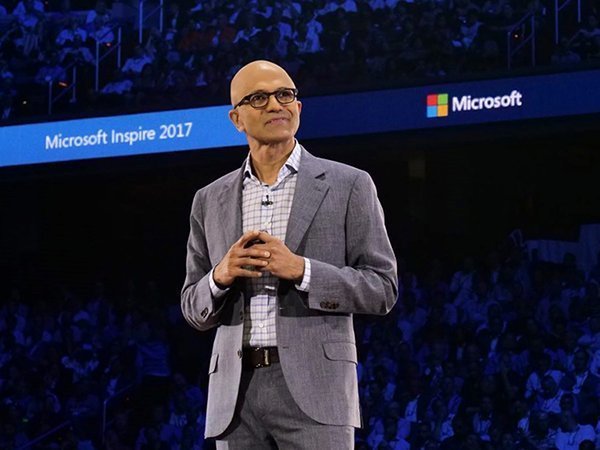 Microsoft has some of the necessary services in-house. During a much earlier industry transition, the company in 1990 hired an Ernst & Young consulting partner to head its new consulting unit. Today, Microsoft Services still employs consultants and digital advisors. Microsoft can also tap the consulting resources of Avanade, a professional services company it co-founded with Accenture in 2000.
But the Microsoft digital transformation bid isn't restricted to specialized consulting units; the pursuit of digital is a companywide endeavor. For example, Microsoft is reorganizing its sales force along industry lines, targeting financial services, retail, manufacturing, government, education and healthcare in particular. The goal is to cultivate a deeper understanding of customers' businesses. The industry orientation signals a significant shift from segmenting customers according to the number of users. The new sales approach suggests a focus on how to transform clients in a given industry as opposed to how many licenses Microsoft can sell them.
But while Microsoft has thousands of consultants -- between itself and the Avanade alliance -- to deploy on digital transformation projects, the company's partner ecosystem is far greater in size. Microsoft estimates that the company's partners employ some 17 million people worldwide. Microsoft needs partners to reach potential digital transformation customers in distant geographies, niche markets and among the multitude of small and medium-sized businesses.
Partnering for transformation at Sephora
Partners also have their own intellectual property to contribute to digital transformation efforts and the ability to deliver projects that span multiple vendors. A tech demonstration at Microsoft Insight provided a glimpse of what CIOs might see from Microsoft and its partners in transformation. That demo showed how beauty retailer Sephora uses a marketing intelligence platform from SapientRazorfish, a Microsoft digital transformation partner, along with offerings from Microsoft and Adobe to run campaigns.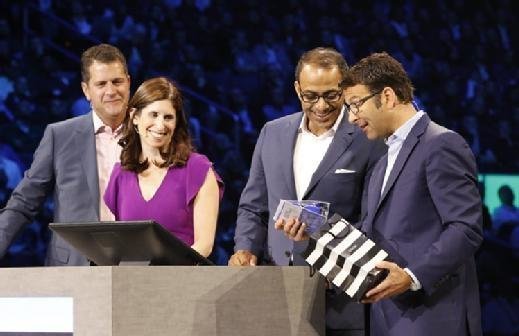 SapientRazorfish's platform, called Cosmos, uses Azure and Microsoft's Cortana Intelligence Suite, which includes machine learning and analytics services among other components. The marketing tool takes into account a customer's purchasing history, profile information -- skin tone and hair type, for instance -- and the time of year and generates a score, which is then transmitted to Adobe Campaign, a cross-channel marketing automation product. In Adobe Campaign, the score is used to determine the timing and details for a targeted customer message with product recommendations, according to Alyssa Altman, senior vice president and regional leader at SapientRazorfish.
"This is a true differentiator for us," said Savio Thattil, CIO at Sephora. "These were things we couldn't do before, let alone automate."
It's a promising start, but Microsoft's success in digital transformation depends on organization and execution. As for the former, can Microsoft rally its sales force to take an industry view and sell customers on transformation? As for execution, McKinsey & Co. has noted that 70% of digital transformation projects fail, and a report in Forbes offers an even more pessimistic assessment. Can Microsoft coordinate with partners and third-party product vendors to deliver the goods?
The answers will arrive one customer at a time.
Dig Deeper on Digital business management