Is there a data doctor in the house? Accenture nominates the CFO
Crippled by data quality problems, U.S. companies need to find a cure fast. Accenture's Athena Reilly argues the data doctor of choice is the company's CFO.
Data dysfunction has become an epidemic. Data quality problems cost U.S. businesses more than $3 trillion annually and cause significant frustration and time wasted among high-ranking executives.
In fact, an Accenture Strategy cross-industry survey of senior executives showed that less than half can instantly answer basic questions about their company's business performance. Adding to the data problem is the fact that the finance organization spends roughly 80% of its time tracking down and validating data instead of reporting forward-looking insights, the survey showed. In an age where data and answers can be at our fingertips, nobody wants to dig for answers -- and certainly not the C-suite.
Enter the CFO as a 'data doctor'
The good news: Whether they realize it or not, companies already have the best "data doctor" in the house: their chief financial officers. With their visibility and understanding across functions -- and their control over the budget -- CFOs are well-positioned to become the "insights engine" for their businesses and cure the data dysfunction that's wasting time and money.
Quality data is a must for organizations to lay the foundation necessary for using analytics to become truly insight-driven. Twice as many high performers in their industries are using analytics in key areas and embedding analytics in decision-making. They are also four times as likely to receive significant return on investment from analytics. Quality data is also essential to increase data-driven decision-making to improve operations and drive innovation.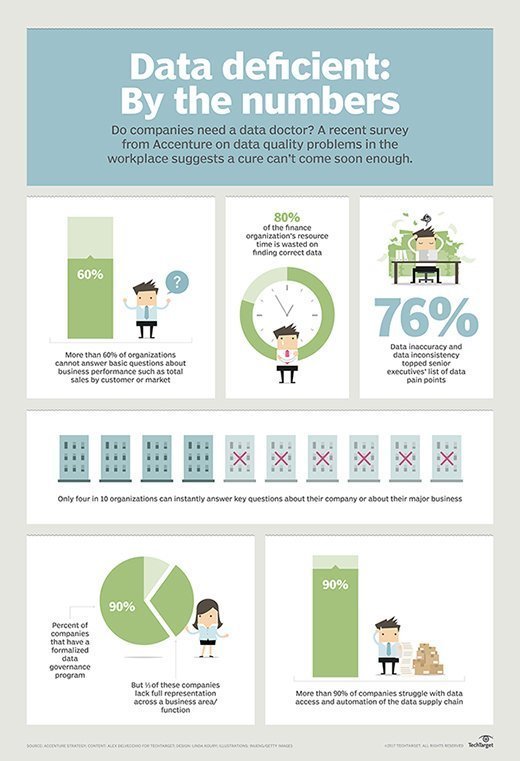 So, how can the CFO as data doctor make this happen? The best medicine for data dysfunction requires new roles and collaboration models, different organizational structures, emerging technologies, and next-level accountability. CFOs can work with CIOs and chief data officers to fix data supply chain problems within their organizations, but it will mean fundamental shifts in how the CFO and the finance organization typically work and connect with the business.
Fixing the data supply chain
Today, there are technologies and protocols -- such as master data management and data cleansing -- that can help transform data supply chain outputs.
But more than 90% of companies struggle with data access and automation of the data supply chain.
With the CFO in charge of enterprise data services, finance can harness data in ways it hasn't been able to previously.
CFOs and their teams must begin by identifying their companies' most valuable data sets. They must also break down the silos that often separate data within an organization. These silos not only isolate data, they isolate people and departments that should be working together.
Companies in any industry can benefit from putting these new technologies in place to stop the pain of wasting time, money and effort on a dysfunctional status quo:
Manufacturers can remove complexities around distribution and channel management.
Pharmaceutical companies can improve transparency to enable cross-selling and up-selling.
Consumer goods and service leaders can tap into consumer and product data for real-time promotion and category and stock keeping unit optimization.
The investment needed in these data supply chain technologies is reasonable, and the impact is immediate. With the CFO in charge of enterprise data services, finance can harness data in ways it hasn't been able to previously -- to generate in-the-moment business insights that the entire leadership team can use.
How CFOs can help
Organizations can finally bring all the data that is relevant to the business together into a digital data supply chain using new technologies to access, analyze and extract insights from an increasing number of data sources. In the role of data doctor, CFOs can push their organizations along this path with a few key actions:
They can stop the (data) bleeding: The CFO is well-positioned to make master data management a top priority by ensuring that there is clarity around data ownership and a common business language across business units and functions.
CFOs can heal the ecosystem: With an acute understanding of the business issues, the CFO can effectively translate business needs to IT, getting data into the hands of those that need it.
They should triage interventions at speed: Companies are exhausted by big, bold IT projects that do not deliver. The CFO should organize workforce structures, tools and talent to enable agile approaches that involve prototypes, pilots and rapid scenario-driven changes.
These actions will bring organizations on their way to a clean bill of data health that provides meaningful business value. With the CFO as a data doctor working seamlessly with the CIO and others throughout the organization, data can generate key business insights quickly and accurately. That's just what the doctor ordered.
About the author
Athena Reilly is a managing director in Accenture Strategy's practice. In this role, she helps CFOs address some of their top challenges, including changing business models, managing data volumes, addressing analytics immaturity and transitioning away from legacy technology. A frequent commentator on digital finance trends in national and global media publications, Athena is based in the Washington, D.C., area.
Dig Deeper on Digital business transformation and innovation