In business-model innovation, cloud computing is imperative
Business-model innovation is a necessity in light of the changes that cloud computing brings to the enterprise, columnist Harvey Koeppel explains.
Innovation is no longer only about new or different products and services. As our world becomes increasing volatile, uncertain, complex and ambiguous, enterprises must adapt in different ways to enhance competitiveness -- or even to maintain their existing market positions.

Download this free guide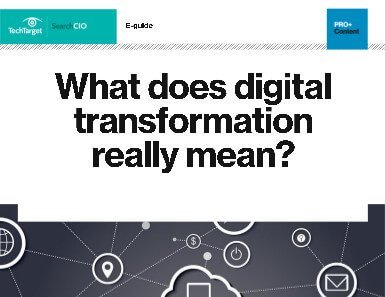 PDF: What does "digital transformation" really mean?
What exactly is digital transformation? You may hear the term often, but everyone seems to have a different definition. See how our experts define digitization, and how you can get started in this free guide.
Increasingly, top-performing companies are focusing on business-model innovation -- well beyond the scope of traditional product or service research and development -- to drive their new strategies and operating models. Cloud computing is ideally positioned to become a significant catalyst of business model innovation, and CIOs and their IT staff need to be thinking about how to leverage cloud computing to increase the value of their IT investments and evolve their roles as value-added enablers of business outcomes.
Background on business model innovation
A 2010 survey conducted by IBM explored the current thinking and future plans of more than 1,500 CEOs representing 60 countries and 33 industries spanning the public and private sectors, as well as developed and growth economies. IBM reported that more than 90% of the CEOs surveyed indicated they were in the process of or planning to embark upon significant business model innovation programs in the next three years.
American organizational theorist Henry Chesbrough, executive director of the Center for Open Innovation at the Haas School of Business at the University of California-Berkeley, talked about the criticality of business model innovation as follows:
"There was a time, not so long ago, when 'innovation' meant that companies needed to invest in extensive internal research laboratories, hire the most brilliant people they could find, and then wait patiently for novel products to emerge. Not anymore. The costs of creating, developing and then shipping these novel products have risen tremendously (think of the cost of developing a new drug, or building a new semiconductor fabrication facility, or launching a new product into a crowded distribution channel). Worse, shortening product lives mean that even great technologies no longer can be relied upon to earn a satisfactory profit before they become commoditized. Today, innovation must include business models rather than just technology and R&D [research and development]."
Bob Higgins, co-founder and managing general partner of venture capital firm Highland Capital Partners, made the point eloquently:
"I think historically where we fail is when we back technology. Where we succeed is when we back new business models."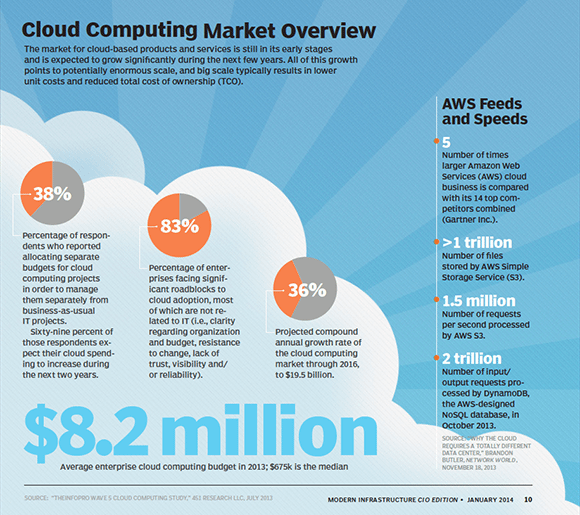 Figure 1
The cloud computing marketplace
The market for cloud-based products and services is still in its early stages and is expected to grow significantly during the next few years (see Figure 1). All of this growth points to potentially enormous scale and, as we have all learned from our past, big scale typically results in lower unit costs and reduced total cost of ownership (TCO).
Business model innovation: The benefits
One of the hallmarks of public cloud computing pricing is what many refer to as the "pay by the drink" model -- charges based upon business drivers and non-technical resource consumption. For example, a CRM system might be priced based upon the number of customers being managed or a human resource system upon the number of employees on the payroll. In addition to lowering unit costs and TCO as described above, this approach allows the enterprise to potentially eliminate high fixed costs associated with maintaining infrastructure and supporting large applications, data centers and backup facilities. This leads to more predictable -- and therefore more manageable and agile -- revenue, expense and earnings streams in response to volatile, uncertain, complex and ambiguous market conditions. These dynamics represent significant steps towards achieving the long-sought-after business and technology goals of flexibility and scalability.
Progress made in lowering costs while effectively enabling flexibility and scalability (market responsiveness) significantly enhances an enterprise's ability to reduce time to market for new products and services (agility).
Another important factor when considering the impact of cloud computing on business models is the benefit of standardization. Especially apparent when adopting Software as a Service (SaaS) models, enterprises have the opportunity to adapt to and enforce common business processes and data across internal siloes. We commonly see multiple ways of opening accounts or providing customer service, often the result of different product areas that operate independently of each other and have created custom or unique ways of identifying customers, storing customer information, reporting on customer activities, interfacing with financial reporting, etc.
While those disparate business processes and methodologies have typically served each product area well, in the new world order of SaaS cloud computing, a common process and methodology is typically deployed that not only creates efficiencies, but additionally allows companies to now look at their customers across all product lines or service areas. This can support significant advances in customer relationship management, analytics and business intelligence, risk management and compliance reporting -- all major hallmarks of the innovative business model.
Business model reinvention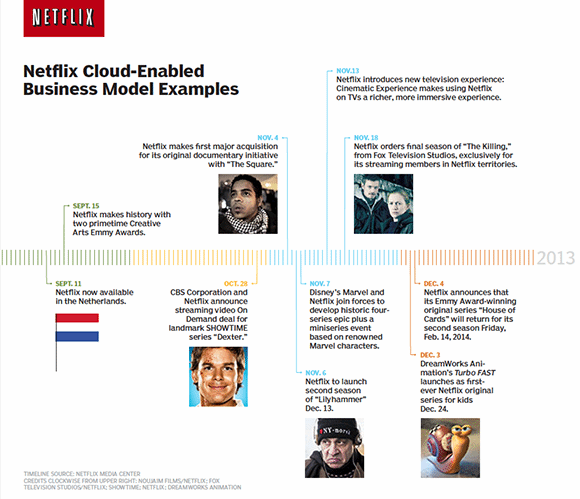 Figure 2
Netflix is a wonderful example of a company that reinvented its business model by leveraging cloud services. Go to its home page and check out its tagline: "Watch TV shows and movies anytime, anywhere." By leveraging the cloud, it was able to enter new markets and address a new customer base without the traditional constraints of building and maintaining its own infrastructure and managing the bandwidth peaks that would inevitably be created by the video-streaming business.
If there was any doubt about how the new cost structure and infrastructure has enabled business model innovation, consider the following timeline of just a few of the company's recent announcements in 2013 (see Figure 2).
New business models: Thinking ahead
As IT professionals, we are still dealing with major challenges as we consider how much and how fast we should be moving to the cloud. For example:

Figure 3
While the list of challenges may still be great, it is fair to say that the potential opportunities outlined are even greater and migration to some type of "evolved cloud" will likely be a key part of our future. If you have not already done so, you should begin to think about how to evolve your role and responsibilities (see Figure 3).
If you aren't already thinking along these lines, ask yourself the following questions:
How does your company view business model innovation as a means to sustain or increase competitive advantage?
Is your company pursuing a cloud strategy? If so, does it address business model innovation?
How are you as an IT leader involved in these conversations?
Is your IT strategy well aligned with your business?
Do you have the right in-house bench strength to accomplish your objectives?
Let me know what you think. Discuss, debate or even argue -- let's continue the conversation.