How to get more women in IT jobs? Mandate an inclusive culture
The Flatiron School, a coding boot camp in New York, calls on the entire organization -- not just the top ranks -- to create a safe, welcoming environment for women.
Earlier this year, I wrote on what companies were doing to get more women in IT jobs, inspired by an audience query to a talent panel at the MIT Sloan CIO Symposium in Cambridge, Mass., in May. Sometime later, a commenter on that story, a male worker at an IT training company, asked me my thoughts on "how can we not only encourage women to get in tech, but also guarantee that the tech environment is not toxic for them?"
It was a good and timely question -- especially the last part. Revelations about sexual harassment and cultural breakdown were trickling out of one of Silicon Valley's standouts -- ride-sharing pioneer Uber -- leading, eventually, to the resignation of its chief executive, Travis Kalanick.
But does the answer to how to get more women in IT jobs and then ensure the workplace is a safe and welcoming one for them always depend on the CEO?
I took up the topic with Kristi Riordan, COO at the Flatiron School, a coding boot camp in New York that offers scholarships to women who want to be part of the high-paying tech economy. To cultivate a good environment for women in technology, organizations need to sign onto that policy at the top, Riordan said. Senior leaders must be expected to establish an inclusive culture of respect and transparency.
But another part of the solution, Riordan said, is lower down the corporate ladder: "great managers" to guide direct reports and help them navigate the organization.
"A manager is the person who is responsible for the day-to-day assignments for the individual," she said. "They're responsible for making sure that the individual is connected to a team, to the company, to the mission -- that there are growth opportunities that are created for this individual."
Ethics matter
The buck still stops with the CEO -- and it should. Ellen Pao, the technology investor who sued her employer for gender bias, wrote an article in The New York Times this month that explored whether anything has changed since more women have come forward with reports of being harassed or discriminated against. Apologies have been issued, leaders have stepped down and heads of diversity have been appointed, she wrote. But to puncture lingering bigotry, "We need CEOs to hold themselves and their teams accountable for true diversity and inclusion."
Pao was writing specifically about the tech industry, but she might as well have been writing about male-dominated tech organizations in general. Trickle-down inclusion in any company, in any industry, in any IT department, won't work if people in every stratum aren't in on the plan: to treat coworkers fairly and with respect so that they have a fair chance to succeed.
Susan Fowler, who spent a year at Uber as a software engineer, wrote and posted in February a disturbing account of her experience that triggered an investigation of the company and Kalanick's subsequent downfall. Fowler's manager sent her, by way of a chat app, thinly veiled solicitations for sex, she wrote.
I would love to see a lot more conversation around the reasons why managers are crucial to supporting an inclusive and welcoming environment.

Kristi RiordanCOO, Flatiron School
He was surely enabled by a noxious company culture, which protected him even when Fowler reported him to the company's human resources department. Kalanick's reprobate example for employees -- he joked to GQ magazine that his company was nicknamed "Boober" for the female attention it drew -- set the tone for the company, and bad behavior saturated its ranks.
For the Flatiron School's Riordan, managers, like the CEOs above them, need to meet certain ethical criteria to be in their positions.
"I would love to see a lot more conversation around the reasons why managers are crucial to supporting an inclusive and welcoming environment, what is expected of managers, how managers are evaluated," she said. "I think they're a very, very important piece of the puzzle."
Code of conduct
Here's how the Flatiron School tries to solve it: Students are required to review and sign a code of conduct before they arrive on campus. According to its website, the school expects "all faculty, teachers, employees, mentors, students, guests, friends, basically everyone involved with the school, to help us create a safe and positive environment for everyone."
It also tries to cultivate a healthy dialogue among students, instructors and staff. If "something uncomfortable" happens, Riordan said, students are encouraged to express how they feel to the person or people who made them feel that way -- or to someone on the staff. It's what the school calls feedback.
"There are varying degrees of problems that can occur, and the things that happened at Uber are, I think, the worst level," she said. "People need to get comfortable expressing and receiving feedback when they're small issues."
Beyond policy, tech companies -- and IT organizations at any company -- that are run and staffed mainly by men need to figure out a way to engender solidarity among the sexes. Male managers and employees need to become "women's ally," Riordan said. They should be expected to help female employees succeed, not thwart them, and encourage them to fill leadership positions.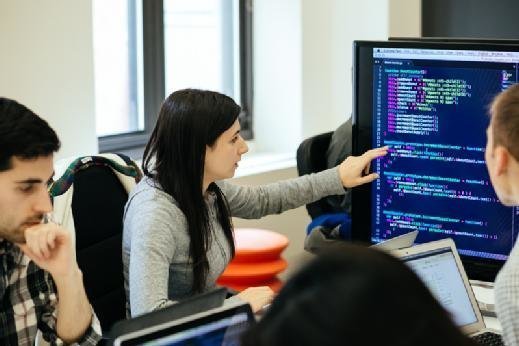 As an example, Riordan relayed the story of a male graduate of the Flatiron School who got a job and helped a female classmate get hired by the same company. Sometime later, the school organized a panel discussion focusing on women in IT jobs.
"This woman happened to be on the panel, and that guy happened to be in the audience," Riordan said. "She said, 'You know, he got me my job.' That's the kind of culture that we really try to instill with our students and with our alumni so that they can then carry that culture out into the tech industry."