 BACKGROUND IMAGE: iSTOCK/GETTY IMAGES
Get started
Bring yourself up to speed with our introductory content.
Harvey Koeppel dives deep into the app economy
SearchCIO Expert Harvey Koeppel dives deep into the app economy, and several cups of black coffee later, comes up with this advice for CIOs.
Most technophiles automatically combine the words mobile and app into the single ubiquitous term mobile app to describe a class of software applications that has evolved over the past 25 years.
Early mobile apps were developed to provide basic notepad, contact and calendar-management functionality to untethered handheld (mobile) personal digital assistants (PDAs) during the late 1980s to early 1990s. The next 10 years saw the development of mobile apps designed to add more features and functions to basic cell phones and tablet computers (i.e. mobile, more powerful PDAs).
Today's mobile applications are, by comparison, highly advanced. The further integration of mobile apps with operating systems and app stores (the new sales and service delivery channels) are routinely the object of significant industry attention and focus, either adulation or criticism and sometimes both concurrently. These platforms are now providing their brands with new and powerful means to innovate, to differentiate and to compete in a marketplace that in 2013 will generate about $26 billion in revenue and is projected to grow more than 400% over the next four years to $139 billion in projected revenue by 2017. All of this is happening in a market where 91% of mobile app downloads are free -- and that number is growing too.
We have sometimes gleefully and sometimes begrudgingly become functionally and sometimes emotionally dependent on these technologies in a period of no more than a few years. If the current growth trend continues, these technologies will most certainly drive even more profound yet currently unknowable changes to the way we live, work and play -- they are the face of the next frontier.
App origins: A brief historical perspective
Knowing when, where and why words and phrases were originally created and how their meanings have evolved over time often increases our understanding of the past and our appreciation of the present, and gives us a richer viewport through which we can look at and only speculate about our future.
The word mobile is relatively straightforward to trace, finding its roots in the Latin word mobilis, meaning movable or easy to move. The field of sociology first noted the term mobile home in 1940.
Source: Online Etymology Dictionary
After searching the Web for content containing the word app, two things happened: My search engine returned almost 2 billion (yes, billion with a b) results; and I got up from my desk and went into the kitchen to heat up another pot of coffee. It promised to be a long night.
Several cups of black coffee later, I was able to piece together the following, very rough timeline for the origin and evolution of the word app: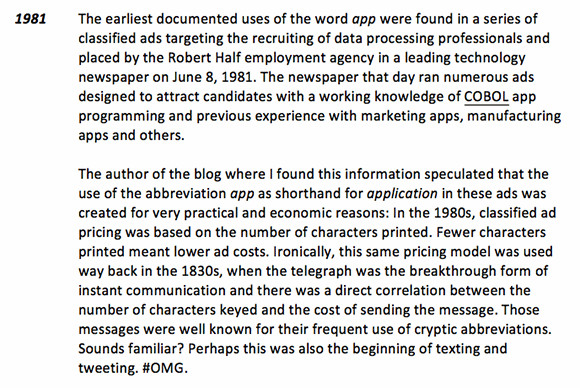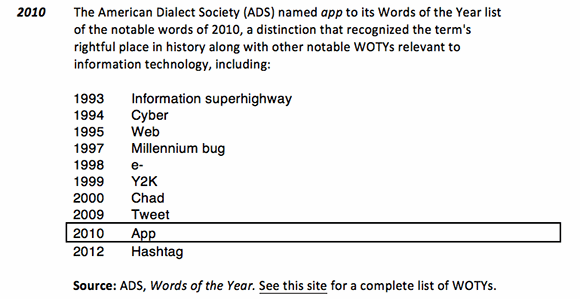 The current state of app affairs…
By all accounts, the mobile app industry is on fire and burning faster and faster. And not only is the industry growing fast, it also is rapidly grabbing more of our time and attention compared to time we spend browsing the Web or watching TV. The effects on our industry, our economy and our culture are significant.
A recent study by Flurry, a leading mobile measurement and advertising platform, provides us with the following insights into how we will likely be spending our time:

"Mobile and apps are gobbling up the Web and consumer Internet, and that's where the opportunity is, and the opportunity has never been bigger … All around me, I see entrepreneurs living it, loving it and collecting it 99 cents at a time."
Source: Mobile Apps: We Interrupt This Broadcast, Flurry Blog, Simon Khalaf, Flurry CEO, December 5, 2012.
"OK," you might rightfully say, "We are spending an additional half-hour a day using our mobile apps -- so, what's the big deal?" Here's how a recent Gartner study described the economic impact of the forecasted growth (52% compound annual growth rate) in the mobile app marketplace:

Here we have an interesting view of the what, but as one of my early mentors used to say to me (all the time), "In the scheme of things, the what is interesting, but the what is not what really matters -- what really matters is the so what." (Perhaps in addition to my mentor, we should also thank Dr. Seuss and maybe even Abbott & Costello for their consummate wisdom that they likely never in their wildest dreams imagined would or should be applied in this context.)
Here are a few dimensions of the so what as related to the mobile app economy created within the 28 countries of the European Union: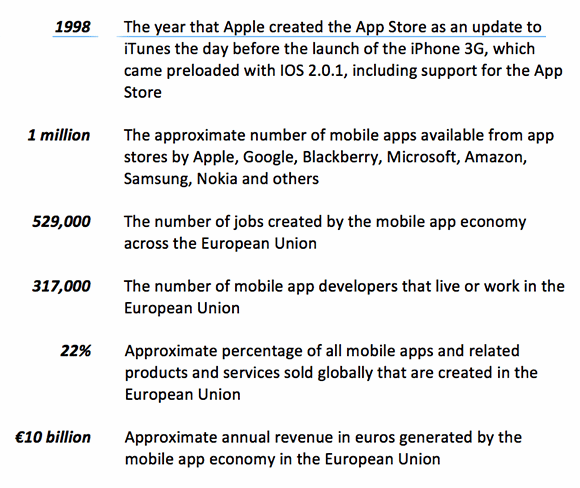 "This represents only the beginning -- further advances in the App Economy are anticipated as a result of increased apps availability and functionality, and improvements in devices and connectivity."
Source: The European App Economy, Vision Mobile Research, September 2013
According to a study by comScore, in the first quarter of 2012, the use of apps on mobile devices exceeded the use of browsers to perform similar functions. Not surprisingly, the study also found there was a high correlation between the use of particular apps and the user's needs, location and time of day.
Source: Mobile app, Wikipedia
Hold on to your boots, my friends
Hmmm. Does that sound like something you may have heard before, perhaps expressed in more hyperbole than in raw statistical terms? How about "anything, anywhere, anytime"? Those marketing guys do have a way with words, don't they?
Everywhere you look, you see almost every major discipline within the fields of science, technology, engineering and mathematics, or STEM, heading towards convergence. Consider, for example, the almost Darwinian march towards:
Increasing accessibility and speed of communications bandwidth, computing resources and storage capabilities (cloud)
Increasing functionality that supports and integrates business and personal usage (social, consumerization)
Increasing number of types and availability of sources and amounts of data (big data)
Increasing capabilities to analyze large quantities of data and produce meaningful results that are actionable
Increasing availability of spatial-positioning technologies (Global Positioning System), e.g., observation and tracking, navigation and guidance, among others
Increasing efficiency and performance of untethered power sources (batteries).
Increasing miniaturization of size and reduction of weight components and devices (nanotechnologies)
Increasing uses for app-enabled mobile devices, or AEMDs, that can sense the state of their environment and adjust accordingly (sensor-based technologies)
Increasing quality and uses of wearable app-enabled mobile devices, or WAEMDs, e.g., headphones, goggles, fitness clothing, among others
Increasing uses of implanted and bio-integrated app-enabled mobile devices, or IAEMDs, e.g. pacemakers, hearing aids, prosthetics, among others
I am quite confident that with another cup of black coffee I could list many more examples, although the points to take away should be clear:
All these trends are progressing both independently and in combination with each other.
When two or more of these trends intersect, the resultant value of the integration is greater than the value of the sum of the component parts.
As the magnitude of value creation increases, economics favors continued exploration and identification of new areas for integration and application.
Mobile apps are at the heart of and enable just about everything described above.
As we journey into the next frontier, hold onto your boots, my friends, because if past experience is any indicator of future progress, the only thing that we know for sure is that there will be bumps in the road.
Let me know what you think. Post a comment or drop me a note at hrkoeppel@aol.com. Discuss, debate or even argue -- let's continue the conversation.
Dig Deeper on Enterprise application development, DevOps and software agility