News
Stay informed about the latest enterprise technology news and product updates.
Gartner Catalyst conference keynote shows, tells IT what to build for next
The research outfit's conference for tech pros takes a novel storytelling approach to guide IT on building for a digital future.
IT folks know the tech-conference drill: They file into a packed auditorium, a blaring pop song filling up the only space left. Lights brighten, speakers stride onstage, and then comes a keynote presentation packed with bold pronouncements about the future and appeals to up their game.
They aren't typically told that their best-laid plans are built on lies.
Then there was the Gartner Catalyst conference kickoff in San Diego in August.
"Today, we architect for assumption, facades -- lies perhaps?" said Gartner analyst Danny Brian to the enterprise architects, systems engineers and software developers gathered for the event. "We say things like, 'Architect for scalability or stability.' Or, 'Architect for agility or cost or security' -- whatever it might be. But the truth is these are not the underlying goals of architecture."
Brian and fellow Gartner analyst Mindy Cancila traded this "blanket list of nonfunctional requirements" for another, loftier-sounding list of IT architecture goals: precision, disposability and autonomy. In other words, IT should build systems that can deliver solutions to specific business problems, that can be dumped when they no longer meet demand and that put the power of technology in the hands of users.
Now, We need to rethink how we do our jobs is a noteworthy message for IT folks, for sure, but what was arresting about Brian and Cancila's "three keys" presentation was the personal connection each analyst had to the storytelling -- plus an innovative way of using video footage to make their points.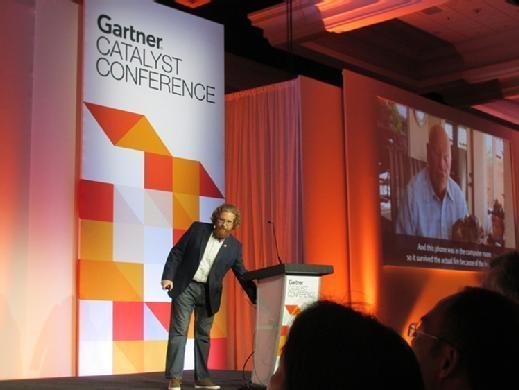 Digital past, digital future
The talk began with two case studies. One was focused on Northwestern National Bank, whose downtown Minneapolis headquarters burned down Thanksgiving Day in 1982. Brian's father worked there, and his mother had told him and his siblings that they should save their holiday leftovers because they might be out on the street. "She was a bit dramatic like that," Brian said.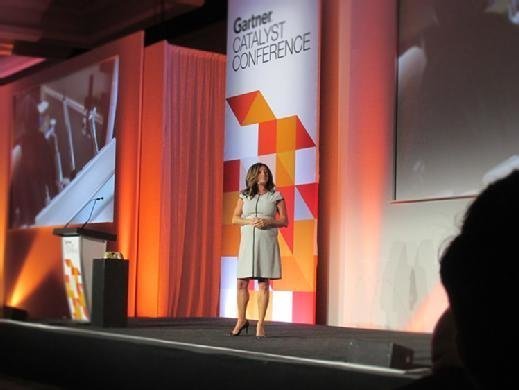 But the bank didn't go out of business. Old news footage filled a screen behind Brian and Cancila and showed people in parkas queuing at bank branches and a man who had "a pension coming from there" tell a reporter that his information was intact. The bank had a sophisticated disaster recovery plan, and all accounts and mortgages were "duplicated and computerized," the news report said, in an off-site operations center.
The second case study was a modern one. It was about a dentist Cancila recently visited to replace an old crown. The dentist uses digital technology and data to precisely measure a patient's mouth and bite and, using a 3D printer in his office, can produce a crown on the spot in just 15 minutes. That's astonishingly faster than the traditional method, which could take up to three weeks and require a second and perhaps third visit to get the fitting right.
As the analysts moved on from the footage to the thrust of their argument -- that IT needs to build systems that will support a fast-approaching digital future -- they revisited the case studies already shown, flashing frames across the screen and piecing together a video montage that punctuated their advice.
Notable also was these videos had none of the slick production that has been presented on the Gartner Catalyst conference stage in the past. Most had an amateurish, home-movie look, with washed-out colors and tinny audio -- but that didn't detract from the storytelling. In fact, the DIY aspect seemed to amplify the call on IT to take the initiative and reinvent itself.
Scenes from the screen
Take the first of three concepts, precision -- building scalable, on-demand infrastructure systems so "we don't need to throw overly powerful servers into the rack" and measuring, say, power consumption to improve efficiency over time.
To push the point, video interviews from the Northwestern National Bank case study flashed on the screen. There was Virgil Dissmeyer, the designer of the disaster recovery plan who Gartner recently tracked down and filmed, saying, "They wired it completely for digital," referring to the bank's forward-thinking reconstruction of its headquarters in the 1980s. Then, the dentist explains how his data-driven method of producing a crown yields "no inaccuracies," followed by Dissmeyer again on the rebuilt bank: "PCs, terminals on everybody's desk."
The same technique was used to unpack the notion of disposability, which is, according to Brian, central to computing today. "It means scalability, portability, risk mitigation." The video rolled again. Dissmeyer explains how, pre-fire, he persuaded the bank's board of directors to build the auxiliary operations center to house systems for backup records.
The dentist reappears onscreen, explaining what would happen in the old days when a patient came to the office for a crown fitting, but the bite wasn't quite right: more measurements taken and sent to the lab -- and three more weeks. Using the new method, it's just, "Ten more minutes we'll have another one."
By the time the concept of architecting for autonomy was detailed -- "We have to build systems that empower people, like the dentist," Cancila said -- Gartner had shown that it didn't need to call onstage an entourage of business executives in natty clothes talking about how technology enabled and empowered the business. And not because testimonials delivered on a big stage aren't powerful. They can be.
Sometimes, though, so is some video from 1982.
To learn more about the three principles Mindy Cancila and Danny Brian detailed at the Gartner Catalyst conference, read this SearchMobileComputing blog post.
Dig Deeper on IT project management and portfolio management