Share this item with your network:
The great technology and industry disruptors

Pixsooz - Fotolia
Five IT leaders take on the challenge of digital transformation
Digital disruption has become a catch-all term used indiscriminately to telegraph that digital technologies have turned businesses upside down. That's about right. Now, how will your business survive the journey to digital transformation?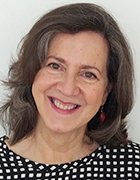 By
No one is asleep at the wheel -- but it's still a crapshoot who will survive the journey. That's the dark thought that surfaces when I ponder the massive shift under way to digital business.
The business and IT leaders we meet these days all realize that the growth of digital information is upending traditional business models and giving rise to new ones. Indeed, anyone who has taken an Uber ride or booked accommodations on Airbnb or paid for lunch with a mobile phone understands this. The digital technology at our fingertips is changing how we live -- and therefore changing how business gets done. Being fully alert to this new reality (or should we say, virtuality?), however, doesn't mean businesses know how to adapt to it, let alone how to exploit digital technologies for fame and fortune. For the un-Amazons of the world, the road ahead will be hard -- filled with risk and no guarantees of ending up safe.
That much is clear from the reporting done by Senior News Writer Nicole Laskowski for this month's cover story on digital disruptors. According to IT management authority Jeanne Ross, director and principal research scientist at the MIT Sloan School's Center for Information Systems and Research, simply digitizing business processes to reach customers on multiple digital channels doesn't go far enough.
"This is exactly what financial services is running into. You can get better and better at the omnichannel experience … but sooner or later, how are you different from the next guy? Where's the margin on this? How do you become anything but one of the competitors in a dog-eat-dog environment?" Ross tells Laskowski. Moreover, companies can't expect to find a ready blueprint for building a thriving digital business, Ross said. While it's clear the status quo won't hold in a marketplace where more of what we do and experience is digitalized, there is scant evidence out there on which kinds of technology and business changes will bring success.
Scary, right? This month's CIO Decisions profiles five IT leaders from five name-brand, old-school companies -- CVS Health, DHL Express, Houghton Mifflin Harcourt, Schindler Group and Staples -- who all seem to relish the challenge. They are doing whatever it takes to help drive digital transformation, including changing their job titles, heading up new ventures and partnering with competitors. Whether the companies end up in a good place is an open question, but the roads these five IT leaders have taken sure are exciting.
Email Linda Tucci, executive editor, or find her on Twitter @ltucci.
Dig Deeper on Leadership and strategic planning