Share this item with your network: BACKGROUND IMAGE: iSTOCK/GETTY IMAGES
New BPM process and strategy prioritize data-driven outcomes

iSTOCK/GETTY IMAGES
News
Stay informed about the latest enterprise technology news and product updates.
Exploring digitization at MIT Media Lab: Level the playing field already!
At MIT Media Lab, building a virtual digital world still hinges on leveraging an analog world of orthogonal thinkers.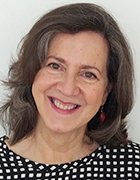 By
The congenial Andrew Lippman, associate director of the legendary MIT Media Lab, was squiring a group of journalists through the lab's new building in Cambridge, Mass. And a spectacular place it is, skinned in glass and metal with labs open to view and a penthouse meeting space shaped like a ship's prow. Transparent, built for exploration, it even made a technology Luddite like me feel like this band of researchers was going places and the rest of us are lucky to be along for the ride.
Lippman said as much as he talked about some of his work. His 35-year career at Media Lab has focused on digitizing media. He was at the forefront of rendering media into computers. His projects range from wearable computers to global digital television to Internet radio. He now heads the lab's Viral Spaces research group which, according to his Web page, "examines scalable, real-time networks whose capacity increases with the number of members."
But back when he got started, technology was asymmetric, Lippman reminded us. "TV had big towers and dumb receivers. Computers had big mainframes and dumb terminals. A lot of the early work was on what I like to think of as the democratization of those technologies." In other words, he was part of a team whose work would change my business (print journalism) and your business (enterprise computing), paving the way for what we in the CIO biz now call the consumerization of IT. There's more. With digitized media, information and the power it confers becomes the province of the many not the few.
There's an old advertising slogan -- 'God made big men and God made small men, and Colt made the .45 to make them all equal.' We made the Media Lab to make all those bits equal.

Andrew Lipman,
co-director, MIT Media Lab
"There's an old advertising slogan -- 'God made big men and God made small men, and Colt made the .45 to make them all equal,'" Lippman said. "We made the Media Lab to make all those bits equal."
Meeting of unlike minds
That's big stuff. But it's how the digitization of media and other MIT Media Lab breakthroughs came about that CIOs, their companies and any of us on the outskirts of innovation hotbeds should take note of. "Through that time we have grown through bringing in people different from ourselves," Lippman said. "It is the diversity of that collection of people that makes us unique and also what makes us strong."
There are the "oldsters" like Lippman who still think about media "because it is not completely solved," he said. Others think about how to connect computers more closely with brains and limbs. Sponsored by some 70 companies from around the world, Lab teams help solve problems in industries they may know very little about.
"We bring orthogonality of approach, which is a grownup way of saying we sometimes do our best work in the areas we know least about," Lippman said. And, yes, space does matter. "Getting all of these people in the same space gives us serendipitous interplay that we wouldn't have otherwise."
Thirty years ago, the Department of Defense asked Lippman's group to build a remote conferencing system "for people who absolutely, positively had to get together and make some decisions." The fact that these people weren't all in the same city could not impinge upon their ability to be as comfortable with each other as if they were all sitting in the next room, Lippman recounted. "You can imagine what kinds of decisions these were."
The technology MIT made was so magical for its time that a ranking general told Lippman that if the virtual Jimmy Carter had asked him to "press the button" he would have rejected the order as some high-tech counterfeit plot, because the system made the image of the president seem too real. That was then. Now we are more accustomed to virtual interactions, Lippman said. Yet conferencing systems that would enable people to really work together the way he and his colleagues do at the MIT Media Lab are not magical enough, let alone democratized.
"You still don't get the winks as good. You still don't get the asides, and you still don't get a little bit of the body language," Lippman said. And that's not good. Companies have outposts that work with each other through conferencing technologies, but in Lippman's experience the work tends to be routine.
"Doing things creative and original still requires everybody to be in the same place, scrawling on the same board, interrupting each other and shoving people and ideas out of the way and into the forefront," he said.
He said his group continues to work on "revived and renewed technologies by which we can extend creativity remotely." Until then, the tyranny of space keeps its stranglehold on innovation, reinforcing the status quo and status places, like the MIT Media lab.
Virtual reality by way of the analog world
The point was very much in evidence at EmTech, the conference on emerging technology that drew me and the other journalists to the MIT showplace. The data shows the playing fields of technology innovation remain unlevel terrain for many cities, many companies and many bright young minds, despite all the technology magic made in hallowed places like MIT Media Lab.
"Ideas are spread around the country, but the investment world still favors enclaves like Silicon Valley and the Cambridge MIT/Harvard industrial complex," said Steve Case, co-founder of America Online (AOL), chairman of The Case Foundation and a keynote speaker on day two of the EmTech conference. The money guys still want to be within a two-hour drive of their investments.
Or I think that's what Mr. Case said. I had to be at work on day two of EmTech, in a cubicle far removed from all the talk about emerging technology taking place in that beautiful auditorium atop the MIT Media Lab building. Although MIT had promised to keep the remote audience in the loop by streaming these wonderful sessions live online, the feed stuttered so much I couldn't follow Mr. Case's argument. The malfunctioning feed prompted some jokes on Twitter about this being a fitting tribute to '80s-era AOL technology, but really the joke was on us. The video eventually cut out altogether, leaving me and everybody else in the hinterlands for the time being in the dark.
Let us know what you think about the story; email Linda Tucci, executive editor.