Evolving BPM and BPO practices will change the nature of work
Harvey Koeppel makes the case that BPM and BPO are evolving and converging and will permanently change the way we work.
As technology continues to advance at its ever-increasing pace, the nature of the work we do and the way we do our work is also changing dramatically. As the nature of our work changes, so do the enterprises that employ us and deliver the stakeholder value that our efforts create. Business process management (BPM) and business process outsourcing (BPO) are evolving and converging into disciplines that will indelibly change the nature of work and alter the form and function of enterprises in ways that we are just beginning to contemplate. Let's look at each of these disciplines individually and then at how they are combining to drive changes that today we can only speculate about because, after-all, as baseball great Yogi Berra so eloquently stated, "It's tough to make predictions, especially about the future."

Download this free guide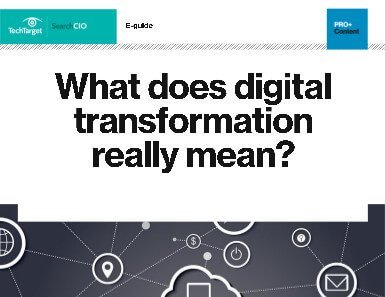 PDF: What does "digital transformation" really mean?
What exactly is digital transformation? You may hear the term often, but everyone seems to have a different definition. See how our experts define digitization, and how you can get started in this free guide.
By submitting your personal information, you agree that TechTarget and its partners may contact you regarding relevant content, products and special offers.
You also agree that your personal information may be transferred and processed in the United States, and that you have read and agree to the Terms of Use and the Privacy Policy.
Business process management
Gartner Inc.'s IT Glossary defines BPM as "the discipline of managing processes (rather than tasks) as the means for improving business performance outcomes and operational agility. Processes span organizational boundaries, linking together people, information flows, systems and other assets to create and deliver value to customers and constituents."
BPM finds its modern roots in "business process modeling," a term introduced in the 1960s. An article in Automation magazine proposed that the use of systems engineering techniques -- then used to gain better understanding of physical control systems -- could be re-applied to enhance the efficiency and effectiveness of business processes. (S. Williams "Business Process Modeling Improves Administrative Control," Automation, Dec. 1967, pp. 44 - 50.)
Major milestones in the maturation of BPM include the following:
1979: Art Sundry, National Sales Manager at Motorola Inc., stood up in a management meeting and announced, "…the real problem at Motorola is that our quality stinks!" Sundry's now famous proclamation inspired early work at Motorola on the core of what evolved into the discipline that today we call Six Sigma.
1982 - 1986: W. E. Deming published his landmark book, Out of the Crisis that outlined core principles and practices for transforming business effectiveness based upon total quality management (TQM).
1986: Bill Smith officially introduced the Six Sigma program at Motorola.
1986: Masaaki Imai introduced the Kaizen method of continuous improvement to support the growth of Japanese competitiveness.
1993: Michael Hammer and James Champy publish Reengineering the Corporation.
The Workflow Management Coalition was founded.
1995: Jack Welch made Six Sigma the core of GE's business strategy.
1999: David McCoy at Gartner begins talking about business process management.
Throughout the past decade, BPM continued to evolve as the industry developed more structured methodologies and tools to enable its practice and increase its overall impact as a catalyst of efficiency, effectiveness and business value creation. Many enterprises use BPM as a means to manage the interface between lines of business and the IT staff. Tools like Business Process Execution Language (BPEL) and Business Process Modeling Notation (BPMN) were introduced to facilitate this communication and to help improve the alignment of business and IT priorities.
According to a recent study performed by WinterGreen Research Inc., "… Cloud computing and smart devices represent the major forces impacting business process management (BPM) markets. As the enterprise managers work to implement apps that make automated process more responsive to the needs of customers, partners, suppliers, and distributors, people use business process management (BPM) as the tools to help workers. As enterprises realize that automation of process is key to market growth, BPM is creating new market opportunities." ("Business Process Management (BPM) Market Shares, Strategies, and Forecasts, Worldwide, 2012 to 2018," WinterGreen Research, Sept. 5, 2012.)
Here are the key points to keep in mind regarding BPM:
BPM is a disciplined framework of principles, methods, tools and practices designed to make enterprise business processes more efficient and effective and to enable the delivery of increased business value.
BPM is a methodology that is driven by the concepts of continuous quality improvement, based upon constant monitoring and evaluation of outcomes; this is followed by managed enhancements to activities and deliverables to further optimize the results achieved by the next iteration of the process.
BPM makes extensive use of data and analytics as integral components of its monitoring, measurement and quality improvement capabilities.
BPM growth is expected to be significantly influenced by cloud computing and smart devices, i.e., outsourcing, mobility and big data. 
Business process outsourcing
Returning to Gartner's IT Glossary, business process outsourcing (BPO) is defined as "… the delegation of one or more IT-intensive business processes to an external provider that, in turn, owns, administrates and manages the selected processes based on defined and measurable performance metrics. BPO offerings are categorized in two major categories: horizontal offerings (those that can be leveraged across specific industries) and vertical-specific offerings (those that demand specific industry vertical process knowledge)."
The notion of one company performing services on behalf of another, driven by objectives of cost-savings, skill set availability, other resource availability, etc., is likely as old as industry itself. It is indeed a fundamental part of most supply-chain economics and logistics. BPO as we know it today originated during the 1990s when large multinational companies, such as General Electric, Citibank, General Motors, and so on, began to move work offshore, primarily to India, typically as a means of driving expense reduction.
According to BPO Outcomes, a leading BPO research and information provider, the total 2013 BPO industry market size is expected to reach $304 billion, distributed as follows:
Nature of work changing
With the growth of the Internet and the explosive popularity of social media and social collaboration, some aspects of BPO have evolved into crowdsourcing. Enterprises have learned that, when used in the right context, crowdsourcing represents an extremely attractive alternative to using either internal or traditionally outsourced resources for important business purposes -- and the results can be dramatic.
PepsiCo, for example, launched a public contest in July 2012 to identify the next flavor of Frito-Lay potato chips. Rather than deploying the traditional market research projects, focus groups, food chemists, taste testers, etc., at a cost of millions with the usual risk of launching an unsuccessful product, Frito-Lay decided to listen directly to its customers for input.
A new virtual workforce will emerge, enabled and managed by technologies in the form of standardized, self-regulating and self-improving processes.
"We have now had 30 different countries around the globe create ideas for our consumers and some of the flavor ideas have been fantastic, everything from Caesar Salad to Builders Breakfast, we have even had a flavor called Cajun Squirrel, " Ann Mukherjee, CMO of Frito-Lay, told CNBC.
Voting was through Twitter, Facebook or via text messaging, and the grand prize for submitting the winning flavor was the greater of $1 million or 1% of 2013 sales of new product. This past May, Cheesy Garlic Bread was declared the winner (beating out Chicken & Waffles and Sriracha) in an online competition that drew more than 1 million votes on Facebook and Twitter and nearly 3.8 million consumer-generated flavors.
I am going to go out on a limb here and make a few assumptions about the results that crowdsourcing created for Pepsi compared with what the more traditional means of market research and product development might have produced:
Quicker time to market (value)
Less expensive product R&D with an enormous list of additional ideas
Huge customer engagement throughout all phases and amazing customer goodwill generated
Large amounts of "buzz" (free advertising and publicity) created
Much smaller likelihood of product failure
Key points to keep in mind regarding BPO include the following:
BPO changes the enterprise operating model by moving a predefined set of activities and outcomes to an external workforce. The workforce is typically highly structured and managed by the service provider.
BPO, as an alternative to using internal resources, is generally motivated by the objectives of cost reduction, skills acquisition not available in-market and distributing the workforce across geographies and time zones.
BPO growth will be heavily impacted by cloud computing, e.g. SaaS, PaaS, IaaS, etc., which really represent new forms of outsourcing.
Crowdsourcing, like BPO, changes the enterprise operating model by moving a predefined set of activities and outcomes to an external workforce. The workforce is typically virtual, relatively unstructured and self-managing.
Crowdsourcing is enabled by the Internet, social media, collaboration, cloud computing, smart devices, mobility, big data and analytics.
Formula for future enterprise innovation and growth
Something quite intriguing happens when you play forward the paths of BPM and BPO as outlined above, both individually and collectively. This is where the tough predictions that I spoke of earlier come in. Work with me here for a few more minutes and imagine a world where
Technologies like the Internet, cloud, social media, social collaboration, mobility, big data and analytics will play larger roles in enabling business processes.
With increased use of these technologies, business processes will continue to become more and more efficient, effective and deliver increased business value.
Legacy processes are migrated to the cloud and new processes are born in the cloud, and more and more enterprise activities will be performed by a workforce that is external to the enterprise.
A new virtual workforce will emerge, enabled and managed by technologies in the form of standardized, self-regulating and self-improving processes.
Enterprises will make increasing use of sophisticated analytics to hire the best workers for the tasks that are required.
Physical location of the workforce will be, for the most part, irrelevant.
Members of the workforce will be in more control of what, when and how much they choose to work and, hopefully, in more control of their potential income.
You may choose to believe in these predictions or not, just as you may or may not choose to believe in Santa Claus or the Tooth Fairy. In either case, there are two relatively undeniable facts for you to consider: (1) Yogi Berra was right -- predictions are tough especially when they are about the future; and (2) the enterprises and workers of the future will look, act, work, live and play in ways that are very different from today.
Let me know what you think. Post a comment or drop me a note at hrkoeppel@aol.com. Discuss, debate or even argue -- let's continue the conversation…