News
Stay informed about the latest enterprise technology news and product updates.
Ensemble modeling, automated decision making loom large in 2015
The International Institute for Analytics predicts storytelling, ensemble modeling and the 'Analytics of Things' will be hot in 2015, The Data Mill reports.
In 2015, Hadoop will go mainstream and storytelling will be a sought-after analytics skill. Those are just two of the ten data and analytics predictions from the International Institute for Analytics (IIA).

Download this free guide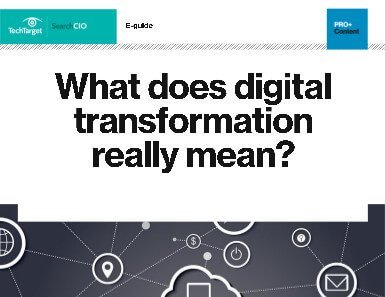 PDF: What does "digital transformation" really mean?
What exactly is digital transformation? You may hear the term often, but everyone seems to have a different definition. See how our experts define digitization, and how you can get started in this free guide.
For the past four years, the Portland, Ore.-based advisory and research organization has provided a look-ahead for analytics professionals. This year, predictions from faculty members and the analytics community were winnowed down by a panel of judges and divvied up into four categories: talent and organization, applied analytics, data and technology, and business impact. Last week, Jack Phillips, co-founder and CEO of IIA, moderated a webinar introducing the organization's top 10. They are as follows:
Talent and organization
1. Organizations will clarify chief analytics officer (CAO) and chief data officer (CDO) roles.
While the CAO and CDO titles have gained prominence, what exactly each role should do continues to be murky. But, according to Tom Davenport, author and professor of management and information technology at Babson College and co-founder of IIA, patterns are beginning to emerge.
He has heard the distinction between the two titles described as offense (CAO) and defense (CDO) as well as data consumption (CAO) versus data provisioning (CDO). "I suspect we'll have more organizations taking a rational view of this and saying, 'What does it mean in terms of the right organizational structure and titles?'" Davenport said.
2. Storytelling will be the hot new job in analytics.
Communicating the value of analytics isn't easy. Robert Morison, IIA faculty member and research director for the consultancy Stryve Advisors in Houston, Texas recounted how CAO Pamela Peele of the University of Pittsburgh Medical Center Insurance Services Division has dealt with that issue. "One of the success factors for driving the adoption and effective use of analytics across the business was having a full-time journalist on their staff," Morison said.
The journalist's job is to "tell the story of analytics," Morison said, and to "communicate in clear and concise business terms what the analytics are about and what they can do for the business."
Whether it means a new full-time position or additional training for analysts, IIA faculty members said storytelling will become increasingly significant to the enterprise in 2015.
Applied analytics
3. Ensemble methods for analytical models will grow in popularity.
Ensemble modeling, a method of running different types of predictive models at the same time to find a more diverse set of correlations in the data, is gaining ground. "A couple of trends have come together to bring ensemble to the forefront," said Bill Franks, IIA faculty member and CAO at Teradata Corp. in Dayton, Ohio. He said those trends include:
Data being gathered in a more standardized way, making it readily available and giving practitioners more time to focus on the analysis
A diverse supply of algorithms included in today's standard tool sets
The cost for processing power, which continues to decline
Some tools are even automating the ensembling process, Franks said, which makes the technique easily adoptable.
Jeremy TerBush, vice president of analytics at Wyndham Worldwide ­­Corp. in Parsippany, N.J., said it's a technique he and his team are experimenting with "specifically in some of the areas where we're doing pricing and we'd like to have some competing models," he said.
4. Analytics for security breach prevention will be a top priority.
Security and risk prevention is top-of-mind for any CIO (or CISO or chief risk officer), and will be in 2015. Internal attacks continue to plague the enterprise and external attacks are becoming much more sophisticated, according to Mike Lampa, an IIA faculty member and managing partner at Archipelago Information Strategies LLC, an IT consultancy and services company in Denver, Colo. Rather than distributed denial-of-service attacks, the most damaging external threats are from "long, slow-moving probes of the network's defenses followed by a very meticulous and deliberate injection of malware applications into those enterprise servers," he said.
In 2015, Lampa said to expect a "next-generation holistic security threat prediction, detection, deterrence and prevention program." These programs will "integrate text mining with different methods for natural language processing, as well as automated ontology modeling to be able to associate anything to anything else," he said. Machine learning and predictive modeling capabilities will also be incorporated.
5. "The Analytics of Things" will emerge.
The Internet of Things was improperly named, Davenport said. "It should have been called the 'Analytics of Things,'" he said, giving credit for the term to Rob Stevens of the consultancy First Analytics, with which Davenport is affiliated. The alleged misnomer parallels the distinction many make between big data and big data analytics: Emphasis shouldn't be placed on the data, but on what organizations are going to do with the data (i.e. anomaly detection or predictive maintenance).
"For a lot of organizations, there's a big data integration problem, because sensors have different formats and standards," he said. "But as soon as you can get to the analytics, the better off you are." Davenport expects to see a shift in focus in 2015.
Data and technologies
6. Companies will double their investment in generating new and unique data.
As analytics programs mature, it's only natural that organizations move from working with familiar data sources -- data warehouses and established data feeds -- to the unfamiliar. Morison expects more businesses to leverage new data to "increase their understanding and help round out their models," he said. As a byproduct, they will produce new insights that are proprietary and provide a competitive advantage.
If CIOs are moving in this direction, Morison suggested answering two questions: "What things should we instrument with sensors to generate new, detailed data? Where can we generate data that would help us close the performance loop in some part of our business?"
7. Hadoop will go mainstream.
"It's starting to go mainstream, if you define mainstream as people having some variation of Hadoop installed somewhere in their company," Teradata's Franks said. The next step is to clear up the still-lingering confusion about the distributed computing framework, such as when it should be used; how it should be used; and, if a CIO taps a distributor, who to use, he said.
Business impact
8. Privacy will spark tools and services that give consumers more control over their data.
As analytics enables companies to make more personalized product and service offerings to customers, privacy will become an important issue. Wyndham's TerBush predicts intermediary services, which will "create a trusted exchange of information between consumers and companies," will begin to emerge in 2015. They will help to "conquer some of those privacy questions," he said.
Through the intermediary services, customers will be able to update personal information or product preferences and decide what companies to share that information with. In turn, those businesses will have access to a much richer data set, which will be used to create even more targeted offers, he said.
9. Analytics, machine learning, cognitive computing will take over jobs of knowledge workers.
CIOs would be wise to start thinking strategically about IT's role in the advent of smart machines in the workplace. "My take: How do we prepare knowledge workers to augment the work of smart machines rather than be automated by them?" Davenport said.
Although still fragmented, the technologies are already affecting teachers, journalists and lawyers, Davenport said. "The general counsel of IBM recently said much of work done by their external lawyers could be done by Watson, which I'm sure sent a little shiver through the senior partners of those firms," he said.
10. Automated decision making will come of age in 2015.
Automated decision making isn't new, Davenport said. "You can't apply for a loan or a credit card or mortgage and not really encounter automated decision making," he said. But it's moving into more complex, sophisticated situations, such as diagnosing medical conditions.
"It raises the issue: When do we need humans to intervene? How do we prepare managers to occasionally look under the covers and make sure the automated logic is what it should be?" Davenport said.
Establishing a feedback loop to provide transparency, build confidence and improve the models over time will be the key to a business' success with automated decision making, Morison said.
Welcome to The Data Mill, a weekly column devoted to all things data. Heard something newsy (or gossipy)? Email me or find me on Twitter at @TT_Nicole.
Dig Deeper on Enterprise business intelligence software and big data