Evaluate
Weigh the pros and cons of technologies, products and projects you are considering.
Data as an asset makes good infonomic sense
Data as an asset has never been so valuable. In 'CIO Decisions' e-zine, we examine why infonomics makes good economic sense.
The data is in. Are you ready to derive business value from it? Ladies and gentlemen, start your infonomics engines.
Infonomics isn't entirely a nascent field -- Gartner analyst Doug Laney says he coined the term in 1990 -- but the data economy is gaining a new foothold in CIO hearts and minds. Even so, the million-dollar (or is that billion-dollar?) question remains: How do you assign a proper value to your most sought-after information?

Download this free guide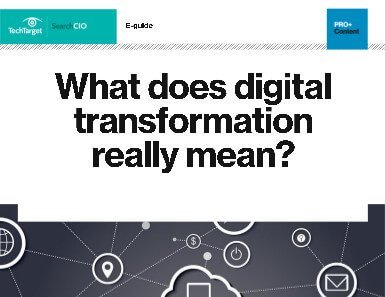 PDF: What does "digital transformation" really mean?
What exactly is digital transformation? You may hear the term often, but everyone seems to have a different definition. See how our experts define digitization, and how you can get started in this free guide.
By submitting your personal information, you agree that TechTarget and its partners may contact you regarding relevant content, products and special offers.
You also agree that your personal information may be transferred and processed in the United States, and that you have read and agree to the Terms of Use and the Privacy Policy.
In this issue of CIO Decisions e-zine, SearchCIO senior news writer Nicole Laskowski examines the concept of infonomics, or data as an asset, one that can propel your organization to ever-greater heights -- or, if not properly valued as a key piece of intellectual property, send your company into a tailspin.
"Infonomics can help to put a price tag on data, turning what many considered for years to be just a byproduct of business into a corporate asset," Laskowski writes. Companies that productize information, such as Google, Yahoo and TripAdvisor, are some of the well-known leaders in this field, but legacy businesses also hopping on the infonomics train include The Kroger Co. and Scripps Health.
Laney cautions against inferring a direct causal relationship between these companies and their market success, but there's little doubt that they're better prepared for a data-centric future. How can other CIOs reach the infonomics promised land? We offer six steps for measuring the value of your unique information assets.
Also in this issue, we talk to Dell CIO Andi Karaboutis about how she transformed her 5,000-person-strong IT department from an order taker into a business partner; look at balancing the need for more data with the desire for clean data; and offer some words of caution about disruptive technologies and the global human condition.
Please write to me at rlebeaux@techtarget.com.
Dig Deeper on Enterprise business intelligence software and big data