Get started
Bring yourself up to speed with our introductory content.
Big data to CIOs: Learn to extract value from disruptive technologies
SearchCIO's Harvey Koeppel takes an unflinching look at 10 disruptive technologies and comes up with seven ways in which they change how IT gets done.
In the first part of this CIO Matters column, Big data is not little data writ large, SearchCIO expert Harvey Koeppel talks about the fallacy of equating big data with more data. Here, he explores how big data is inextricably linked to nine other disruptive technologies and why that linkage profoundly changes how IT gets done.

Download this free guide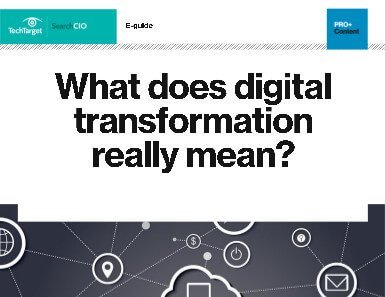 PDF: What does "digital transformation" really mean?
What exactly is digital transformation? You may hear the term often, but everyone seems to have a different definition. See how our experts define digitization, and how you can get started in this free guide.
Understanding the real impact of big data requires additional context from looking at the technologies that have grown and will continue to grow up alongside it. In some cases these technologies are influencing the nature of big data; in some cases these technologies are being influenced by big data; and, in some cases, both are happening. In all cases, unlocking and realizing the true value of big data is inextricably linked to the head-spinning pace of the emergence and growth of the following:
Taming the bull
It is absolutely critical to consider how big data, in combination with disruptive technologies, can add value to your business.
By now it is hopefully apparent that thinking about big data as a resource in isolation is not much different from listening to the sound of one hand clapping. For those who are less into things metaphysical, perhaps applauding activity with no attention to progress or value would be a more meaningful comparison. In either case, it is absolutely critical to consider how big data, in combination with the types of disruptive technologies described in the chart above, can add value to your business. Then -- and only then -- can meaningful approaches be thought about, designed and delivered. Taking cues from those who have successfully traveled these paths (and lived to tell their tales), here are a few things to consider while you are watching the steam rise from your next cup of joe -- 176 million Google results -- really?
Let me know what you think. Post a comment or drop me a note at hrkoeppel@aol.com. Discuss, debate or even argue -- let's continue the conversation.
Dig Deeper on Enterprise business intelligence software and big data